We need to educate the EU about democracy
Yes, leaving the EU is hard, but it is so worth it.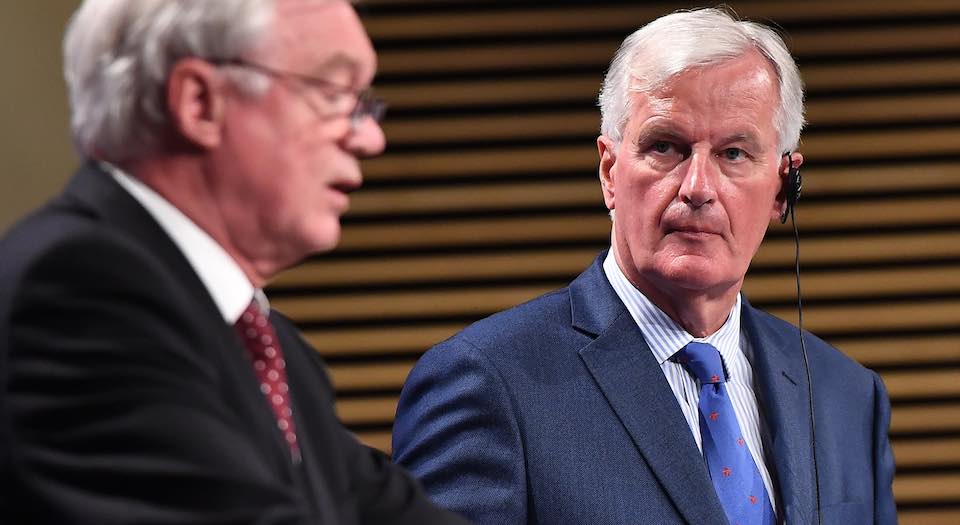 'There are extremely serious consequences of leaving the Single Market and it hasn't been explained to the British people. We intend to teach people… what leaving the Single Market means.' So said the EU's chief negotiator Michel Barnier, sounding somewhere between a school marm and a mafia don, at a conference in Italy on Saturday. Following the frosty exchange between Barnier and the UK Brexit secretary David Davis at a press conference concluding the third round of talks last week, in which the two men clashed over how much progress, if any, had been made, many are claiming once more that the British government is 'naive' and the British people were purposefully misled about the consequences of leaving the Single Market.
The barbed responses from pro-Brexit ministers to Barnier's recent flexing have only fed this pro-EU narrative, which has been echoed across the British Remainer press. International trade secretary Liam Fox said the EU was trying to 'blackmail' Britain into coughing up an exorbitant divorce bill in order to speed up talks. On Sunday, Davis, striking a somewhat less blunt tone, said the phased negotiations which the EU insisted upon – in which the future relationship cannot be discussed until there is 'significant progress' on the divorce bill – were set up to 'try to create pressure on us on money'. Both interventions have prompted fresh derision from the pro-EU set, with former Treasury mandarin Lord Macpherson telling Fox to 'get a grip'.
But if anyone needs to get a grip, it's the Remainer elite, whose double standards in relation to the Brexit negotiations are becoming a running joke. The BBC's Andrew Neil summed up the sentiment perfectly, in a tweet that led Labour's Lord Adonis to report him to the Beeb director general for 'pro-Brexit bias'. 'Default position of UK establishment: When Brussels talks tough it's wise and formidable. When London talks tough it's weak and pathetic', Neil tweeted. And he's right. For all the accusations of British intransigence, it is the EU that insisted on the phased negotiations. And for all the talk of Britain 'not knowing what it wants', the red lines – no Single Market or Customs Union membership or ECJ jurisdiction – were drawn months ago.
Whether or not the Tory government makes a dog's breakfast of the Brexit negotiations remains to be seen. This is the most complicated negotiation in modern history, due to the creaking EU bureaucracy and cross-continental elite horsetrading involved. As The Times' Bruno Waterfield has put it, 'It's got hundreds of thousands of moving parts' which 'a tiny grain of sand could mess up'. What's more, the fact that Theresa May's vainglorious stab at a bigger parliamentary majority in the June election was widely interpreted in Brussels as an attempt to give her the latitude to isolate cabinet Brexiteers and compromise with the EU should remind us that an 11th-hour stitch up on sovereignty is always on the table, in a negotiation that is going on decidedly behind closed doors.
But there's no ignoring the fact that the elite Remainer broadsides against our supposedly 'ignorant' and 'belligerent' Tory rulers are really just broadsides against democracy. That so many politicians and commentators are in awe of Barnier but disdainful of Davis has a lot to do with the fact that one is elected, accountable to the people, and the other isn't. And the constant talk about how complicated Brexit is, and how we misty-eyed Brits just don't get it, is really just a reheated version of the Remain campaign's most lame and depressing argument: that Brexit is so complicated, its risks so high, that's it's just not worth doing – and that anyone who thinks otherwise is too blinded by quasi-mystic patriotism to realise it.
Just think about what Barnier was saying on Saturday: we need to teach the British a lesson. He's saying we ignorant Brits need to be rapped on the knuckles for taking a democratic decision that he and all his supine cheerleaders in the British press hate. He's not even trying to hide it. This isn't about patriotism. No one's saying that Remainers 'doing Britain down' should be tied to a chair and slapped around by Andrea Leadsom. This is about popular sovereignty, about self-rule. And it is this principle that EU types so detest. It's why the EU decimated Greece. And it's why these negotiations are, in the words of Greece's former finance minister Yanis Varoufakis, descending into an 'exercise in futility and frustration'.
Britain is negotiating with an institution that is not only disdainful of democracy, but in a fight for its own survival. Brexit represents a potentially cataclysmic blow to the EU's authority. If we pull it off, it will put the wind at the backs of the Eurosceptic masses across Europe. And for all the talk about the supposed 'unity' of the EU 27, this is just a (rather shaky) unity of EU elites, not European peoples. Just a few weeks before the referendum, a Pew report found Euroscepticism on the rise across Europe – and it was highest not in Blighty, but in Greece and France, where 71 per cent and 61 per cent respectively were 'unfavourable' towards Brussels. Barnier intends Brexit to be a lesson to them, too.
Well, we need to teach the EU a lesson: that democracy won't yield to threats, and sovereign peoples won't be pushed around. No one is saying that these negotiations will be easy. The process is designed as a deterrent, to make exit as brutal, punishing and to-the-wire as possible. And the idea that the EU's economic self-interest will eventually kick in is naive, to say the least. But for all Barnier's hectoring, Leave voters know all this. In one recent poll, a majority said short-term damage to the British economy is a price worth paying for leaving the Brussels clique. The pollsters dubbed it 'Brexit extremism', but it's called being a democrat. Even as we fight for a good deal, let's build on that steely, Eurosceptic, pro-democracy spirit. Both in Britain and across Europe.
Tom Slater is deputy editor at spiked. Follow him on Twitter: @Tom_Slater_
Picture by: Getty Images.
To enquire about republishing spiked's content, a right to reply or to request a correction, please contact the managing editor, Viv Regan.