Corbyn at Glasto: hero of the leisured class
Now we know how bourgeois Labour has become.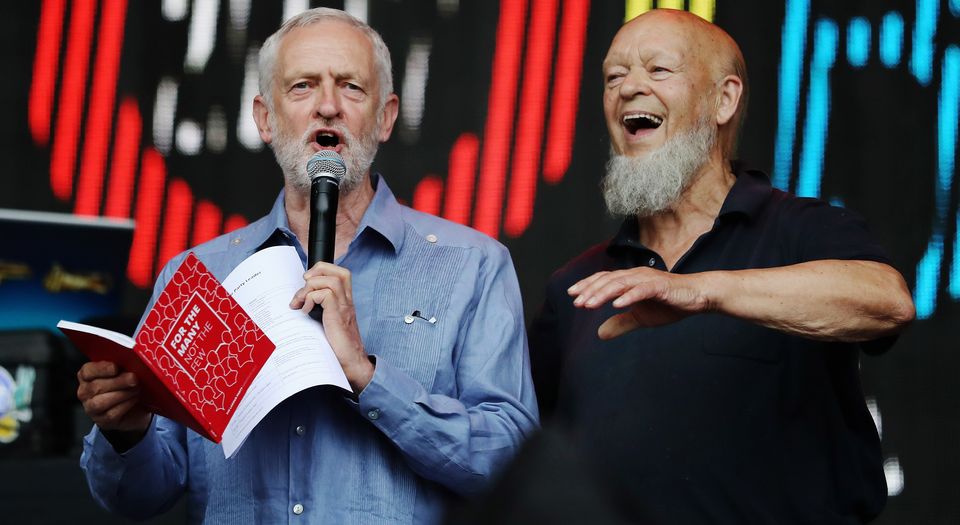 Glastonbury is 'the most bourgeois thing on the planet', said Iron Maiden's Bruce Dickinson a few years back. Last year this became glaringly obvious. The EU referendum result was announced mid-way through the festival, leading to Damon Albarn declaring that 'democracy has failed us', to huge applause.
This year, the festival's increasingly middle-aged and middle-class audience, paying £243 for a ticket, got to witness a speech by Labour leader Jeremy Corbyn. Just as Glastonbury allows the comfortably off to play at being hippies, so Corbynistas – who in the General Election won a surge in support among the very middle classes who flock to Worthy Farm each year – like to pretend they are speaking 'for the many'.
Corbyn – speaking before US rap duo Run the Jewels took to the Pyramid Stage – offered a banal collection of Glastonbury-friendly clichés. Reading off his notes and yelling into the microphone, he spoke of 'hope', 'dreams' and the 'spirit of love', insisting 'peace is possible' and that 'every child is a poem'. In the empty catchphrases stakes, he gave Theresa May a run for her money.
It was all an unintentionally hilarious reminder of the middle-class Safe Space that both Labour and Glastonbury have become. Corbyn said there was a message for Donald Trump on the walls surrounding the festival – 'build bridges, not walls'. The wall he was referring to is a multimillion-pound 'superfence' first erected in 2002 to keep out those who either can't afford or want to flout the hefty Glasto ticket price.
Naturally, he talked a lot about 'the young people', at a festival where the average age of attendees is 36. (To quote Glastonbury founder Michael Eavis from some years back: '30- and 40-year-olds… now swarm the festival like overgrown teens desperately seeking kicks.') Corbyn also claimed that this hyper-corporate festival offers a chance to young musicians – but the average age of Glastonbury headliners these days is 41.
The self-delusion of those gushing over the speech was striking. When the crowd began chanting 'Oh, Jeremy Corbyn' to the tune of 'Seven Nation Army', as Corbyn fans have taken to doing recently, Owen Jones tweeted: 'Something extraordinary is happening in this country.' Well, it was also extraordinary when the Glastonbury 2007 crowd began chanting 'I've got ham but I'm not a hamster' as the Killers were leaving the stage – but that didn't convince me Bill Bailey was set to be the next prime minister.
Corbynistas seem to have mistaken the biggest echo chamber in Britain for the public. 'There's a reason @theresa_may won't call another election – look at #Glastonbury2017 it'd be a landslide', tweeted Novara Media's Aaron Bastani. Apparently, the attendees of a festival which refused to die before it got old give a better indication of the desires of the voting public than, say, that General Election we had a few weeks ago.
If Corbyn's time on the Pyramid Stage taught us anything, it's that the Labour Party has officially supplanted Glastonbury as the most bourgeois thing on the planet.
Christian Butler is a spiked columnist. Follow him on Twitter: @CPAButler
To enquire about republishing spiked's content, a right to reply or to request a correction, please contact the managing editor, Viv Regan.