Everyone needs to calm down about the DUP
It's pure fearmongering to say this party threatens the British fabric.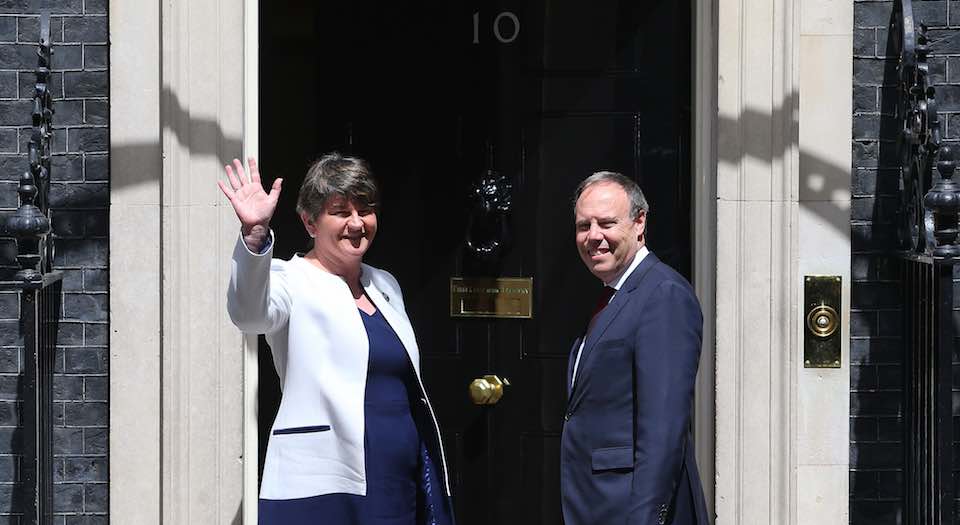 Theresa May is still in talks to secure a 'confidence and supply' deal with Northern Ireland's Democratic Unionist Party (DUP) in an attempt to shore up her minority government after last week's shock election result. This scramble to form a workable administration provides the DUP with opportunities to punch above its weight. And it's clear that party leader Arlene Foster intends to drive a hard bargain. However, it's the reaction to the talks that has been most striking. Even though the Tory-DUP deal falls far short of a formal coalition, there have nonetheless been waves of anger across the media and social media, and even protests on the streets, all expressing fury that a party like the DUP is being engaged in this way.
The hysteria about the deal is expressed in two ways. First, there's the idea that the DUP's extreme social conservatism, in particular its opposition to abortion and same-sex marriage, makes it an unsuitable and potentially dangerous political partner. Second, some claim that any deal between the British government and the DUP would upset Northern Ireland's fragile power-sharing arrangements and put the peace agreement at risk.
One commentator, accusing the Tories of 'bartering with women's bodies to keep power', warns that the DUP might push for new laws to limit or even deny access to abortion in the UK. Former New Labour spindoctor Alastair Campbell has warned May that she 'has no idea what she is playing with'; he says she is entering into a 'sordid, dangerous and distasteful' deal that compromises Britain's ability to mediate between nationalists and Unionists in Northern Ireland. Former PM John Major warns of 'hard men in dark corners' waiting to take matters into their own hands again. That is, the Troubles could make a comeback.
But is there really anything out of the ordinary about May's attempt to broker a deal with the DUP? The political parties of Northern Ireland have always seen hung parliaments as an opportunity to make political gains. From James Callaghan negotiating a deal with the Ulster Unionist Party (UUP) at the height of the Troubles in 1977 to Major struggling to hold on to power in the mid-1990s and looking to Unionist MPs to back him, history shows that British governments are more than willing to strike deals with Unionist and indeed nationalist MPs.
In the years following the Good Friday Agreement of 1998, the DUP's ambition to act as kingmaker has been bolstered by its position as the Northern Irish party with most seats in the Commons. Unlike the SDLP or the UUP, which have traditional affiliations with the British Labour Party and Conservative Party respectively, the more independent DUP has been able to adopt a more proactive, flexible approach to power-brokering.
In 2010, it was even receptive to overtures from Gordon Brown, and five years later it was more than happy to sell its support to the highest bidder, whether it was Ed Miliband or David Cameron, in the event of the 2015 election leading to a hung parliament (which it didn't in the end). Indeed, far from being in synergy with the Tories, the DUP has often shown a tendency to lean to the left on certain issues, including tax-and-spend matters and support for the welfare state. This is a reflection of its roots in a plebian rebellion against Big House Unionism.
Yet while there may be nothing exceptional about the DUP trying to strike a deal, there is the question of whether it will use its newfound clout to restrict or even overturn Britain's 1967 Abortion Act. This seems highly unlikely. The party published a position paper for possible negotiations after the 2015 election, and this probably offers the best clue as to what it might seek in its talks with May. Its 'Northern Ireland Plan' set out 45 priorities, and they were mostly economic, including increased spending on health, education, infrastructure and schools in Northern Ireland.
More contentiously, the list included a small number of 'legacy issues', including a call to redefine the term 'victim' so as to exclude 'perpetrators' killed by the security forces in the commission of a 'terrorist murder'. It also contains a demand to 'strengthen the Union', for instance by holding events to celebrate Northern Ireland's centenary in 2021 and incorporating Northern Ireland more prominently within UK branding. There is no evidence in the Northern Ireland Plan to suggest that the DUP has considered asking for changes to laws concerning women's or gay people's rights in Britain.
The DUP's position on women's reproductive choices is certainly open to criticism. But the fact is that its pro-life stance is in line with much political opinion north and south of the border in Ireland. Abortion is against the law in most cases in Northern Ireland and in the Republic of Ireland, too. Last year the nationalist SDLP joined the DUP to vote down a bill in the Northern Ireland Assembly which would have allowed limited access to abortion in cases of fetal abnormality, rape or incest. While Sinn Fein recently changed its policy to support legal abortion in the case of rape and fetal abnormality, it too opposes the extension of the 1967 act to Northern Ireland.
So what lies behind the sudden surge of anger about the DUP? It could be because where once the party might have adopted an ideologically neutral approach to kingmaking, now it is likely to be very opposed to Labour because of Jeremy Corbyn and John McDonnell's relations with Sinn Fein and past comments on the IRA. Foster shared power with former IRA volunteer turned deputy first minister Martin McGuinness, and even attended his funeral mass in Derry this year. However, as a Unionist politician and on a purely personal basis – her father was shot by the IRA – her attitudes towards militant Irish republicanism will never be remotely in accord with those of Corbyn or McDonnell.
Outside of party politics, the relationship between the British state and Unionism has always been ambivalent, coloured by Britain's historical commitment to maintaining its domination in Ireland while seeming to act as an 'honest broker' between the warring tribes. Far from holding the whip hand over British policy in Northern Ireland, loyalists and Unionists were historically consigned to the role of dependants and instruments of British rule. For years, British politicians, Labour and Conservative, played 'the Orange card' to further their own political agendas. How depressing to see the same tactic employed by a new generation of political activists in pursuit of their own 'radical' agenda – only now they play the Orange card to spread fear about any kind of deal with these allegedly backward bigots from 'over there'.
As to Northern Ireland sinking back into war as a result of all this – this, too, is fearmongering. The idea that Northern Ireland has a brilliant but fragile peace is wrong and patronising. In truth, the 1998 Good Friday Agreement empowered a technocratic class of power-brokers and peace-builders drawn from both the Unionist and nationalist elites. It institutionalised the divisions that gave rise to the conflict in the first place, not so much bringing people together as, in the words of veteran socialist Eamonn McCann, 'polic[ing] them apart'. It wouldn't be a bad thing if this technocratic 'peace' was shaken, not because conflict was a good thing, and anyway such conflict is not about to return, but because the people of Northern Ireland deserve a better and more democratic politics; a politics in which the dividing lines are based on issues and visions of substance, rather than on a sectarianism that is propagated by the very institutions of peace commentators are so keen to celebrate.
Pauline Hadaway is a writer and co-founder of the Liverpool Salon. She is currently undertaking a professional doctorate at the University of Manchester's Institute of Cultural Practices.
To enquire about republishing spiked's content, a right to reply or to request a correction, please contact the managing editor, Viv Regan.