Birmingham: the Tory surge that wasn't
Ieuan Joy finds voters put off by May's downbeat, Brexit-lite campaign.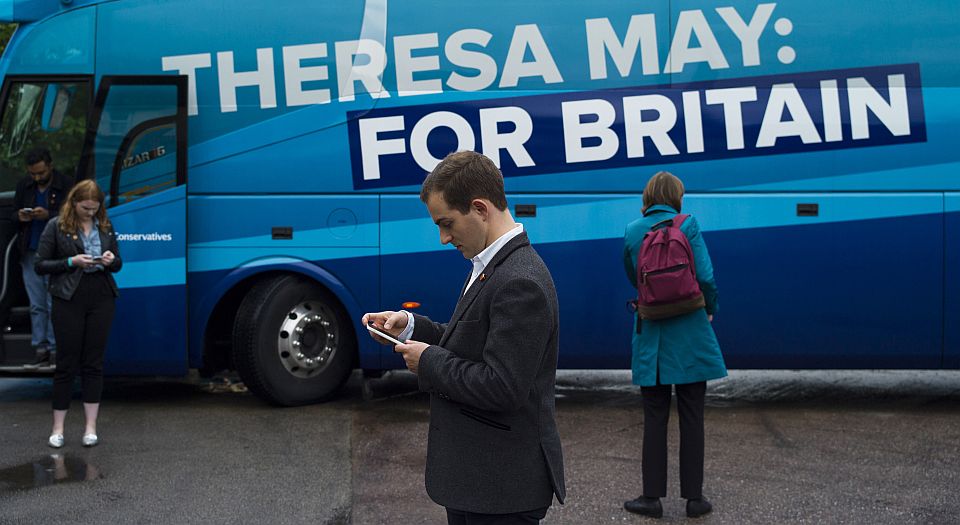 This has been a year of immense political change in the UK. Going into this snap election, the Brexit vote seemed to have shaken up old allegiances. And no less so than in the city of a thousand trades, and a long-time Labour stronghold, Birmingham. Though split almost down the middle at the EU referendum, the city still unexpectedly voted Leave. In May, in the West Midlands mayoral election, where Tory Andy Street beat Labour's Sion Simon, the blue vote in the city was far larger than was expected. In this General Election, will Birmingham surprise us yet again?
Birmingham is an island of red in a sea of blue. Nine out of its 10 constituencies are controlled by Labour. But since the start of the campaign, buoyed by Brexit and Street's victory, the Conservatives have been looking to make inroads into the city, drawing working-class voters away from Labour and UKIP. Theresa May's aide Nick Timothy has been trying to steer the party towards what's been called 'Erdington Conservatism' – a blue-collar Toryism named after the Birmingham suburb where Timothy grew up. Success in Birmingham would be a symbolic victory for the Tories.
I speak to Joe Hamblin, a Conservative campaigner in Birmingham target seats Edgbaston, Erdington and Northfield, in a bar outside New Street. He's unconvinced by the polls suggesting a close run with Labour. 'The polls say the margins are closer than in 2015, but on the ground we are finding it difficult to find Labour voters. We are knocking on all the doors – this is mass targeting. I think the polls are catching young voters and that's where the Labour surge is coming from.'
So, it's clear some are turned off by Labour, but what is it that's drawing people to the Tories? After a disastrous few weeks, defined by May's downbeat manifesto and her u-turn on the dementia tax, Hamblin suggests the party has forgotten where its true strength lies. 'My experience is that, when talking to voters, you have to bring up Brexit. Perhaps we got a bit distracted with our campaign, there wasn't the focus on Brexit there should have been. On the doorstep, when we mention Brexit, they say "ooh yeah, I'm voting Theresa May, because she will get the best deal".'
I speak to a Tory voter called Lisa in Cathedral Square – aka Pigeon Park, for reasons I need not explain. Lisa is a receptionist from Quinton, a Tory and a Leave voter. 'I have always believed the Tories are the better party', she tells me. 'May is the strongest candidate doing the best in a bad situation.' But though among the Tory faithful, she's not particularly enthusiastic about the election. 'People are a bit tired of politics, aren't they?', she says. For a party looking to convert newcomers, the Tories don't seem to have got the choir that excited.
Where there is enthusiasm, it's among young Corbyn supporters. I meet Shannon, a Birmingham City University student from Dudley. 'I believe that Jeremy Corbyn's views are something I can follow', she says. 'For example, what he wants to do for the disabled, the NHS, student fees, stuff like that. These are things I can personally relate to. You can see he isn't in it for the money, he is passionate about what he does.' When I ask about May, her response isn't just one of kneejerk anti-Toryism. 'I don't agree with a lot of her policies, but it's hard to judge somebody if you don't know them.'
It starts to become clear that the Tories have missed an open goal here in Birmingham. Hamblin tells me that the local candidates have been working flat out, but the problem has been the national campaign and the social-care policy. Another Tory voter, an RAF veteran, takes issue with May's plan, as he sees it, to 'take houses off old-age pensioners who have worked really hard to get their own house'. 'We didn't have anything aspirational in the manifesto', says Hamblin. 'Our vote has held up, but we have driven undecided voters to the Corbyn camp, and his entire manifesto is aimed at those demographics.'
Jess Phillips – Labour candidate for Yardley and, since being elected in 2015, a prominent MP – gave me a few minutes of her time in her hard-to-miss red-fronted campaign office. I ask about Brexit, which is surely Labour's biggest weakness in working-class areas. 'Brexit comes up less than people think – nowhere near as much as people's jobs, lives, roads. The manifestos have cut through much more than they usually do', she says. Having spoken to voters across the city, I find it hard to agree. Brexit still weighs heavy on people's minds. But the Tories' attempt to brush Brexit aside in the campaign has clearly cost them ground and reframed the debate.
Outside a hustings in Harborne for the Edgbaston constituency – formerly held by popular Labour MP and Vote Leave chair Gisela Stuart – I speak to Mike, a Leave supporter and lifelong Labour voter. The Conservatives are fighting hard to retake Edgbaston, which was one of their strongholds until 1997. Mike speaks passionately about Brexit: 'I do not like the bureaucrats, who we didn't elect, earning more than Theresa May. I want people to represent me and have a chance to vote them out.' But it becomes clear that, beyond Brexit, the Tories have nothing to offer voters like Mike.
Corbyn remains unpopular throughout the city (Mike says he is voting Labour in spite of the leadership). This becomes clear during the Harborne hustings, where the Labour candidate, Preet Gill, doesn't mention his name once. But despite Labour's woes, despite how distant it has become from the working class, and despite Labour's at-best equivocal approach to Brexit, the Tories' uninspiring and strangely Brexit-lite campaign has meant few of the people I spoke to are willing to jump ship.
The Tories' decision to shift the focus away from Brexit these past few weeks may have even handed the floundering, anti-Brexit Lib Dems a lifeline in some seats. I speak to Yardley Lib Dem candidate John Hemming in a little café in Tyseley. As he tucks into his chips and beans, we talk about how he plans to retake Yardley, which he had ruled for 10 years before Phillips beat him in 2015. He stresses that it's all about the local issues. 'I have been campaigning one way or another in Yardley for 30 years', he says. 'We have gradually been developing a campaign here.' That said, a sometime Lib Dem voter I talk to on King's Heath isn't convinced by the party's chances: 'They don't have cat in hell's chance.'
At the start of this campaign, the Tories were looking to take half the seats in Birmingham. But the national campaign's arrogance, trying to bank on Leave voters even while neglecting Brexit, has massively backfired. It's completely sucked the momentum out of local campaigning, making it unclear as to whether the Tories will gain a foothold. In a race that has become all about the manifestos, the Tories have given nothing in the way of an aspirational message, nor met voters' concerns about services and jobs. They thought they could breeze through this campaign, without offering anything.
While the Conservatives may still gain in Northfield and Erdington, the Conservative campaign has shown that, Brexit aside, they remain as distant as ever from ordinary people. Among Labour voters I speak to, Jeremy Corbyn is unpopular and they trust Theresa May far more to deliver on Brexit. Labour doesn't really match the values of anyone but young voters, and older Labour voters are put off. But the Tories have been incapable of capitalising on this. When Conservative and Labour voters in Birmingham head to the polls on Thursday, they'll be holding their noses for different reasons. Birmingham deserves better.
Ieuan Joy is a writer and student.
To enquire about republishing spiked's content, a right to reply or to request a correction, please contact the managing editor, Viv Regan.