Corbyn and the IRA: an infantile scandal
This gotcha moralism is childish, irritating and historically illiterate.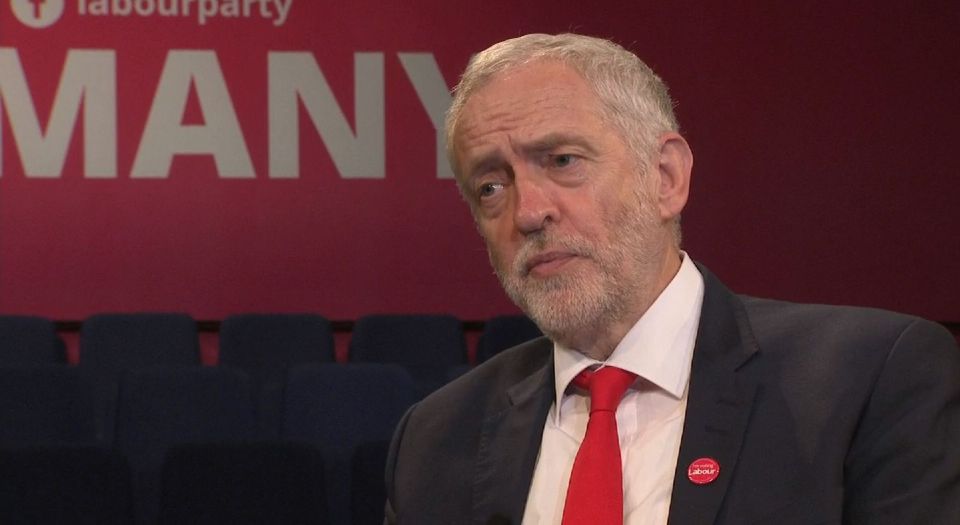 Right now, nothing better sums up the moral infantilism of the opinion-forming class than its obsession with Jeremy Corbyn and the IRA. Everywhere Corbyn goes – on TV, into newspaper offices, online – he's badgered with questions about the time he took tea with the leaders of Sinn Fein and said a few critical things about Britain's actions in Northern Ireland. Labour needs to be 'cleansed of Corbyn and his IRA-loving ilk', says the Telegraph. That Corbyn rubbed shoulders with Sinn Fein officials while its military wing was engaged in a bombing campaign puts him 'beyond the pale', said Arlene Foster, leader of the Democratic Unionist Party, in a speech today.
You don't have to be a fan of Corbyn to find this incessant IRA talk childish and irritating. It captures the media and political class's preference for gotcha moralism over serious debate about the important issues of today, in Brexit Britain, 20 years since the Provisional IRA last detonated a bomb. First there's the historical illiteracy. Anyone who knows anything about the Troubles, which started in 1969 and ended with the first Provisional IRA ceasefire in 1994, knows British officials were talking to Sinn Fein and the IRA in the same period Corbyn was meeting with them. There's outrage that Corbyn hung out with SF in the late 1980s and early 1990s, but he wasn't the only one: the then Conservative government had put out 'peace feelers' to the IRA as early as 1989, five years before the IRA ended its campaign. John Major himself okayed these discussions between officialdom and the IRA's Army Council. If Corbyn is a nutter unfit for public life because he talked to the IRA before it stopped its campaign, so is John Major.
Then there's the bizarreness of singling out Corbyn. The Queen shook hands with Martin McGuinness, IRA man turned first minister of Northern Ireland. Ah, but that was in 2012, not 1988, and that makes the world of difference, say Corbyn's haters. They sound like they haven't even convinced themselves of this argument. The McGuinness Corbyn met was the same McGuinness the Queen met: an IRA commander turned politician. Let's try this, then: in 1990, shortly after he was released from prison, Nelson Mandela refused to condemn the IRA specifically and said Britain should talk to them before they had disarmed. In fact, one account says Mandela was 'against IRA decommissioning', on the basis that, in Mandela's words, 'you don't hand over your weapons until you get what you want'. Is Mandela beyond the pale, too? Should we take down his statue in Parliament Square? Will Arlene Foster attack him in her next speech? Of course not. He isn't Corbyn, and they're out to get Corbyn, not to be consistent or principled.
Then there's the warped moralism of the constant demand that Corbyn should condemn the IRA 'specifically'. Corbyn's fairly sensible, measured approach has been to say 'I condemn all violence in Northern Ireland', by which he means IRA and loyalist violence. But this isn't good enough for the gotcha moralists. On TV at the weekend, Corbyn was asked if he would 'condemn the IRA alone' (my italics). He replied, 'I condemn all the bombing by both the loyalists and the IRA', and the media and anti-Corbyn Twitterati went into meltdown. They present this as a moral position – 'He won't condemn the IRA, but I will' – but actually it is a deeply immoral position, because what they're really saying is: 'Stop condemning loyalist violence.' The demand that Corbyn condemn 'the IRA alone' is a way of castigating him for drawing attention to loyalist horrors.
This is the most shocking thing about the Corbyn/IRA thing: it isn't him justifying violence – it's his opponents, implicitly, their discomfort with his condemnation of both the Irish Republican Army and loyalist death squads a roundabout way of saying, 'The loyalists were okay. Or at least better.' They forget, or don't care about, the terror and torture unleashed by loyalist death squads against Catholics in Northern Ireland. They forget the profound sectarianism of these groups, and the unspeakable bloodshed their anti-Catholic bigotry gave rise to. If Corbyn is 'pro-IRA' for refusing to single out the IRA as the worst group, are these people pro-UVF, pro-UDA, pro-the Shankill Butchers for refusing to single out loyalists, and even worse for effectively saying: 'Stop condemning loyalists, just condemn the IRA alone'?
In that vein, let's have a word with Arlene Foster. She condemns Corbyn for what he did and who he met in the 1980s, yet she leads a party, the DUP, which during the Troubles was poisonously sectarian. Some of its key supporters viewed Catholics as vermin. 'They breed like rabbits and multiply like vermin', said party founder Ian Paisley. Your Pope is the 'antichrist', he regularly told Northern Ireland's Catholics. In 1984, a DUP Belfast councillor, George Seawright, described Catholics as 'Fenian scum' and said 'taxpayers' money [should be] spent on an incinerator and burning the lot of them'.
DUP officials did more than whip up a climate of violent contempt for Catholics. Some of them had links with groups that worked with loyalist death squads. In 1986, the Ulster Resistance was set up. The launch rally for this group was addressed by both Sammy Wilson, the DUP's press officer, and Peter Robinson, who later became leader of the DUP before being succeeded by Foster in 2015. Robinson was photographed wearing the militant paraphernalia of beret and military fatigues at an Ulster Resistance rally. Ulster Resistance went on to collaborate with the Ulster Volunteer Force and the Ulster Defence Association to try to secure arms for the loyalist 'cause'. How bad were the UDA and the UVF? Well, in the 1970s some members of the UVF formed a murder gang that came to be known as the Shankill Butchers, after the Shankill area of Belfast in which they would kidnap Catholics in the dead of night and torture them to death over a period of hours. 'Please kill me', one of their victims was heard to say. One of the DUP's newest assembly members, Emma Pengelly, is the daughter of Noel Little, a leading figure in Ulster Resistance, which tried to get guns for the UVF, which a decade earlier spawned the Shankill Butchers offshoot.
So, a question for Ms Foster. If Corbyn is beyond the pale for meeting Sinn Fein figures in the 1980s, are you beyond the pale for leading a party which once had members with links to terrorist groups that went so far off the rails in the 1970s and 80s that some of them hung Catholics from butcher's hooks like slabs of meat?
Brendan O'Neill is editor of spiked.
To enquire about republishing spiked's content, a right to reply or to request a correction, please contact the managing editor, Viv Regan.