Forget Putin — it's Brussels that is meddling in our elections
Juncker's anti-Brexit leaks are a stab at reshaping British politics.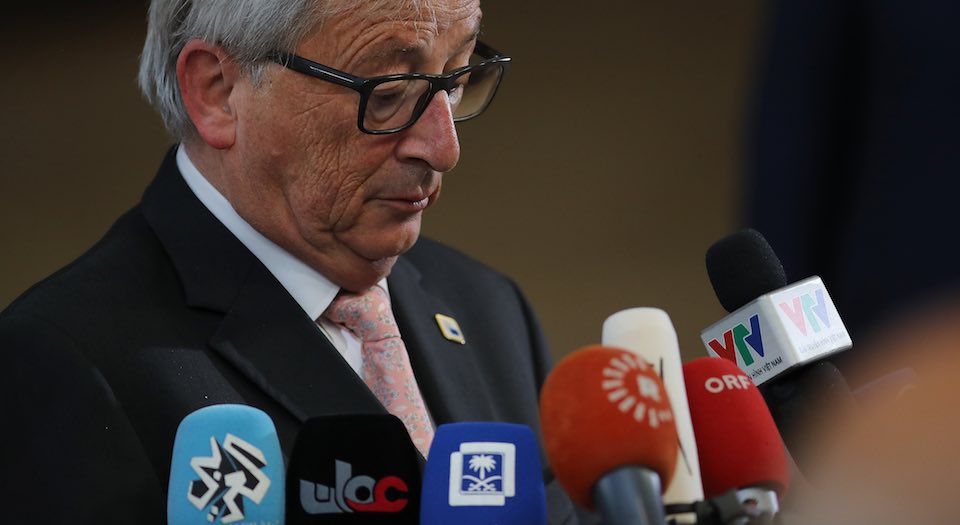 If you want to know the meaning of the word hypocrisy, the true meaning, look no further than the British chattering classes' unfiltered glee over Jean-Claude Juncker's sly strikes against Theresa May and her political reputation.
For months, following their beloved Hillary's loss in the US presidential election, these people have fumed on the flimsiest of evidence about Vladimir Putin's pro-Trump, anti-Hillary meddling in American people's minds and even their voting machines. 'Vlad swung that election', they madly cried. Yet now, as Juncker and his leaking EC minions attempt for real to wound May and other 'Hard Brexiteers' in Britain's coming General Election, in a pretty explicit effort to pave the way for 'Soft Brexiteers', they're cock-a-hoop. They love it. External meddling in a nation's democratic affairs is cool, it seems, if it accords with chattering-class prejudice.
Even by the standards of the EU — an oligarchy happy to override national democracy and plunge working-class people into penury if it helps prop up their bureaucratic machine — the Juncker-led leaking about his dinner and negotiations with Theresa May has been extraordinary.
Someone at Juncker's EC, clearly with their boss's say-so, informed a German newspaper that the dinner was a disaster, that May is an amateur, that her Brexit secretary David Davis is an unserious politician who should be ousted from the Brexit talks, and that the Brussels view of May is that she's 'deluded'. Juncker let the opinion-forming set know that so long as Britain insists on a 'Hard Brexit' — that is, on Brexit, on leaving all major EU institutions — there can be no meaningful trade deal.
It was a sly, severe leak, designed not only to sway the Brexit negotiations in favour of the EU and its hard, anti-Brexit line, but also to isolate May and the other so-called Hard Brexiteers in the run-up to the General Election in five weeks' time. It is an upfront, if duplicitously executed, intervention in British political and electoral affairs by European officials and politicians keen to dampen the fortunes of pro-Brexit politicians. This is most clear in the leakers' revelation that Juncker et al want Davis to be sacked and would prefer to be working with a less 'Hard' government: this is a stab at shaping who rules Britain now, and who should rule it after the election.
The anti-Brexit politicians being implicitly boosted by this foreign meddling are lapping it up. The Juncker leaks 'blow a massive hole in the Conservative Party's arguments', said Lib Dem leader and chief agitator against the democratic will, Tim Farron. Keir Starmer, Labour's shadow Brexit secretary, who hates Brexit, said the leaks confirm that May's preferred style of Brexiting the EU would 'lead Britain over a cliff edge'.
The same kind of people who wrung their hands over alleged Putinite interference in Western elections now welcome underhand interference in British political affairs by Juncker and Angela Merkel, who has been repeating Juncker's lines. Because they hope to benefit from it. Farron, Starmer and others are taking these foreign whisperers' cue, citing their leaks as if they were gospel in an effort to boost the electoral fortunes of the Lib Dems, Labour and other Soft Brexit — ie, anti-Brexit — forces.
The media are loving it, too. Over the past six months, you couldn't glance at a newspaper without seeing a report about Putin slyly trying to get Trump, Le Pen and others into power. Now those same papers chortle along as Juncker and the Euro-elite stick their bony fingers into British political affairs; as they hint that certain ministers should be sacked; as they provide one side in Britain's electoral showdown — anti-Brexit parties — with ammunition to use against the other side.
The Guardian says the leaks show May cannot be trusted by the electorate. The New Statesman says the leaks confirm that 'no one thinks Brexit will work' (this means no one in the infinitesimally small media bubble inhabited by the likes of the NS). Yesterday's London Evening Standard, on former chancellor and anti-May Tory George Osborne's first day as editor, bellowed joyfully from its front page: 'Brussels twists knife on Brexit.' Mere rumours of Putin's interference in America made the media furious; the fact of EC interference in Britain's election has made them happy. The hypocrisy is staggering.
This sordid affair is very revealing. It confirms EU officials have no interest whatsoever in working out an amicable deal with Britain. Rather, they want to punish us for having had the temerity to vote out of the EU. This isn't deal-making; it's the revenge of a Euro-elite still reeling from the uppityness of our EU referendum result.
It confirms that all that fury and bluster over Putin's alleged interference in the US and elsewhere was not driven by principled opposition to foreign meddling in a nation's democratic affairs, but by the aloof disappointment of an old establishment watching as their technocratic favourites Hillary and the EU lost at the ballot box.
And it confirms, most importantly, what is at stake in the coming General Election: democracy. From Juncker to Merkel to various of our own party leaders and media people, the idea that the British people should decide the fate of the British nation is seen as idealistic and dangerous. Brexit, chosen by 17.4million of us, is a mistake, they claim. We must be instructed on who to vote for next month, they believe. It's more important than ever that on 8 June we vote in such a way that we send a clear message back to these forces of anti-democracy: you don't tell us what to do; we tell you what to do.
Brendan O'Neill is editor of spiked.
To enquire about republishing spiked's content, a right to reply or to request a correction, please contact the managing editor, Viv Regan.