The king is dead
RIP Chuck Berry, inventor of popular music.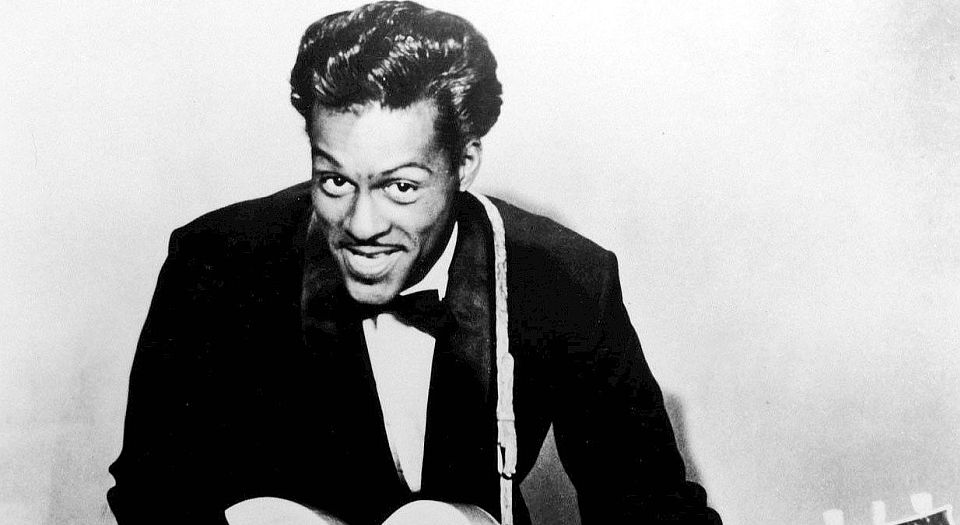 Chuck Berry, a giant of popular music, has died aged 90. He was the greatest of rock'n'rollers: the greatest lyricist and guitarist of the Fifties, and the greatest spokesman of the values that defined his era. He was one of the most influential musicians in all of rock. And his collection of hit singles (best compiled in The Great Twenty-Eight) still sound impressive and vital — they've lost none of their energy 60 years on.
Berry had a chequered background prior to his music career, combining both criminality and hairdressing. He spent time at a reform school in his youth, with convictions for car theft and armed robbery. He went on to get a degree in hairdressing and cosmetology, later finding work as a beautician. He also worked as a car factory worker and a janitor to support his wife and child.
His breakthrough single, 'Maybellene', was released in 1955. When Berry signed with Chess Records, he had expected his slow blues track 'Wee Wee Hours' to be his debut single. But label boss Leonard Chess much preferred another song called 'Ida May', which was adapted from a Western swing fiddle tune called 'Ida Red'. Chess was savvy enough to see the potential of a 'hillbilly song sung by a black man' at a time when black musicians weren't crossing over. After deciding the original title was 'too rural', Berry renamed it after the brand name of a mascara box he found on the studio floor (spelt with an 'e' to prevent legal action). Chess's commercial instinct was proved correct – 'Maybellene' became a million-selling single, and one of the pioneering songs of the rock'n'roll genre.
Despite crafting many of his biggest hits while in his thirties, Berry's lyrics were aimed squarely at teenagers. They helped define an era, forging rock'n'roll mythology in the process: 'the big beat, cars and young love', as Chess described it. Baby Boomer teens were more affluent than their parents had been, and Berry celebrated the newfound consumerist culture. He came from a blues tradition, but his music was optimistic, full of swagger and humour.
His guitar style remains distinctive and immediately recognisable, all these decades later: that clean tone, the sliding notes, the mix of country twang and fast blues runs, and those unforgettable riffs. If you listen to other rock'n'roll songs from Berry's era, it's striking how lacking they are in riffs. Berry's insistence on riffs as a primary melodic element set the standard that all future guitar bands would build on.
His lyrics were also a cut above, and incomparably complex for the time. The attention to detail was remarkable. They had jam-packed meters, astute social commentary, far-ranging references, and outrageous wordplay. His lyrical brilliance shined though whether he was singing about teen angst ('School Days'), racial pride ('Brown Eyed Handsome Man'), romance ('Carol'), Americana ('Back in the USA'), or the greatness of rock'n'roll itself ('Roll Over Beethoven', 'Rock and Roll Music').
It is 'Jonny B Goode', however, that encapsulates everything that was great about Chuck Berry. Following a glorious guitar intro, Berry spins a semi-autobiographical tale that shows how suffused rock'n'roll was with the American Dream: an illiterate country boy from Louisiana could 'B Goode' by playing the guitar 'just like ringing a bell'. The song's pulsating rhythm and duck-walking guitar solo were immortalised for a new generation of fans by the 1985 film Back to the Future. In one scene, Marty McFly (Michael J Fox) plays the song at his parents' Fifties high-school prom, and is overheard by Chuck's cousin 'Marvin'.
Even Berry's misfires are worthy of attention. At one time, he was convinced that Latin music was the next big thing, leading to curious excursions like 'Havana Moon' and 'Hey Pedro'. Also, who could forget 'My Ding-a-Ling', a juvenile novelty single full of lame euphemisms that are frankly beneath him. And yet it became the biggest-selling single of his career.
Berry did more to fuel the explosion of popular music in the Sixties than any other artist. Many bands started out doing Chuck Berry covers, and would later build on the conceptualism of his lyrics. He proved what the three-minute single was capable of, and inspired others to push things further.
Brian Wilson wrote surfer lyrics to the melody of Berry's 'Sweet Little Sixteen' to produce the Beach Boys' first smash hit, 'Surfin' USA'. The fast-paced patter of Bob Dylan's first electric single, the monumental 'Subterranean Homesick Blues', was directly modelled on Berry's 'Too Much Monkey Business'. The Beatles, who covered Berry multiple times on their earlier albums, were successfully sued over 'Come Together' because it lifted elements from Berry's 'You Can't Catch Me'.
Although a private man, Berry's private life often intruded on his career. His career was put on hold more than once due to jail time – for marijuana possession, tax evasion, and unlawfully transporting an underage girl across state lines for 'immoral purposes'. He was also infamous for his squabbles with other rock legends. He became friends with Jerry Lee Lewis only after getting into a fight with him over who was the king of rock'n'roll. He also once punched Keith Richards in the face for touching his guitar without permission.
Even after his creative drive dried up, Berry, the consummate professional, staged comebacks: in the Sixties, thanks to the tributes paid to him by The Beatles and the Rolling Stones; and in the Seventies, thanks to 'My Ding-a-Ling'. Throughout his career, he toured alone, playing with local musicians – because they all knew the numbers. He was still performing regularly until 2014.
On his 90th birthday last October, he announced he was making a new album. Called Chuck, it will be released this June. Said to feature new compositions, it will be his first album in 40 years, and sadly his last.
Christian Butler is a spiked columnist. Follow him on Twitter: @CPAButler
To enquire about republishing spiked's content, a right to reply or to request a correction, please contact the managing editor, Viv Regan.