Meet the conceptual artist in revolt against the art world
Miriam Elia tells Wendy Earle why she's rebelling against the art world.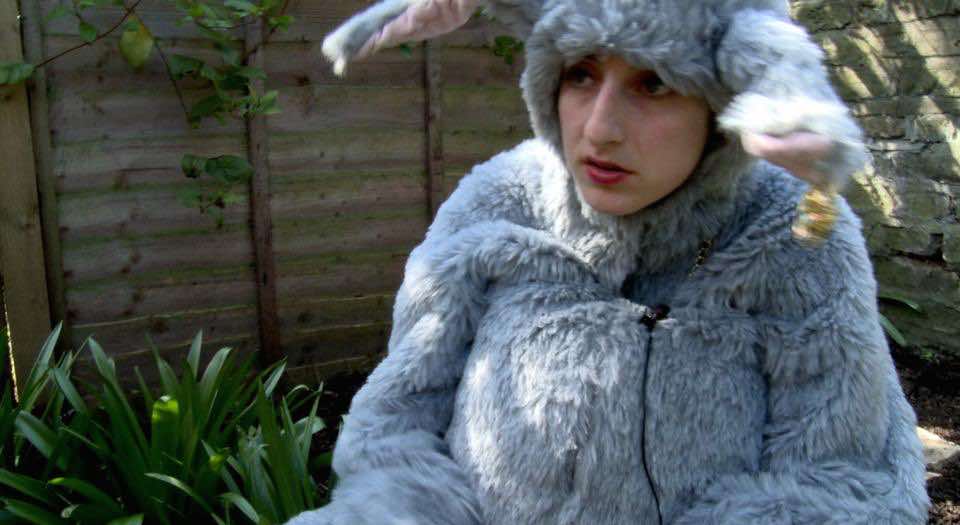 Miriam Elia is a conceptual artist, but she's very funny. The 'but' is important – conceptual art tends to be anal, preachy, trivial and badly made. A case in point might be the work of the 2001 Turner Prize winner, Martin Creed: he presents a screwed-up ball of white paper or a lightbulb going on and off in an empty room as art, because he is an artist, trained at an art college (but more on that later). Creed also happens to be the subject – or perhaps object – of one of Elia's works: 'I fell in love with a conceptual artist and it was totally meaningless.'
Meeting Elia in a noisy London café gives me pause to consider whether I shouldn't pay a bit more attention to conceptual art. The meeting also made me reassess my general antipathy to contemporary political art – because her conceptual art is political as well as funny. And, unlike many conceptual artists, she has something interesting and nuanced to say, using a quirky, visual language, with a sharp and satirical eye on the world around her. She likes to make art that makes us look again, which holds a mirror to our world and to ourselves without telling us what to think, and without making supposedly radical political points about unfair power relations and inequality. Her work is packed with detail. While Creed's screwed-up paper ball seems pointlessly mystifying, Elia's work gives us a lot to look at, ponder on and laugh about.
One of the main targets of her satire is the art world in which she grew up, studied and still lives. You may have seen her book We Go to the Gallery, which she first published with her brother in 2014. Inspired by her childhood collection of Ladybird books, and exasperating years in art college which left her feeling angry and destructive, it meticulously mimics the Ladybird format for the Peter and Jane early-reading scheme, redrawing the mother and two children, to create a hilariously satirical commentary on the state of contemporary art.
At the centre of Elia's work is a commitment to close observation of the real world around her. Her books (she has recently followed up We Go to the Gallery with We Learn at Home and We Go Out) hone in on contemporary groupthink and expose it to ridicule. The fact that she has tickled a nerve, making even (most of) her targets buy her book and laugh, shows how sharply observed her work is. (Penguin has since ripped off her idea by creating their own Ladybird 'kidult' series, having failed to sue her for copyright infringement.)
'The heart of what I do is looking at the real world – translating it into some form of theatre by actually looking at the way people are – and reflect that back to them', she tells me. 'I am doing my best to hold a mirror up, but there are a lot of ambiguities in that mirror – it's not straightforward, so hopefully my work reflects that.'
Much of Elia's work contrasts the cosy optimistic childhood world of the Sixties and Seventies with the political clichés and pretensions of the contemporary art world. She thinks it lost its way when it stopped emphasising the craft in art, especially drawing from observation.
'Even though a lot of my work doesn't involve that, the art of looking at things in detail is really important. It's like saying to someone who is going to write a book, you don't need to know words, or in music, you don't need to know notes and cadences – things that have taken a long time for humans to develop. What the [art school] system teaches now is to look at other artists, so that it reinforces the bubble, so you go back to the gallery or museum, observe what's already been done, copy it. So everything looks like a pastiche of what's already been done… a reference to something else. There is a whole generation [of artists] with no skill at all.'
Elia relates a tale of her mother's, who studied painting at the Royal College of Art in the Seventies. When she arrived there one day, the easels were being thrown into skips with the declaration: 'Painting is dead!'
Elia believes art schools' focus on ideas and 'how to think' is 'pseudo-spiritual'. 'They tell you that it's a time and space to get away from the real world, reflect on your inner life.' But, she asks, 'What's wrong with real life? Why are you running away from it?'
Art schools have become like seminaries, creating a kind of religious elite who want the state to support their way of life through arts funding, and think their ideas are somehow special and above criticism. But often they are just dull and contentless, she argues, 'spouting rubbish politics, pushing people into identity boxes'. 'I hate the romantic concept of an artist in a protected bubble', she tells me.
Elia is particularly critical of the art world's intolerant consensus around left-wing politics, and the hostility to ordinary people's sense of national identity. Such so-called Marxist rhetoric has become a moral imperative, beyond challenge. 'The rhetorical language of being controversial and breaking boundaries has become institutionalised. At art school they told us to break the rules – but they hadn't taught us any!' Perhaps it is that art schools have imposed a new set of rules that have nothing to do with art: they expect everyone to toe a PC line and say how much they care about the world – how much they hate nationalism, racism and sexism.
Elia resists this pressure towards a liberal-left consensus. As she notes wickedly on the inside jacket of her 'Dung Beetle reading scheme': 'Each book in this Dung Beetle series will grind your child's opinion into the shapeless mush of modern intellectual discourse, and ensure they understand that anyone that disagrees with them is either a bigot, a lunatic or a charlatan.'
On a page inside, alongside a picture of Mummy, Susan and John in front of a sleeping tramp, the text reads: 'The homeless man is on the bench. "Give him a blanket", says Mummy, "and tweet about it to all your friends".'
Elia is increasingly worried about what she sees as totalitarian tendencies in society, which create 'bogeymen' out of Trump and Brexit supporters: 'They don't question their thinking, they don't look at the nuances of a situation.' They just think 'who are these people?', she says, in a plummy, whiny voice. 'And they feel put upon, complaining, "I haven't slept for days", "it's the beginning of the end".'
Noting that we have experienced a huge shake-up in our assumptions about the world over the past year, Elia finds the response of the privileged middle class (a protected 'north London elite') scary in its anti-democratic belief that 'people don't know what's good for them', seeing them as 'low-information voters'. She thinks there is a deep fear of ordinary people and a desire to be protected. The supposedly liberal middle classes increasingly resort to using emotional manipulation. They always talk about their feelings – and you can't argue with feelings. They are so fragile and they seem incapable of thinking in or seeing things in another way. She worries that 'they are drifting into something and don't know what they are drifting into.'
Elia recently had a baby, but is starting to think about her next projects. She has a lot of ideas and remains determined to find ways of using comedy and satire to reach as many people as possible, as well as continuing to challenge middle-class prejudices and delusions.
Wendy Earle is convenor of the Institute of Ideas Arts and Society Forum.
Miriam Elia will be speaking at the second in a series of panel discussions, titled 'Democracy and the Arts in Europe: The Arts and the Public', on Monday, 8 May at Rich Mix, London, E1 6LA.
The first event in the series, Democracy and the Arts in Europe: Artists in a Global World, is taking place on Tuesday, 28 March.
To enquire about republishing spiked's content, a right to reply or to request a correction, please contact the managing editor, Viv Regan.