Meet the 'sock puppets' waging war on your freedom
How officials use public-health charities as a front for authoritarianism.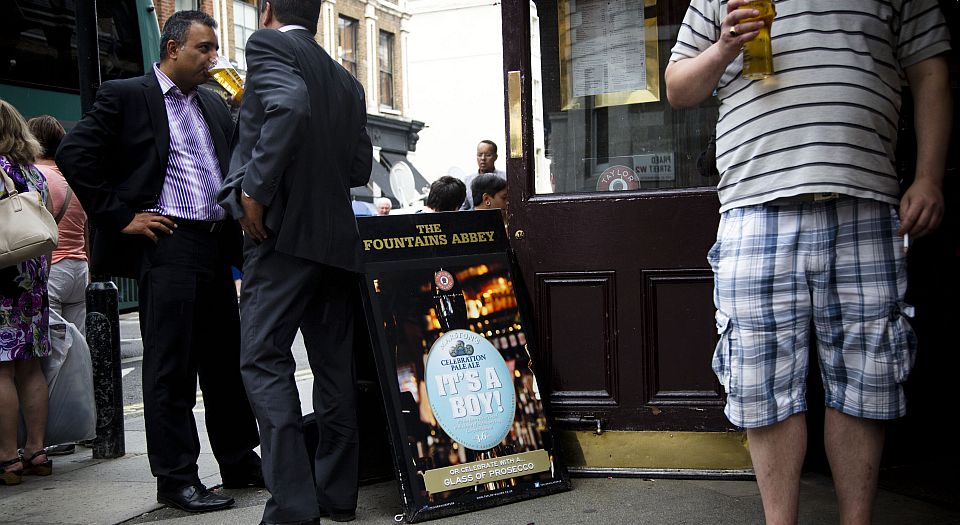 The charity Alcohol Focus Scotland has today called on the Scottish government to ban alcohol advertising in all outdoor places and on television before 11pm. It wants a ban on alcohol adverts in all newspapers and magazines – except for 'publications aimed at adults' – and a ban on alcohol companies sponsoring all sporting, musical and cultural events. Whatever crumbs of advertising are left in Scotland after this purge should, it says, be limited purely to 'factual information, such as composition, origin and means of production'.
There is no groundswell of public support for these draconian restrictions on commercial speech. No one has been marching on Holyrood demanding an end to Guinness advertisements. If the Scottish people were asked to list their political priorities, it is unlikely that more than a handful would include alcohol advertising in their top thousand. Instead, it is a classic example of a process I discussed in my book Sock Puppets five years ago.
The charade works like this. The government finds (or creates) a charity, lavishes it with taxpayers' money and encourages it to lobby for taxes and regulation. After a few years of astro-turf campaigning by state-funded activists, the government passes laws which punish, stigmatise and exploit its citizens while claiming to be capitulating to the demands of civil society.
It is an egregious farce, and it has been going on for years. In Ireland, for example, a charity called Alcohol Action Ireland has spent the past two years promoting the government's Public Health (Alcohol) Bill which, if passed, will enforce minimum pricing (at €0.80 per unit), advertising bans and possibly even a requirement for shops to hide their alcohol out of view. Alcohol Action Ireland says it is 'currently funded through a mix of state and non-state funding'. This is technically true, but one has to consult its financial accounts to see how unbalanced this 'mix' is. In the last year for which accounts are available, it received €3,000 in voluntary donations and €213,000 in government funding, a ratio of 71:1 in the state's favour.
The same sham is played out all over the UK. Action on Smoking and Health has spent decades harassing smokers with taxpayers' money. Alcohol Concern has done likewise to drinkers, and there is a swarm of nanny-state pressure groups with names like Public Health Action and UK Health Forum campaigning for regressive taxes and infringements on liberty on the taxpayers' dime.
Alcohol Focus Scotland is no different. Its most recent accounts show that half of its annual income came directly from the Scottish government, with a large chunk of the remaining income coming from a temperance conference it organised which was sponsored by the Scottish government and NHS Scotland. Alcohol Focus Scotland used this conference as an opportunity to heap praise on Nicola Sturgeon for her 'political courage' in attempting to introduce minimum pricing. Sturgeon showed up in person at the shindig to receive the blessings of a charity that is, to all intents and purposes, her client.
The press release for today's report on alcohol advertising includes a quote from the Scottish government's children and young people's commissioner, Tam Baillie, who helpfully explains that 'I strongly support this report'. Such is the SNP's takeover of civil society that a state-funded charity can shamelessly issue a lobbying document aimed at government officials that includes an explicit endorsement from one of the people it is supposedly lobbying.
It is difficult to ignore the suspicion that such efforts are not really aimed at the government at all. It is not the government that is being lobbied – it is us. The aim of these publicity stunts is to create the illusion of grassroots support for policies about which the public is apathetic if not downright antagonistic. It is being done either with the connivance of the government or with its tacit approval.
The report – a wafer-thin document of six written pages in a large typeface – is said to be the work of Alcohol Focus Scotland's 'virtual expert network on alcohol marketing'. The authors are not named but it is reasonable to assume they are the same people who form the charity's 'alcohol marketing expert group' which was last year revealed to be 'made up almost entirely of temperance campaigners'. This is no exaggeration. Three of its number are employees, trustees or advisers to the Institute of Alcohol Studies, an organisation set up by the Alliance House Foundation in the 1980s to replace the UK Temperance Alliance. The Alliance House Foundation, whose stated objective is 'to spread the principles of total abstinence from alcoholic drinks', provides almost all of its funding.
Most of the 'experts' in the group are linked either to established temperance organisations such as the International Order of Good Templars and the Global Alcohol Policy Alliance, or are members of dyed-in-the-wool nanny-state pressure groups, such as Alcohol Health Ireland, Alcohol Focus Scotland, Balance and UK Health Forum, which receive most – and sometimes all – of their funding from the unwitting taxpayer.
Its star performer is Gerard Hastings, an adviser to the Institute of Alcohol Studies and a professor of 'social marketing' at Stirling University, who has called for Scotland to wage a 'global war' on alcohol. Described in the press release as an 'internationally renowned expert', Hastings is best known for his fanatical hatred of the market economy and of advertising in particular. Given to writing poetry (sample lyric: 'I am the Corporation and I'll crush you in the end') and coming close to tears while delivering his evangelical speeches, he describes consumers as 'slaves' and accuses advertisers of 'grooming' children. Having jumped on the 'public health' gravy train relatively late in life, Hastings seems to view the battle against alcohol as part of a wider war against the voluntary exchange of goods and services.
It comes as no surprise that this assortment of Bible-bashing teetotallers, pearl-clutching prohibitionists and rabid Corbynistas wants the SNP to stamp out booze advertising. Their report – such as it is – does its best to cherry-pick the evidence before screaming 'think of the children', but all the tricks of the social scientist's trade cannot disguise the fact that alcohol advertising does not increase overall demand for alcohol. A 2014 Cochrane Review found insufficient evidence to support an advertising ban, although this was largely due to the poor quality of the studies. A time may come when so much junk science that is favourable to the prohibitionists' position has been published that the 'public health' lobby can convince politicians to ignore the quality and settle for quantity, but they are not quite there yet.
Frankly, I doubt that the people behind this report even believe their own propaganda. In their hearts, they must know that banning alcohol advertising will do nothing to prevent underage drinking, binge-drinking and alcoholism. For them, it is merely a step down a path that has been well trodden by their anti-smoking brethren. But it is because of the anti-tobacco crusade that we know how this movie ends. Once a ban on sponsorship has proved unsuccessful, the moral entrepreneurs will complain about the 'loophole' that allows beer adverts to appear in pornographic magazines and in commercial breaks at midnight. Once those have been banned, they will complain about alcohol being displayed at waist height in shops (they are already doing so). After that, it is only a short step to plain packaging for alcohol, for which early 'research' is already underway.
The cost of this whirlwind of destruction will not be paid by the directors of the SNP's various quangos and pseudo-charities. The burden of a near-total ban on alcohol marketing will fall on newspapers, broadcasters and the organisers of sporting, musical and cultural events. Ultimately, it will fall on you and me through higher prices and restricted choice.
The 'public health' lobby dismisses these concerns, claiming that other companies will fill the gap once the booze barons have been forced out. But there is only so much money available and if a software company, for example, takes over from a beer company to sponsor a football team, it will have to drop another advertising deal to finance it. Somewhere down the ladder, advertisers are going to be lost. The FA Cup will probably be all right. It's the pub football teams and small music festivals that should be worried.
To take an example that is dear to my heart, professional snooker has never recovered from the ban on tobacco sponsorship, just as grassroots snooker has never recovered from the smoking ban. As Ronnie O'Sullivan recalls in his autobiography, 'once tobacco sponsorship ended, there was nothing to fall back on'. Barry Hearn has since got the game back on its feet but many of snooker's new sponsors are online gambling companies and fast-food chains, both of which are now under threat from the moralists of the 'public health' movement. There is no escape.
With free expression being trampled by illiberal laws against so-called hate speech and other absurdities, there is little hope for the protection of commercial expression in Britain, particularly when many advocates of free speech view it as a side issue. But while free speech is in a bad way at the moment, there is no requirement on individuals to be decent, honest and truthful in everything they say. If you want to advertise something, however, that's exactly what you have to be – and if you want to advertise alcohol, the restrictions are even tighter.
Now ask yourself, what kind of government would want to ban something that is, by definition, decent, honest and truthful while forcing taxpayers to subsidise pressure groups that have none of these virtues?
Christopher Snowdon is director of lifestyle economics at the Institute of Economic Affairs.
Listen to Chris in the latest episode of our nanny state podcast, Last Orders:
Picture by: Lisa Williams, published under a creative commons license.
To enquire about republishing spiked's content, a right to reply or to request a correction, please contact the managing editor, Viv Regan.