Toni Erdmann: the humanism of comedy
It has taken a German film to show Hollywood how to do humour.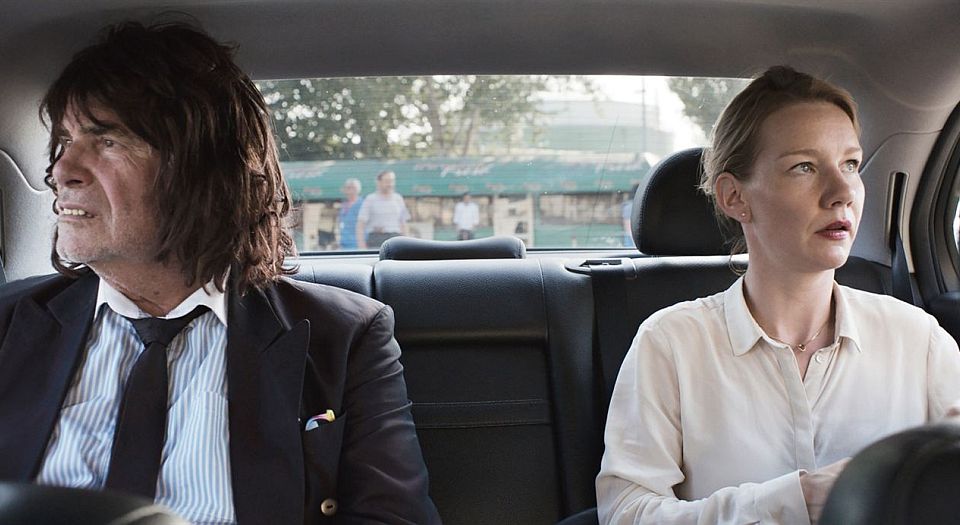 The new adverts for the German film Toni Erdmann market it as 'hilarious', 'outrageous' and 'the finest comedy in recent memory'. Its plot synopsis certainly makes it sound funny: Winfried, a retired and divorced father, tries to reconnect with his high-achieving daughter Ines by carrying out a series of increasingly outrageous practical jokes as his comic alter ego, Toni Erdmann.
However, the film is better described by its director Maren Ade. She says it is 'very long and sad'. Obviously it's easier to sell a hilarious comedy than a heartrending character study from Germany that lasts two hours and 42 minutes. Yet the greatness of the film lies in its immense humanity and pathos, and how these slowly give way to abrupt, anarchic comedy moments. It is quite unlike anything I've seen in the cinema before.
American comedy blockbusters generally fail because we simply don't care enough about the characters. They are often too lazily drawn; they're two-dimensional and generic. They rely too heavily on the likability of their stars, with the audience expected to care about the actor if not about the caricature they portray.
Even good films sometimes find it difficult to create comedic characters we can care about because they have such a short time in which to establish characteristics before bombarding us with gags. Sitcoms are better at creating comedic storylines: the audience has a familiarity with the show and the humour often comes from knowing how certain characters will react to certain situations.
If a good joke is all in the set-up, then Toni Erdmann certainly has a lot of patience: the Toni Erdmann character doesn't start to disrupt Ines's work life until an hour into the film. The craziest set-pieces take place in the movie's last hour. Before then, Ade's economical direction makes us care for the characters through extraordinary attention to detail. The simple, handheld cinematography lingers on intimate moments, intently portraying the minutiae of the characters' day-to-day existence. The film's Bucharest setting is captured in insipid colours, with a striking lack of romance. The blunt cinematic style allows us to feel the depressed, lonely lives of father and daughter. Winfried has all the time in the world but no one to share it with, while Ines has no time for anything except a dehumanising corporate existence.
The immense empathy we feel makes the comedic moments all the more incongruous and unexpected. This film has been compared to the considerably less comedic Tokyo Story, the monumental arthouse Japanese classic about an old couple visiting their children who have no time for them. But while there is no relief for the painfully repressed sadness of those characters, Toni Erdmann gives us startling comedy that comes from nowhere. Even to hint at the contents of the gags would ruin the surprise; just know that they're allowed to play out in extended sequences that fully exploit their incredible absurdity.
The performances are wonderful. The actors have to create empathy because their characters' actions are insane. Winfried's behaviour is aggressively stalkerish, and during Ines's birthday party at the end of the film you wonder if she's having some kind of breakdown. Peter Simonischek excels at balancing the vitality of Winfried's sense of humour with its cause: a desire to hold on to each moment before life slips away. Sandra Hüller is excellent as Ines, the straight woman to the exuberant Winfried/Toni. An early scene implies suicidal thoughts in Ines, inviting us to wonder if her wild abandon is an urge to enjoy life again or to give up on it altogether.
Critics were dismayed that Toni Erdmann failed to win any prizes at Cannes last year. But the film is now poised to be an international hit and is deservedly bringing Maren Ade's work to a larger audience. After so much over-budgeted dross calling itself comedy, it has taken a film from a country that isn't known for its sense of humour to remind us how great comedy can be. This is a comedy born from humanism, not trite sentimentality.
Christian Butler is a writer based in London.
Watch the trailer for Toni Erdmann:
To enquire about republishing spiked's content, a right to reply or to request a correction, please contact the managing editor, Viv Regan.