Women's March: the right way to tackle Trump?
Trump should be protested against, but not like this.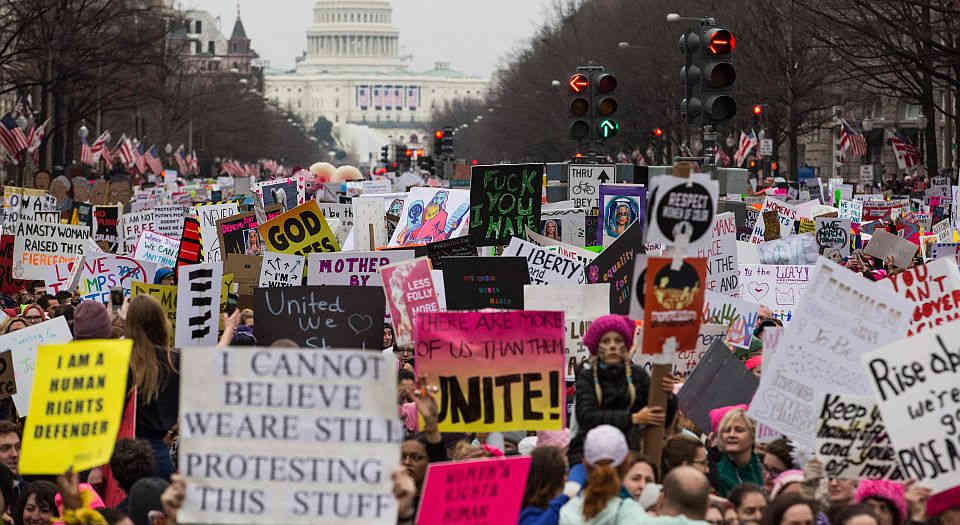 Anyone wanting to understand the problems with feminism today could do worse than consider this weekend's Women's March. While commentators marvelled at the sheer scale of the event – between two and three million participants in cities around the world – the point of the protest seemed to be glossed over. Instead, the pussy hats and homespun placards were allowed to speak for themselves. And they told of a middle-class revolt as much against the people, the masses, who elected Trump as against Trump himself. They told of women dressed up as Suffragettes but feeling a disdain for democracy. They told of privileged women finding solidarity in a shared sense of faux-victimhood.
Coming the day after Trump's inauguration, the Women's March was never meant to change anyone's mind about anything. The election has been and gone: like it or not, Trump won. Nor was it meant to protest against any particular piece of legislation – none has yet been passed. Instead the intention was for the march to send signals: Trump is bad, the marchers are good; Trump uses crude language, the marchers use ironic nods; Trump is sexist, the marchers are sisters. The signalling meant that men could join in, as could people outside America and even children unable to read the placards they were carrying.
The protest's lack of a specific, unifying purpose became its key strength and allowed the numbers to grow. The march could be about whatever anyone wanted it to be about. For some it was a protest against plans to restrict access to abortion and defund contraception provision. For those who found this all a bit too radical it was about women's rights more broadly, a challenge to Trump not to turn back the clock on feminism. Feminism now also encompasses protecting the environment and looking after 'Mother Earth'. Most of all the march was meant to show solidarity both with women and between women at a time when, with Trump's success, to be a woman is, apparently, to be thought of as vulnerable, threatened and violated.
The organisers of the march went to agonising lengths to demonstrate inclusivity, but were plagued from the outset by intersectional one-upmanship and arguments that black women, Muslim women and trans women weren't sufficiently represented. This was to be a display of female solidarity, that presented all women as sharing interests in common, all oppressed by the same patriarchal forces and the same misogynistic president. Yet despite the rhetoric of inclusion, some women were firmly excluded from the march: most notably women who oppose abortion. There was also little solidarity on offer for the not insignificant number of women who voted for Trump; the women whose communities and families have been so shattered by the closures of factories they were desperate for change; the women too busy working two jobs to make ends meet to spare the time to knit a hat and knock up a placard.
The idea of a Women's March presents all women as sharing interests in common, yet the lives of women with secure, well-paid careers and plentiful opportunities could not be more different from the lives of women who worry about having their homes repossessed. The notion of female solidarity allows an elite group of women to stake a claim to victimhood off the backs of their genuinely less advantaged 'sisters'. Eve Ensler uses her Guardian column to argue: 'Donald Trump is giving women nightmares.' The columnist and author Rebecca Solnit writes in the London Review of Books that the whole nation 'is about to become a battered woman, badgered, lied to, threatened, gaslighted, betrayed and robbed by a grifter with attention-deficit disorder.' Elsewhere we're told women are marching because their only alternative is to 'scream silently into their pillows'.
These women are unable to see the political differences that exist outside the prism of victimhood. Instead, female Trump voters are to be pitied for the self-loathing men have inflicted on them. The new first lady is told to blink if she needs help – the oh-so-witty assumption being she's locked in an abusive relationship and needs rescuing. This feminist view of women as childlike and vulnerable continues with the patronising advice given to marchers to wrap up warm and remember to go to the toilet beforehand.
The focus on solidarity-through-victimhood gets in the way of what might be a badly needed objective for a future march. Trump has threatened restrictions on abortion and the de-funding of contraception. His first act as president was to begin unpicking Obamacare, hated at least in part because it compels business owners to provide insurance cover entitling women to free contraceptive pills. In his time as governor of Indiana, Trump's socially conservative vice president, Mike Pence, signed eight anti-abortion bills in four years. But to fight this upcoming battle properly, American women need to take a lesson from the women in Poland who successfully protested against restrictions on abortion last year. They won by getting angry and fighting their corner, not by getting cute and asking to be better protected.
The sense of purpose demonstrated by Polish women required both anger and, more importantly, politics. It required conversations between people who disagreed with each other. This weekend's women's march seemed to be less about politics than about performance. It was politics as therapy; 'a cathartic moment', intended to remind people they are 'not alone'. And one problem with finding security in a crowd of likeminded people is that it allows delusion to creep in. A huge number of people marched on Saturday – but this is still a tiny proportion of the electorate compared to those who voted for Trump. The reality that Trump won needs to be confronted. But the Women's March allowed people to hide from unpleasant disagreements.
Feminist Jessica Valenti said this weekend's march made it 'hard not to feel like we're the winners after all'. Generating a feelgood factor as the relatively privileged enjoy a cathartic moment might be nice for those involved. But let's not convince ourselves this is the politics we need to deal with the new era. Rather than winning arguments, the Women's March has built yet more walls between the protesters and those who voted for Trump.
To enquire about republishing spiked's content, a right to reply or to request a correction, please contact the managing editor, Viv Regan.