Trump isn't clever enough for urinary Dadaism
It is an indictment of the liberal left that they're sharing the piss story.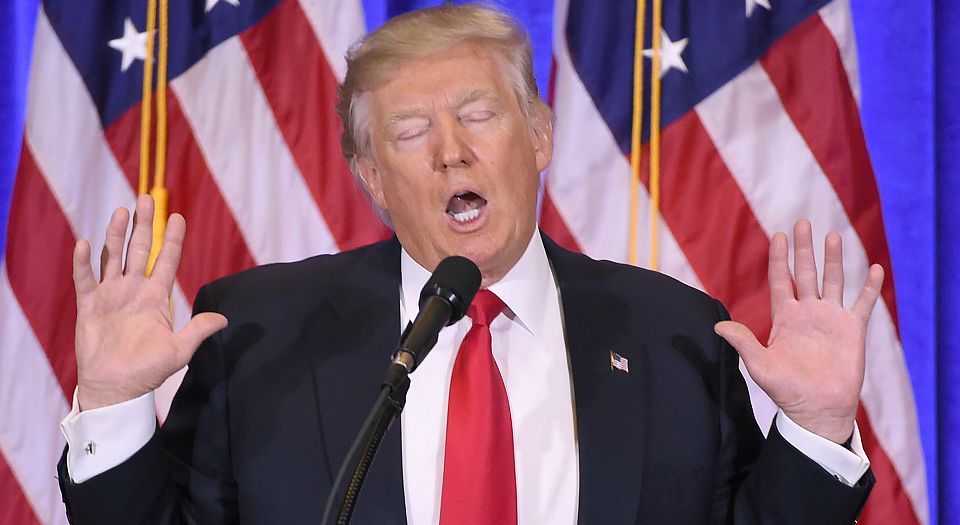 So it turns out that Donald Trump hired a group of Russian prostitutes to urinate on the hotel bed once occupied by Barack and Michelle Obama. For the ever-prurient liberal left, it's the best news since revelations of David Cameron's sexual predilection for swine.
Except, of course, it almost certainly isn't true. We know this because Trump's expressions of contempt for the Obamas are already there for all to see on Twitter and in the content of his speeches. The symbolic desecration of a bed is far beyond his imaginative capabilities. If Trump did come up with this, then it would mean that he isn't the unreconstructed demagogue we all supposed, but rather is an avant-garde artist committed to a particular brand of extreme political Dadaism.
Like Piggate, this latest story has been gleefully disseminated in spite of its spurious origins. You'd think the liberal left, with all its endless fulminations over 'post-truth' politics, would be a little more insistent on fact-checking. And caution really should be advised, because the joke isn't on Trump at all. It's those who are laughing who are the victims here, those too gullible to realise they have been duped.
I am not suggesting that the Trump story is a deliberate work of satire, but the effect is much the same. Recently the Guardian published a piece in which an anonymous writer asserted that watching Sam Harris videos on YouTube had eventually lured him into a state of near-fascism. It was preposterous from start to finish, brilliantly satirising the very prejudices that would lead so many to believe in its authenticity.
Had this piece appeared anywhere else the impact would not have been quite so potent. That the Guardian had been sufficiently naive to publish it in the first place is telling. The tendency to caricature one's political opponents is becoming more and more prevalent, especially among the liberal left. But those willing to indulge in such strawman tactics should be advised that it leaves them open to ridicule.
The online troll Godfrey Elfwick later claimed authorship of the piece. Elfwick describes himself as a 'genderqueer Muslim atheist', suffering from racial dysphoria known as 'wrong skin'. His sole intention is to cause mischief, to rile the sensibilities of so-called 'social justice warriors'. Given his track record, it is perfectly feasible that he may have penned the Guardian article. It is more likely that his claim is simply another prank. After all, he also claimed to have written and directed MTV's ludicrous 'Dear White Guys' video.
There's nothing new about this, of course. When Joe Orton wrote letters to the press to condemn his own plays, often under the pseudonym of Edna Welthorpe, the joke depended on the credulity of his critics. In response to the production of Entertaining Mr Sloane at the New Arts Theatre in 1964, Mrs Welthorpe wrote to the Telegraph to express her disgust: 'I myself was nauseated by this endless parade of mental and physical perversion. And to be told that such a disgusting piece of filth now passes for humour!'
In a sense, authenticity is beside the point. Mary Whitehouse's complaints to the BBC were often every bit as funny as Orton's letters, albeit inadvertently so. Elfwick's claim to have written MTV's 'Dear White Guys' is likewise effective because the video is self-satirising, an embodiment of the ludicrous brand of identity politics favoured by the liberal left.
This blurred distinction between satire and 'fake news' is a source of consternation for many. In media professor Melissa Zimdars's now famous list, she includes a category of websites that are 'purposefully fake with the intent of satire/comedy, which can offer important critical commentary on politics and society, but have the potential to be shared as actual/literal news'. She goes on to explain that her intention is 'to make sure anyone who reads a story by the Onion, for example, understands its purpose'. How magnanimous of her.
It is strange, however, that so many who would proclaim to share Zimdars's kind of superior wisdom, those who rail against the 'post-truth' and 'fake news' strategies of the right, would now be spreading a story about Trump as a practitioner of urinary performance art. I struggle to see how this is any different from believing the kind of conspiracy theories peddled by the likes of Alex Jones at Infowars. Wishful thinking, it seems, can often overpower scepticism, irrespective of one's political leanings.
Don't get me wrong. I sincerely hope this extraordinary story is true. When it comes to Trump, the more sticks to bash him with, the better. But until evidence emerges to the contrary, we surely have to assume that the media and the liberal left have just been well and truly trolled.
Andrew Doyle is a stand-up comedian and spiked columnist.
To enquire about republishing spiked's content, a right to reply or to request a correction, please contact the managing editor, Viv Regan.