The teaching assistants who took on the system
Durham TAs show us how to challenge pay cuts.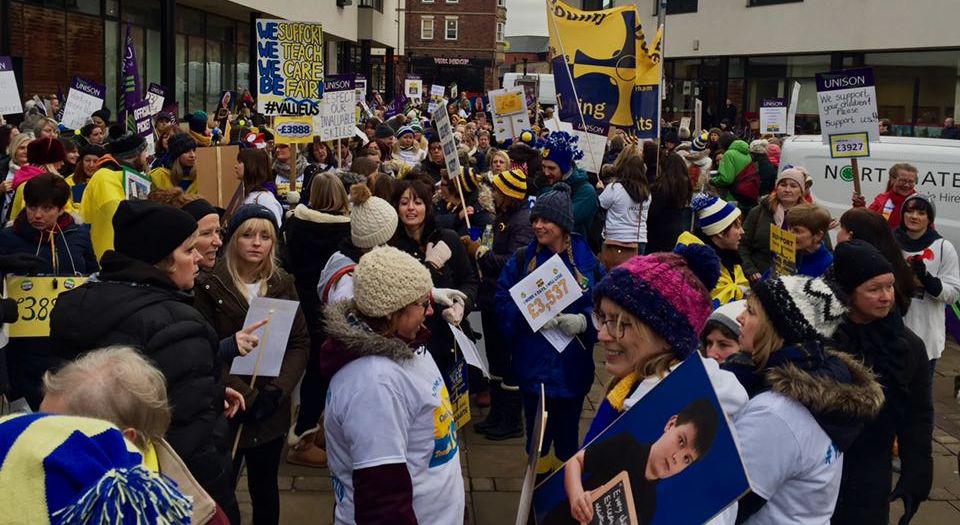 Durham teaching assistants have been waging a campaign against Labour's Durham County Council (DCC) since November 2015, when the council announced that we would face a 23 per cent cut in our already meagre wages. The campaign was led by us teaching assistants, with help from local activists. The Labour council attempted to make the pay cuts without taking responsibility for them, and ignoring the Labour Party's pledges to 'build a fairer Britain' and 'act to create a more equal society, boost the incomes of the poorest and close the gender pay gap'. DCC's 'keep it quiet' strategy backfired because we dared to challenge them, and we did so loudly.
Last month, the council announced that it was suspending its plan to sack us on 31 December and rehire us on 1 January 2017 on new, lower paid contracts. And while we have only won the initial battle, not the war, many people seem to agree with our rejection of the council's Thatcherite mantra: There Is No Alternative (TINA).
In November 2015, DCC informed us that it had no choice but to impose a 23 per cent pay cut (10 per cent if we were willing to work extra hours). As council officials told us again and again, they had acted upon legal advice. Apparently, there was a possibility of an equal-pay claim, though DCC refused to give any more details. It was not a budget-cutting exercise, they insisted.
I received a letter from DCC, as did 2,700 other teaching assistants, stating in council bureaucratese that there was a proposed variation to the Local Collective Agreement of 2004. Apparently, I was being paid for 37 hours per week while working only 32.5. In other words, we — who earn an average full-time salary of about £16,000 — are overpaid! We routinely work early mornings, evenings and weekends, without ever claiming overtime; we do assessing and planning; and we mark work. We are essential for children with special needs who need one-to-one attention. I have taught children French, religious education and art while covering absent teachers, without support. The role of the teaching assistant has changed over the years, and through this campaign it has been said that we are in fact assistant teachers. We do teach, be it one-to-one, in small groups or to a whole classes.
DCC did not think the teaching assistants, a workforce that is 94 per cent women, would resist. Its members wearily stressed the inevitability of the cuts, and cried crocodile tears over our situation. Despite the Labour Party's vote to create a living wage of £10 per hour, the council would have reduced my pay, under the new contracts proposed for 1 January, to £9.63 per hour, according to my calculations. Deputy leader Alan Napier summed up the attitude of the council when he announced that he had 'a fiduciary responsibility to protect taxpayers from the possibility of an equal-pay claim'. The chair of the City of Durham Labour Party and Coxhoe county councillor Maria Plews sobbed: 'Every single one of us councillors doesn't want this. We don't want this situation or to be in this position. It breaks our hearts that we have to do this.' There, there, love.
But DCC had allies in our majority trade union, UNISON. The union – to which I pay £10 per month – initially told us not to take any unofficial industrial action. It said it was 'highly unlikely' that a Labour council would impose these changes. Once DCC issued its letter, UNISON issued a bulletin telling members not to make comments on social media or to the press. UNISON officials refused to back a solidarity rally in June, apparently telling individuals like NUM general secretary Davy Hopper not to speak at the rally (Hopper later died, in July).
In June, we formed a committee, the County Durham Teaching Assistant Activists Committee (CDTAAC), but it was called a 'splinter group' that had no legal or negotiating powers. UNISON ludicrously wanted to form a committee of bureaucrats with one token teaching assistant on it to manage our action! The support we gained from political figures was sporadic, tokenistic, and half-hearted. The local MP, initially supportive, later wrote to say the council had 'no real choice' in cutting our pay. Even Jeremy Corbyn simply told the council to 'sort it out'. What does that even mean (though we were grateful for the mention)?
The truth is, we did it ourselves and probably won our battle precisely because we didn't rely on the unions or the Labour Party. We didn't take their advice or succumb to the 'inevitable' cuts in our pay. We built up support among 2,700 very angry teaching assistants, communicated on social media (essential, as our workplaces are scattered across the county), and nagged public figures across Twitter. We leafleted. We attended the Labour conference in Liverpool (our mascot, Captain TA, was nearly arrested for wearing a mask there). We held fundraising events, Christmas carol gatherings and dances, and, most importantly, huge rallies in front of the town hall. And we inspired people who were facing their own battles — see this video.
A majority of teaching assistants voted overwhelmingly for strike action — there was a 72 per cent turnout, and 78 per cent rejected DCC's offer of 'compensation' for the cuts. There were similar returns in the smaller unions, except for GMB. We held two two-day strikes in November, fully backed with strike pay by UNISON after our successful ballot. We had 80 picket lines the first week, and a hundred the next week. We were set to strike again when DCC announced that it would suspend the threat to sack us and re-engage us on 1 January, at least until September 2017. UNISON called off a planned three-day action. Battle won, but the war isn't over.
DCC helped us enormously by being cowardly and dishonest. It never could elaborate on the 'ongoing equal-pay risk', and it was made to look stupid as it emerged how little we are paid. Parents were not annoyed with teaching assistants — they were disgusted with the council. Articles in the Guardian and other publications raised our profile and put pressure on UNISON, which has now fully backed us.
Rather than trying to argue its case, DCC pulled the curtains in their committee rooms and isolated themselves. They tried bullying tactics, like telling teaching assistants not to wear 'Proud to be a Durham Teaching Assistant' t-shirts on council property. They also menaced some of us by saying on social media that we were at risk of 'bringing the council into disrepute'.
The current situation is an agreement that the council, in partnership with recognised trade unions, will undertake a review of teaching assistants' roles, functions, job descriptions and activities.
So what does 2017 hold for teaching assistants in Durham? Hope. We remain determined, and if DCC thinks it can dampen our spirits by dragging out the process, it is wrong. Until we get all threats of pay cuts withdrawn, we will continue to rally and take action. We are happy to negotiate but will not be cajoled into accepting any backroom deals. We will throw our considerable organisational capacity into campaigning for the defeat of every councillor who voted for this proposal in the council elections of May 2017 unless we receive an improved offer.
Various events in 2016 seemed dismaying to some of us (I voted Remain); but the new spirit that rejects TINA is surely a highlight of the past year. We have already inspired many with our stubborn refusal to accept cuts in our pay. I hope this will continue.
Bridget Yuill is a teaching assistant based in Durham.
Follow the Durham Teaching Assistants' Value Us campaign on Facebook and Twitter.
To enquire about republishing spiked's content, a right to reply or to request a correction, please contact the managing editor, Viv Regan.