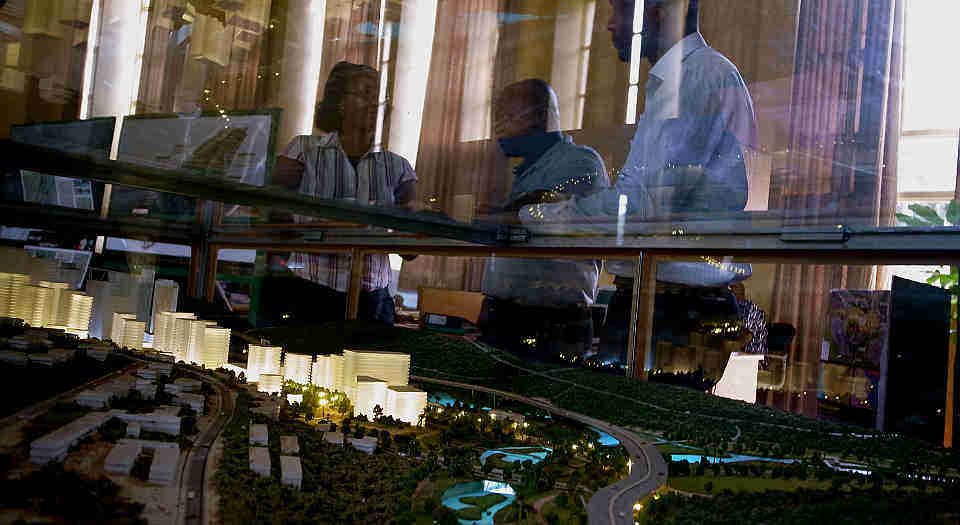 Long-read
And the poor shall rise
The eradication of poverty is becoming a reality.
Did you hear the breaking news? Yesterday, 138,000 people rose out of extreme poverty. Another 138,000 rose out of extreme poverty the day before. And the day before that, too. Of course you didn't, because a plane crash or a terrorist attack is news, but slow and steady progress is not. Even 50million people rising out of poverty in a single year is not news.
But this happens to be the most important story of our time: poverty, as we know it, is disappearing from our planet.
Since 1990, when social critic Naomi Klein claimed that global capitalism lapsed into its most savage form, the proportion who live in extreme poverty – according to a $1.9-a-day poverty line, adjusted for local purchasing power and inflation – has been reduced from 37 per cent, to less than 10 per cent.
At the United Nations Millennium Summit in 2000, the world's countries set the goal of halving the 1990 incidence of extreme poverty by 2015. This was met five years ahead of the deadline. And even though the world population grew by more than two billion between 1990 and 2015, the number of people who live in extreme poverty was reduced by more than 1.25 billion people.
This marks a historic rupture. For the first time in human history, poverty is not growing just because population is growing. As a result, the number of people in extreme poverty is now slightly less than it was in 1820. Then it was around one billion; today it is 700million.
If this does not sound like progress, you should note that in 1820, the world only had approximately 60million people who did not live in extreme poverty. Today more than 6.5 billion people do not live in extreme poverty. So the risk of living in poverty has been reduced from 94 per cent in 1820 to about 10 per cent today.
Progress on poverty has been fastest in Asia. In East Asia, extreme poverty was reduced from 81 per cent to four per cent, and in South Asia from 58 per cent to 14 per cent. But other regions have also enjoyed progress. In Latin America, poverty has reduced from 24 per cent to six per cent. The laggard is Sub-Saharan Africa, but even there, extreme poverty has been reduced from 57 per cent to 35 per cent.
These figures are still very high, but they mean that extreme poverty is now rarer in Africa than it was in the world's richest countries in 1820. In the US, Britain and France, between 40 and 50 per cent of the population lived in what we today call extreme poverty. In Scandinavia, Austria-Hungary, Germany and Spain between 60 and 70 per cent were extremely poor. Between 10 and 20 per cent of the European and American population were classified as paupers and vagrants by officials.
The Industrial Revolution began to change that. The doubling of the material standard of living, which by earlier trends should have taken mankind more than 2,000 years to achieve, took the British only 30 years. Now the rest of the world is doing likewise, but even faster.
Between 1960 and 2000, rich countries still grew faster economically than poor countries on average. Only 30 per cent of the so-called developing countries grew faster than the US. In 1997, Lant Pritchett, then chief economist of the World Bank, published the paper Divergence, Big Time, a title that left little to the imagination. He wrote that divergence in living standards 'is the dominant feature of modern economic history', and that periods when poor countries rapidly approach the rich were 'historically rare'.
But since then, that is exactly what has happened. Between 2000 and 2011, 90 per cent of the world's developing countries grew faster than the US, and they have done it on average by three per cent annually. In just a decade, per capita income in the world's low- and middle-income countries has doubled.
28 March 2012 was a big day for mankind, according to some statisticians. It was the first day in modern history that developing countries were responsible for more than half of global GDP, up from 38 per cent 10 years earlier. This convergence makes sense. If people have freedom and access to knowledge, technology and capital, there is no reason why they shouldn't be able to produce as much as people everywhere else. A country with a fifth of the world's population should produce around a fifth of its wealth.
That has not been the case for centuries, because such countries were held back by oppression, colonialism, Communism and protectionism. But such barriers have now diminished, and a revolution in transport and communication technology makes it easier to take advantage of a global division of labour, and use technologies and knowledge that it took other countries generations and billions of dollars to develop.
It's big. When the Western world began to industrialise in the early 1800s, its population consisted of approximately 200million people and it took 50 years to double their average income. China and India alone have done the same thing with 10 times more people, five times faster. So in a way, globalisation is 50 times bigger than the Industrial Revolution.
In recent years, talk about various ways of creating 'pro-poor growth' has been all the rage at multinational institutions. But it seems like the best way of making growth pro-poor is to make it high and keep it high. A study of 118 countries over four decades shows that 77 per cent of the cross-country variation in growth in incomes of the poorest 40 per cent is due to growth in average incomes, and 62 per cent of the variation in incomes of the poorest fifth. So the size of the total cake has a larger effect than its distribution.
And this is not the result of some sort of 'trickle-down' effect, the largely mythical theory that assumes that if only the rich get richer a few crumbs from their table will fall to the poorest. This happened because the poor in many places got more freedom to farm, manufacture and sell their goods and services than they had before.
If you have ever visited an African slum area you notice that people there are not lazy; they are working very hard, not least because they have to get around regulations, restrictions and corruption as well. 'It's not safe to carry cash', as the saying goes in Kibera,'because there are too many policemen'. When that control and oppression is lifted, even in the slightest, people can devote more of that hard work to more productive uses.
Neither is this the result of ambitious global-development plans. The UN would love to take credit for the fact that the world met many of its Millennium Development Goals, which were agreed on in 2000. But a study by Howard Steven Friedman at Columbus University shows that global-development indicators continued to improve at the same pace after 2000 as they did before 2000.
The world's poor made themselves rich, rather than waiting for someone else to do it. They weren't 'lifted out' of poverty; they rose out of poverty.
One result of the rapid growth in the developing world is a historically unique reduction in global inequality. Since 1820, when the Western world began to grow, the gaps between countries have just expanded. But since poor countries now grow faster than rich countries, we see convergence for the first time in modern economic history.
A study from the Peterson Institute tries to measure the inequality between all the world's citizens, by looking at both the inequality between countries and within countries. Its conclusion is that global income inequality started declining significantly at the turn of the century.
According to the Peterson Institute's estimates, the Gini coefficient, which is a measure where zero means perfect equality and one means perfect inequality, fell from 0.69 in 2003 to 0.65 in 2013. Global income is still extremely unequal, on a par with South Africa's internal income inequality. But if the economic forecasts for the next two decades are anywhere close to the truth, the Gini will fall further, to 0.61 in 2035.
We haven't seen the end of global poverty. Worldwide, more than 700million people still live in extreme poverty, and many who have risen above the threshold are living in very vulnerable circumstances. Three fifths of the world's extreme poor live in just five countries: Bangladesh, China, the Democratic Republic of Congo, India and Nigeria, so their policies in the future have an outsized influence on the future of poverty.
But if countries continue to grow at the rate that they have in the past 10 years, and income distribution remains the same, extreme poverty would fall to 5.6 per cent of the developing world's population by 2030. If annual per capita consumption growth could reach four per cent in every country in the world, extreme poverty would be reduced to 3.5 per cent. In East Asia the headcount of the severely impoverished would be at 0.3 per cent and, in South Asia, 1.3 per cent.
I know that disasters and horrors always top the news cycle, but this Christmas season the most important story should have been that Jesus was wrong. The poor we will not always have with us.
Johan Norberg is a journalist, writer and the author, most recently, of Progress: Ten Reasons to Look Forward to the Future, published by Oneworld Publications. (Buy this book from Amazon (UK)).
Picture by: Graham Holliday, published under a creative commons licence.
To enquire about republishing spiked's content, a right to reply or to request a correction, please contact the managing editor, Viv Regan.