Treating pupils like prisoners
'No-excuses discipline' won't solve the crisis of teacher authority.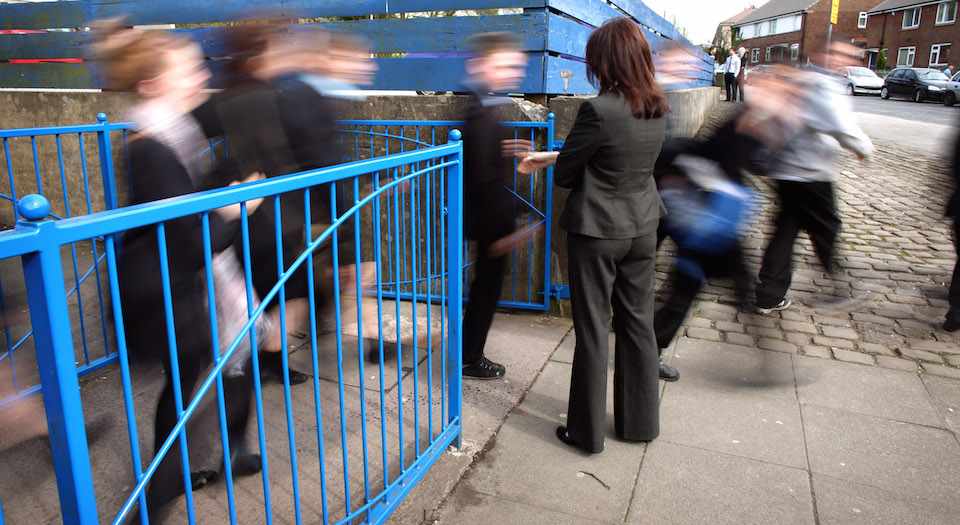 There is growing interest in a new approach to behaviour in schools – 'no-excuses discipline'. The idea can be traced back to the 1990s and the US charter-school movement. Since then, a number of charter schools have embraced a zero-tolerance approach to pupil behaviour. This means that all children, whatever their background, must follow every school rule to the letter.
For example, any child with their shirt untucked, or who fails to bring a pen to class, will receive a detention or an equivalent punishment. In order to succeed, this approach, it is said, requires all teachers to raise their expectations, and to believe that poverty is no longer an acceptable excuse for poor educational standards.
The thinking behind no-excuses discipline is that more serious misbehaviour can be avoided by strict policing of misdemeanours. 'We believe that, like crime, poor behaviour in a school is also contagious; it starts with minor details and spreads through both people and the environment like an epidemic', explains a charter-school in Fresno, California. Some schools take this approach very seriously. For example, it is not uncommon, in schools that follow this method, to find children walking along corridors in single file and in perfect silence, or to find that conversation is banned at break or lunchtime. In order for this model to succeed, all teachers must be willing to consistently implement a rigid behaviour-management system. It is beginning to be tried in some UK schools.
This method certainly sounds refreshing. In some schools, behaviour is sub-standard because child-centred approaches mean that teachers defer their authority to children. There are two prominent examples of this denigration of authority in British schools. First, is the idea of the 'student voice', which entails giving children more say over all sorts of aspects of how a school is run, including which teachers should be hired and fired. Second, is the steady drift towards making the curriculum relevant to children (as if knowledge of art, literature and history were irrelevant to children). In practice, this means dumbing down the curriculum to make content directly related to the needs of children and society. For example: maths is useful, science is good for healthy living and geography promotes ethical consumption.
The appeal of no-excuses discipline is surely that it seeks to tackle diminishing adult authority in schools. Isn't it high time that teachers stopped putting up with poor behaviour and low standards and started to take control? It is certainly admirable that no-excuses schools believe that children can change, and that, whatever their background, all children are capable of following the rules and achieving educational success. Such an approach stands in stark contrast to a culture of tired excuses for poor behaviour, and a low standard of education, which pervades some schools.
But there are a few problems with taking a zero-tolerance approach to discipline. School discipline is not an end in itself, it is a means to an end – that is, good discipline facilitates a good education. No-excuses discipline runs the risk of decoupling the authority of the school from the task of teaching. If teachers are required to rigidly implement a system of rules, regardless of the circumstances and context in which they are applied, then they are potentially divorcing those rules from pedagogic practice.
It also removes decision-making from the teacher. In a no-excuses school, teachers do not need to make decisions about behaviour, because the consequences have been pre-determined. All they need to do is follow and implement the rules. This doesn't necessarily give teachers authority, it simply gives them the power to discipline children. Punishment is fine, if done in the service of a child's education. But a teacher rigidly enforcing rules, simply to maintain order, has echoes of a different kind of institution.
Teachers are not automatons, nor are their charges. A zero-tolerance approach does not allow room for individuality and difference between children. While it is a golden rule of teaching that one must be fair and consistent (children are very quick to pick up on favouritism and inconsistency), teachers also know that what one child can produce with ease may well be a major accomplishment for another. The same applies, to a lesser extent, with behaviour. Therefore, teachers need room to interpret situations and make judgements about what actions or accomplishments are worthy of reward and punishment.
While no-excuses discipline might give teachers more power, it doesn't necessarily restore their authority. Nor does it help children understand why they are being disciplined. If action A always leads to consequence B, there is no need to convince the child that they are being disciplined for a reason. Children are far more likely to resent and flout rules that they don't understand or agree with (especially teenagers). This is not to suggest that teachers always have the time to sit down with pupils and explain every rule. Of course they don't. However, at some point, teachers do need to explain why the rules are there, and how they contribute to a scholastic environment.
Schools that take the time to explain the reasoning behind rules to students are more likely to achieve a greater buy-in. Children will not only be more cooperative, they will also value the school as an institution that serves them, rather than one that simply tells them how to behave. While it is good to see schools trying to do something about the decline of teacher authority, the answer is not a regimented discipline that silences children and fails to trust teachers to make judgements. At the end of the day, teachers are the school, and it is they who must decide upon, and take responsibility for, discipline, but only in the service of educating children.
Alex Standish is senior lecturer in geography education, and course leader for PGCE Geography, at University College London.
Picture by: Getty Images.
To enquire about republishing spiked's content, a right to reply or to request a correction, please contact the managing editor, Viv Regan.