Lady Gaga: no style and no substance
On Joanne, Gaga feels more pointless than ever.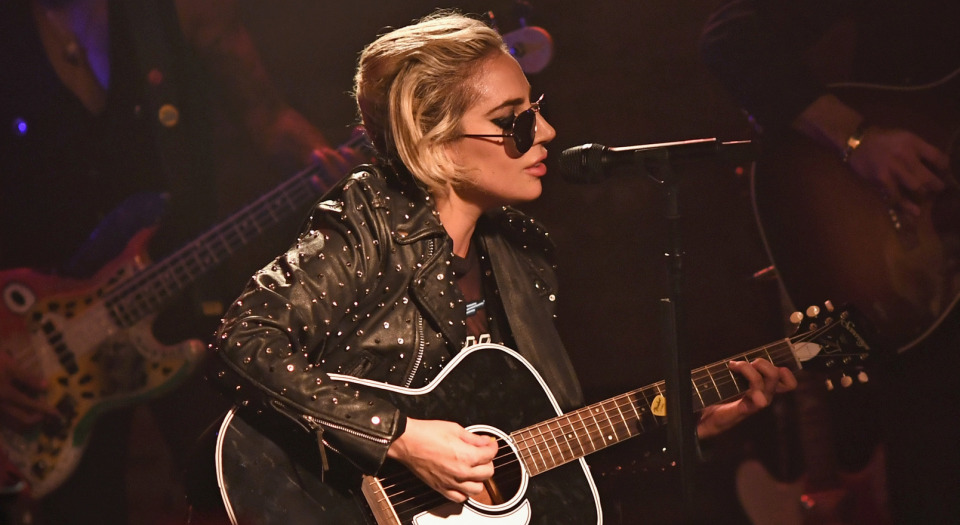 It's strange to think that Lady Gaga's debut album, The Fame, came out eight years ago. Since then, while Adele and Taylor Swift have become megastars, and Beyoncé has morphed into the darling of the music critics, Lady Gaga's career has plummeted into irrelevance.
When Gaga first exploded on to the music scene, wearing one outrageous costume after another, many critics portrayed her as the heir to David Bowie, Madonna and other masters of the art of reinvention. In truth, her image-play really functioned as a smokescreen to disguise just how middle-of-the-road her music was. After all, her songs are about those all-too-familiar themes of love, acceptance and having a good time. Nothing about these generic pop themes is remotely edgy.
While a real innovator like Bowie changed up his musical stylings, Gaga's singles have stubbornly stuck to the same dance-pop formula, presumably out of fear of alienating her mainstream audience. But as the hooks got weaker, and the public got bored of her wacky shtick, her popularity nosedived.
However, when your entire image depends on looking strange, you will always have an ace in the hole – looking normal. That's right, since signing with new management after her 2013 album Artpop, Gaga has been dressing down in an effort to emphasise her singing ability. To that end, she performed a medley of Sound of Music songs at the 2015 Oscars, and recorded an album of jazz duets with Tony Bennett.
That brings us to Joanne, her fourth and latest studio album. Produced by Mark Ronson and BloodPop, Joanne features the hippest collaborators of her career, including Beck, Florence Welch, Queens of the Stone Age's Josh Homme and Tame Impala's Kevin Parker. To match her 'authentic' new look, the album features live instrumentation, including electric and acoustic guitars. This prompted Rolling Stone to describe Joanne as soft rock. But its heavily compressed guitars, overly processed drums, and obvious use of loops, make Joanne sound as plastic as any of her previous dance-pop outings. Gaga remains about as rock'n'roll as One Direction or Pink.
A typical example is 'Perfect illusion', Joanne's lead single. It's the catchiest tune on the album, but it remains yet another dance-pop song about a bad romance ('it wasn't love, it was a perfect illusion'). If Team Gaga really wanted to hoodwink the public into thinking Gaga had evolved as a musician, this track was just about the worst choice for a lead single possible. The video shows Gaga playing with a rock band, but, after the intro, the guitars are just about impossible to hear under the layers of synths. Presumably the public didn't buy into it – 'Perfect illusion' failed to get into the top-10 in either the US or the UK.
Joanne doesn't have the nonsense vocalisms of Gaga's earlier hits ('rah, rah, ah-ah-ah-ah', etc) but it is obnoxiously earnest. Gaga would sell her own mother to have another hit, and she comes pretty close with Joanne's title track, a syrupy tribute to her late aunt. 'Come to mama' and 'Angel down', meanwhile, are two songs from the 'why can't we all just get along?' school of patronising pop politics. By contrast, silly songs like 'John Wayne' or Florence Welch duet 'Hey girl' are more enjoyable for their knowing shallowness.
Perhaps Gaga is pitching herself to a more conservative audience who may have hitherto found her work too outrageous. Joanne even has a country-music influence, something which informs many of the arrangements. And Gaga herself often sings in an affected Southern drawl. Lyrics on the album reference praying, heaven, sinning, angels and 'believing'. But it's difficult to imagine this is anything other than a clinical exercise in audience broadening.
And that's the thing – Gaga appears here as little more than a detached professional, not a passionate artist. And even then, as a technical achievement, Joanne is a failure. Back when she seemed to celebrate artifice, Gaga's soullessness was part of her appeal. Now, having abandoned the daft outfits, Gaga feels more pointless than ever.
Christian Butler is a writer based in London.
Watch the video for 'Perfect Illusion':
Picture by: Getty Images.
To enquire about republishing spiked's content, a right to reply or to request a correction, please contact the managing editor, Viv Regan.