Triggering Article 50: the precondition of a new politics
The entire elite wants to delay Article 50. We must fight them.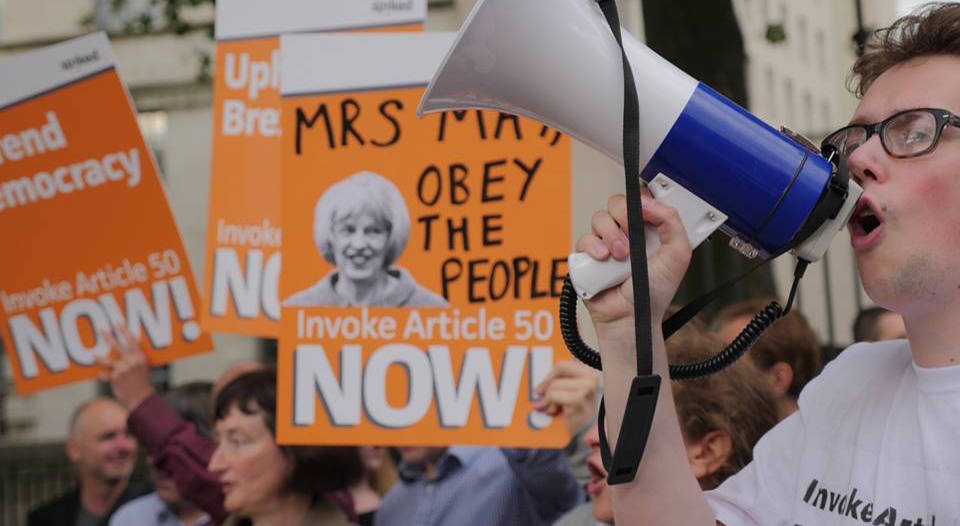 As of today, it has been one month and four days since the British electorate gave the government the green light to cut ties with the European Union. And yet, though the people's decision was clear, our leaving of the EU continues to be postponed.
Calls to invoke Article 50, including spiked's Invoke Article 50 NOW! campaign, have been criticised for ignoring the imperative of a safe, negotiated Brexit. Article 50ers, as we might call them, even stand accused of being in unwitting cahoots with the European elites who also, at one point, wanted Britain to leave the EU immediately.
However, despite initial tantrums about the referendum result, EU leaders are now firmly united in arguing to delay, dissuade and possibly evade Brexit. They are on the side of not triggering Article 50. The head of the European Commission Jean-Claude Juncker, who had previously stated that it 'made no sense' to delay Britain's break from the EU, now warns that the British government 'needs several months to fine-tune its position'.
German chancellor Angela Merkel advised Theresa May that it was necessary to 'take a moment' to think about what Britain wants. 'We are listening to the UK, we are listening to what it actually wants and then we will give the right response', said Merkel. This is a telling statement – it shows how Europe's political elites intend to shape post-referendum politics, by taking their time to give the 'right response', apart from the influence of us, the plebs.
Attempts to block the Brexit vote started straight after the referendum, with petulant marches on parliament calling for a second referendum, featuring young Remain voters lashing out as if they had just lost a board game. These may have looked like little more than face-painted expressions of the dire politics typical of some of London's posher boroughs, yet the broader idea that the referendum result was a disaster to be delayed and, ideally, avoided is held by a much larger and more serious section of society.
For example, ex-New Labourite Alastair Campbell penned a letter to May, in the anti-Brexit New European, urging her 'not to be driven by the mania of the modern media but by cold-headed analysis of the options'. Forget the oiks, in other words, and listen to us old politicos. The academic AC Grayling took a similar approach, petitioning parliament to keep Britain in the EU and insisting the vote was merely advisory. Grayling had obviously failed to read the government's expensive referendum booklet delivered to all UK voters. 'The government will implement what you decide', it stated. We weren't asked to give advice to the government on the matter of EU membership; we were asked to give it instructions, a definitive 'yes' or 'no'. There was no option of 'maybe' or 'no, but under the right circumstances, perhaps'. It was simply stay or go. To delay the result now would be to undermine the entire vote, and the idea of democracy itself.
Some claim that invoking Article 50 immediately would allow the government to enter into secret talks with the EU, and that we'd be back to square one, with unaccountable politicians making shady backroom deals. A similar argument was made by Remainers in the run-up to the referendum. They said Brexit would give the Conservative Party the freedom to enact all kinds of apocalyptic social policies. This fear of behind-closed-doors dealing underestimates our ability to be vigilant, to keep putting pressure on our politicians to do as we say, and to do it quickly. The beauty of Brexit is that it gives our political class nowhere to hide. As soon as Article 50 is invoked, which should be right now, we the public must then up the ante even further and demand that Brexit is done firmly, properly and under our scrutiny.
This is what spiked and Invoke Article 50 NOW! have always argued – that formally triggering Article 50 was never going to be a magic cure-all for British politics. But it is the precondition for realising the people's will as expressed on 23 June and, more importantly, for the further opening-up of political and democratic debate in the UK. The Brexit vote was but a first step, and now all sorts of powerful figures, from May to Juncker to media elites distressed about the result, are standing in the way of the next step: the triggering of Article 50 and the throwing open of a new kind of political discussion.
'It's safer to wait and think about what kind of Brexit we want', many political figures argue. They assume they have the right to determine the future political shape of Britain and our relationship with the EU, and that they will only take decisive action once they have made this determination. No way. The electorate has already demanded a Brexit, and therefore Brexit must happen — as to 'what kind of Brexit', or really 'what happens next in British politics', that is something that all of us should influence through greater and more widespread political engagement.
If we delay Article 50, we don't just delay democracy; we also give credence to the idea that lawyers, journalists and academics hold more political weight than plumbers, teachers and bus drivers. We effectively say, 'Okay, you ordinary people voted for Brexit, but now let the adults decide what kind of Brexit it should be'. This is unacceptable, and if you agree then join and support our campaign to Invoke Article 50 NOW! – and defend the idea that everyone, and not just those in Westminster, should have a say in politics.
Ella Whelan is assistant editor at spiked and a campaigner for spiked's Invoke Article 50 NOW! campaign. Follow her on Twitter: @Ella_M_Whelan
To enquire about republishing spiked's content, a right to reply or to request a correction, please contact the managing editor, Viv Regan.