The GOP is the Trump Party now
Republican disarray has allowed for a total Donald takeover.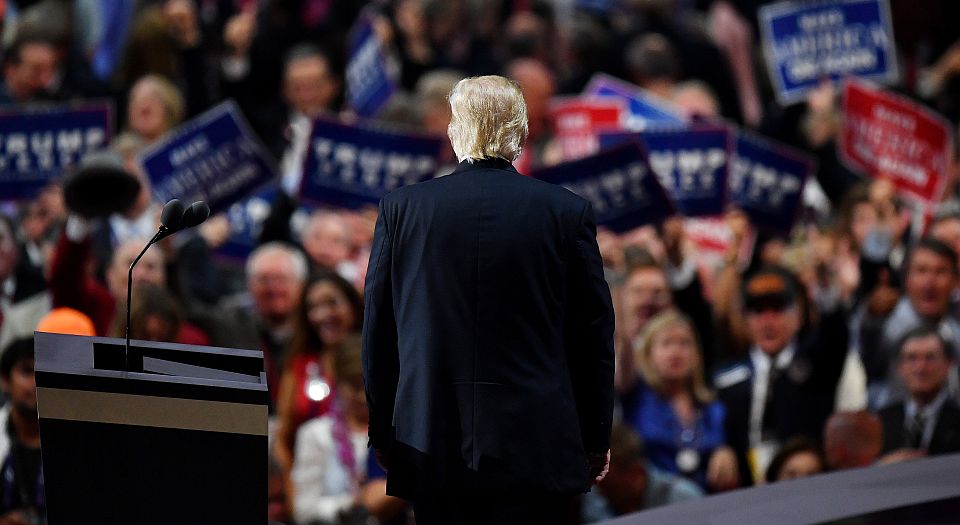 Donald Trump formally accepted the Republican Party's nomination on Thursday night. Trump is a very different kind of politician, and Cleveland was a very different kind of party convention.
Conventions are meant to unite parties before the election, but this one saw very little unity. Trump has taken the Republicans in a new direction, and there are big divisions within the party over policies, including trade and immigration, among other things. Many prominent Republican politicians stayed at home. And the Republican politicos who did turn up cravenly fell in line for the cameras (including the vice-president candidate, Mike Pence, who is on record opposing almost everything Trump stands for).
But the strangeness of the convention went beyond a lack of unity. Coming after the Trump takeover, the convention had a Year Zero quality to it. It was as if the party had no history. You didn't see the older, standard-bearer types like George W Bush, Colin Powell or Condoleezza Rice. The speakers were random C-list lightweights (Scott Baio?), with little connection to the party. The Trumpsters didn't fall back on the party's tradition, because they don't see themselves as a continuation of that history. There were few references to God, the family or the Constitution.
Instead, in the place of an organisation and its tradition, there was only a man: Trump. The convention was all about him and his personality. This was underlined by a seemingly endless parade of Trump family members, who gave primetime speeches to the convention. The Republicans were reduced to just another Trump-branded product, like Trump Steaks or Trump University.
The conference reached its crescendo with Trump's speech. The novice politician used the occasion to paint an unusually dark portrait of America today. 'Our convention occurs at a moment of crisis for our nation. The attacks on our police, and the terrorism in our cities, threaten our very way of life. Any politician who does not grasp this danger is not fit to lead our country', he said. Worse, the US had 'lived through one international humiliation after another' under President Obama, including Navy sailors 'being forced to their knees' by Iranian captors and the attack on the American consulate in Benghazi, Libya.
This was clearly a law-and-order speech – indeed, Trump said that phrase four times, slowly and loudly, to make sure no one missed it. Americans, he said, face external threats – in the form of illegal immigrants and law-breaking Americans – in addition to external threats such as ISIS or Syrian refugees.
In relation to all of this, Trump presented himself as the saviour who would rebuild America's standing. In particular, he promised to bring order and safety at home. 'I have a message for all of you: the crime and violence that today afflicts our nation will soon come to an end', he said. 'Americans watching this address tonight have seen the recent images of violence in our streets and the chaos in our communities. Beginning on 20 January 2017, safety will be restored.'
Trump was relentlessly bleak, shouting most of the time, with little wit, and going on, Castro-like, for ages. The speech was over the top, and not very realistic. As many pointed out, crime rates have fallen and, even with the latest shootings and lone-gunman attacks, America is safer today than it was years ago.
More telling was what Trump left out. His references to economic prosperity and jobs were perfunctory. Voters clearly care about more than crime, and that includes the lower working-class that has formed Trump's base of support. The message was not uplifting at all: the world is a terrible, violent place, and, while you may not like me, you need a strongman like me to sort it out.
Long before the convention, the media had been depicting Trump as a bogeyman. After the convention, they have no doubts. Trump is a 'scary' 'fearmonger', if not a 'fascist'. But the truth is that Trump was, in many respects, echoing others who came before him. Yes, he said the US is in chaos. But his image of America is not that different to the one journalists have been promoting in recent weeks: post-apocalypse lawlessness on the streets, where police execute black people and mass murderers wipe out scores of police. Likewise, advocates of gun control often describe the US as a thoroughly violent place, overrun by gun-toting crazies.
And of course Trump is ridiculous to suggest he will end crime – whether on 20 January or any other day. But is that really more ridiculous than Obama's promise, when he won his party's nomination, to 'slow the rise of the oceans' and 'heal the planet'? It was Obama, not Trump, who introduced 'audacious' claims – with no chance of achievement – into our political rhetoric. Trump is simply taking such outlandish claims into the realm of law and order.
Much of the US establishment portrays Trump as uniquely evil ('a dark knight'), and there is a constant attempt to demarcate him from what's good and proper. But Trump is not a million miles away from his opponents, and he is completely a creature of today's politics. He is problematic, but it's not like he is a destructive invader on an otherwise healthy political field.
Clearly, the establishments of both parties want to distance themselves from Trump. But his rise is on them. It is precisely the electorate's dissatisfaction with the establishment and status-quo politics that has provided Trump with his opening. And who have the establishment put up to stop Trump? Hillary Clinton – one of the most flawed, hackish and unlikeable of candidates. Thanks to the mess they have made, Trump – one of the most unqualified and buffoonish people ever to run for president – now has a real shot of winning in November.
To enquire about republishing spiked's content, a right to reply or to request a correction, please contact the managing editor, Viv Regan.