The telling tears of Remainers
Why has there been such an emotional reaction to Brexit?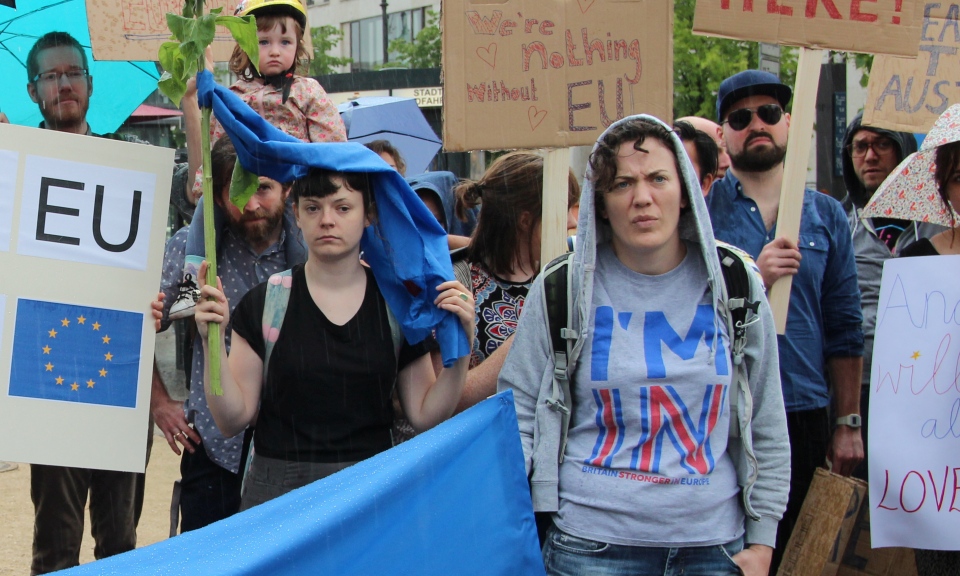 Remember the British stiff upper lip? It seems that post-Brexit, many endlessly teary pro-EU Brits have had theirs surgically removed.
'I'm disgusted', said one Remain voter. 'I'm devastated', said another. The fallout from Brexit will have a 'real and lasting impact on our personal lives', wrote one young journalist. 'I found my 10-year-old crying in bed', said one mother. If Brexit is 'a victory for ordinary, decent people – today I am proud to be exceptionally indecent', wrote another young Remainer.
In the week after the referendum, social media was awash with melodramatic statuses and hysterical outpourings from upset Remain voters. According to a poll conducted for the LSE, 'almost half of voters aged 18 to 24 cried or felt like crying when they heard that the UK had voted to leave the European Union'. The same poll also found that 61 per cent of Remainers aged 18 to 39 said they felt 'disgusted' with their opponents' political decision.
Even political leaders were sobbing. David Cameron was all choked up during his resignation speech; Angela Eagle shed some crocodile tears after resigning from the shadow cabinet following the referendum; and political journalists tweeted their despair. 'I can't tell you how much I've grieved over the result', wrote one. It was seemingly socially acceptable to make politics personal and to admit that, post-Brexit, 'I had a cry'.
That the referendum energised people who might not previously have been interested in politics is a wonderful thing. But the emotional, personalised reaction over the past few weeks suggests that many Remainers, especially younger ones, were not really engaged with the question at hand – whether or not we should leave the EU. Rather, grouped together on social media, they engaged with the referendum in terms of what voting one way or another said about you – in other words, they moralised the referendum, and turned the vote into an index of character. So, you were a good, open, tolerant person if you voted Remain, and a deluded, unkind, un-European sort if you supported Leave.
It became almost cool to support the EU. Young creatives on my social-media feeds were sharing the German artist Wolfgang Tillmans' poster, 'Say you're in if you're in, this one's important'. People changed their photos to the EU flag emblazoned with the slogan, 'I wanna be inside EU'. Young people were now professing love for an institution they seemingly had no interest in just three months ago. 'Of course I'm in', many of my friends professed, as if leaving the EU were completely unthinkable. There was a similar, viscerally emotional response among young people ahead of the 2015 General Election. Many I knew, who had hitherto showed no interest in parliamentary politics, were suddenly voting Labour and declaring their hatred of the Tories.
Of course, young people did not vote blindly. We should always be careful about denigrating and emotionalising political decisions. But the fact that the referendum has become about so much more than the question on the ballot paper is worth noting. The personal reaction from Remain voters – that they themselves feel personally cheated and that their futures have been ruined – suggests that this was about more than UK membership of the EU. It was about how they think of themselves, their collective identity, their sense of belonging to the sensible, middle-class status quo. 'If people like Rupert Murdoch, Nigel Farage, Nick Griffin and Marine LePen want Britain to leave the EU, where does that put you?', asked one poster. As Remain voters tore through packets of Kleenex, one thing became clear: this shared, therapeutic mourning showed that many Remainers had voted against 'them'. And 'they', the ignoramuses and racists, had won. 'Their' victory felt like a personal affront to your average, young, middle-class Remainer.
But this referendum wasn't about personal feelings; it was about the fight for greater democratic control. Those who voted Remain, but who, at some level, believe in democracy, must now put away their snotty tissues and join the 17.5million who voted to leave the EU in arguing for more democracy – starting with the immediate invoking of Article 50.
Ella Whelan is assistant editor at spiked. Follow her on Twitter: @Ella_M_Whelan
To enquire about republishing spiked's content, a right to reply or to request a correction, please contact the managing editor, Viv Regan.