Support free movement? Then vote against the EU
It's time to explode the myth that Brussels is pro-migration.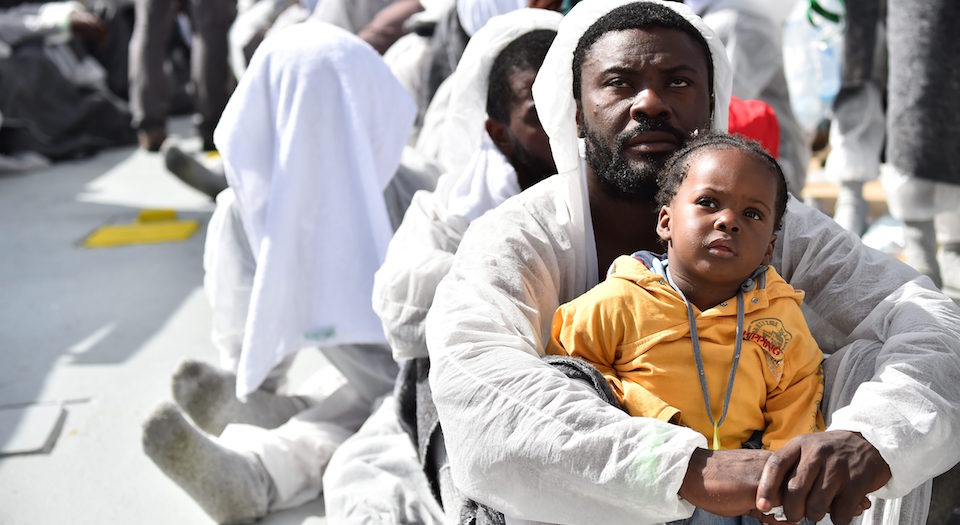 The Remain camp often says that a vote for Brexit is a vote in favour of xenophobia. 'This is no longer a referendum about the European Union', said one pro-EU commentator. 'It's a referendum about your attitude to foreigners.' This is the most disingenuous of all its arguments. If you want to see a prejudiced and illiberal approach to foreigners, look no further than the EU institutions these campaigners are fighting to defend.
Remain claims that the EU protects human rights and stems the rise of right-wing populism. The EU prevents 'the dismembering of our own country by nationalists or the breaking up of Europe into uncontrolled rivalry', wrote foreign secretary William Hague. In a speech calling on left-wingers to back Remain, Labour leader Jeremy Corbyn said: 'We cannot and should not want to close the borders, not for European citizens wanting to come here and not for British citizens who want the opportunity to study and work elsewhere in Europe.' Remain claims to have the moral high ground on immigration – stay and we protect free movement, leave and the 'little Englanders' take over.
A recent news report explodes this illusion of the EU as a bastion of free movement. A document leaked to the Guardian revealed EU plans to send aid to Middle Eastern and African countries, including Sudan and Eritrea, in exchange for a promise that they will secure their borders and prevent their peoples from coming over here. A similar report was published in the German magazine Der Spiegel in May: it detailed plans for Germany to fund the Sudanese government to tighten its borders. Now it seems that over 20 countries, including Jordan, Lebanon, Niger, Libya and Ethiopia, might soon receive these so-called 'country packages'. The BBC recently reported on the EU migration commissioner's announcement that project funding for these countries with people that the EU doesn't want could 'eventually reach €62 billion'.
So far from promoting free movement, the EU is actively seeking ways to keep migrants from reaching Europe's shores. But this is not new. In the summer of 2011, former prime minister of Libya Colonel Gaddafi 'asked the EU for €5 billion to prevent Europe from "turning black"'. In a matter of months, he had received support, and a promise of '€50million over the next three years as part of a "co-operation agenda" signed by the European Commission'. The aim was simple: Gaddafi would do more to stop pesky Libyans from coming to Europe and making it more black or brown.
Over the past year, the media have paid attention to horrors at sea, as numerous migrants coming to Europe have drowned. But migrants have been drowning on Europe's shores for years. Frontex, the EU's police of the seas, pulls migrants out of the sea only to lock them in detention centres and squalid camps along the edges of Europe's borders. It is precisely because of the EU's disdain for and restriction of non-European migration, because of its Fortress Europe policies, that so many people are forced to take great risks to get here. The current crisis at Calais is a direct example of the inadequacy of the EU's much-lauded but actually hollow commitment to free movement. The EU is all for European students enjoying freedom of movement, but when it comes to black people in dinghies, forget about it.
While too many in Vote Leave have scaremongered about illegal migrants, often in a xenophobic way, Remain has also promoted fear about migration. The official Remain campaign, Britain Stronger In Europe, pushed a letter signed by the UK's most senior military officers which said: 'In a dangerous world, [our membership of the EU] helps us to safeguard our people, our prosperity and our way of life.' In other words, the EU will help us prevent certain people from washing up along the Kent coast. Even the EU's recent welcoming of large numbers of refugees displaced by war and strife in Syria and other parts of the Middle East – which was done over the heads of European electorates – is ending badly: the conditions for these refugees on Greek islands is terrible, and a deal is being done with Turkey to keep more of these people there, out of the EU.
A vote for the EU would be an endorsement of its treatment of migrants and its secret dealings with foreign regimes whose populations it looks upon with dread. Why should we vote for an institution which might make it easier for white Polish people to enter Britain but which pumps money into the project of keeping out Eritreans? Far from being the xenophobic option, a Brexit would mean cutting ties with an institution that curbs free movement, and deciding for ourselves, democratically, what kind of migration system we want – with some of us, like spiked, arguing that it should be as generous and liberal as possible.
Ella Whelan is assistant editor at spiked. Follow her on Twitter: @Ella_M_Whelan
Picture by: Gabriel Bouys / Getty Images.
Watch spiked's film, For Europe, Against the EU:
To enquire about republishing spiked's content, a right to reply or to request a correction, please contact the managing editor, Viv Regan.