'Free speech is a left-wing value'
Gabriel Dorey reports on last week's anti-NUS protest.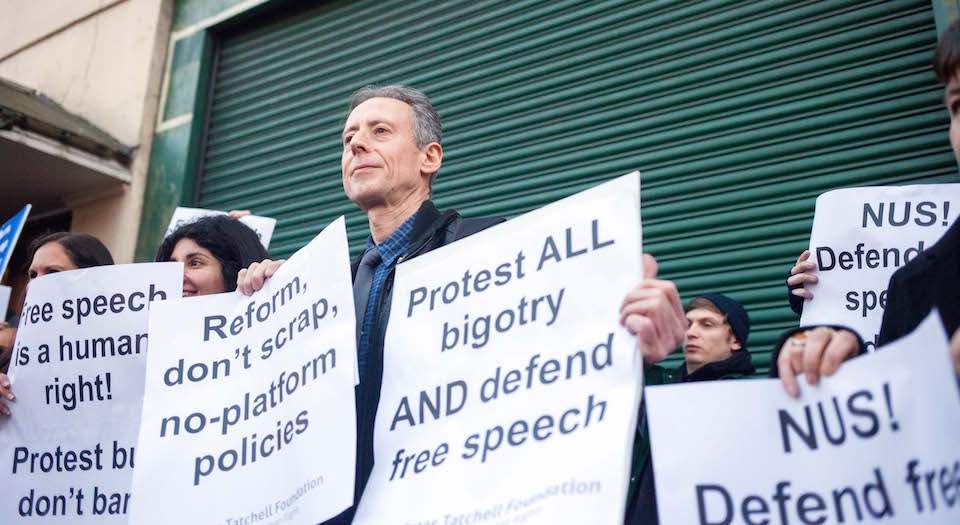 A protest urging the UK National Union of Students (NUS) to reform its Safe Space and No Platform policies took place last Thursday in London. A grand coalition of humanists, atheists, liberal Muslims and human-rights activists set up shop on the pavement outside NUS headquarters. Talking to the students and campaigners involved made this reporter hopeful about the free-speech fightback, which has recently erupted on campuses up and down the country.
The hundred-or-so attendees waved placards, chanted and spoke to members of the press. As students' union bans are so often claimed in the name of a democratic student mandate, it was encouraging to see a healthy turnout from students themselves. I asked two students from the Goldsmiths Atheist, Secularist and Humanist (ASH) society what their university was doing to bolster free speech – I received a wry smile in return. 'We find it way harder to operate than any other society', one said. 'The students' union decides whether someone's unsuitable without explaining why.'
Students from the LSE Speakeasy, which has already had to battle an SU motion calling for it to be banned, voiced their concern about the blatant hypocrisy students' unions' show when it comes to censoring speakers. Indeed, while anti-Islamist campaigners are often No Platformed on the charge that they are Islamophobic, Islamist speakers are often allowed to speak unchallenged. 'I don't think students' unions understand the irony', one told me. 'They put pressure on us, and end up giving time to people with oppressive ideologies. They should leave people to speak their minds.'
The protest was met with little challenge from the NUS itself. Ever wary of debate, NUS officials had deserted the building. However, they left lists of organisations banned under the No Platform policy ostentatiously taped to the windows. A counter-protest, composed of around seven oddballs, appeared to the side, with protesters holding up mini platforms with 'NO' written on them. They weren't kicking off, though – relations between the two fronts remained cordial throughout.
I spoke to Maryam Namazie, spokesperson for the Council of Ex-Muslims of Britain, who has herself been on the receiving end of student No Platforming. 'Universities are a microcosm of the realities we face in society', she said. 'They're meant to be hotbeds of debate and discussion, and if we can't have free speech there then it's a very sorry state for society at large. It's really important for us to fight for this important right.'
Given that the No Platform policy is more than 40 years old, it seems it will take much more action to force back the tide of censorship. However, Namazie remains optimistic: 'Obviously I don't think the NUS is going to change its mind overnight. Its positions are really entrenched, and have been for many years now. But I think we can win – it's about pushing through, and having an impact in the long run.'
I asked her if, instead of lobbying for reform, we should seek to scrap these policies outright. 'There are many different positions on free expression and what the limits are. For me, I believe we should have unconditional free expression. However, if people are inciting violence, I think that's where we should draw the line. Otherwise, I think if someone is offensive, hateful or bigoted, the best thing to do is speak up against them, challenge them, oppose them – not censor them. We're not going to get anywhere by censoring hate. I'm considered hateful and I actually think that's what I'm opposing.'
Peter Tatchell, the human-rights campaigner recently slandered by NUS LGBT officer Fran Cowling as racist and transphobic, delivered a show-stopper of a speech. 'Many of us disagree with each other. But that is okay', he said, summing up the spirit of the day. Later on, he told me why he felt defending free speech was so crucial: 'Free speech is one of the most precious, important and long-fought-for of human rights. It's really important that we defend it against the new left-wing McCarthyism.'
Tatchell seemed most concerned that No Platforming had actually made it more difficult to challenge bigotry. 'The policy has been taken to an extreme, where people with legitimate points of view are being denied the opportunity to speak. That is not protecting the weak and vulnerable', he said. 'The great German communist Rosa Luxemburg argued that free speech means nothing if it doesn't exist for the person who thinks differently.'
'Many adherents of the No Platform and Safe Space policy claim to be left-wing, yet free speech is a core left-wing value. The critics of free speech, the justifiers of bans and censorship in the NUS, pose as left-wing, but in reality they often use the tactics of the far-right. The campaign of abuse and falsehood against me by some members of the NUS echoes the tactics of the far-right, BNP and the EDL. Although I haven't been banned, I have been subjected to a horrendous hate campaign. I don't object to criticism, that's fine. What I object to is baseless, false allegations.'
There were some great speakers at this protest, and a convincing display of enthusiasm for challenging the speech-policing dogma of the NUS. However, if free expression is to be truly meaningful, it must be absolute. Some of the placards said 'Reform, don't scrap, No Platform policies'. And this, to me, seemed too big a concession to make. All ideas, even the most loathsome, must be given a platform – so that they might be exposed and crushed by convincing arguments. No Platform and Safe Space policies must be scrapped outright.
Gabriel Dorey is a spiked intern.
Watch spiked's video report of the day:

Pictures and video by Henry Kenyon.
To enquire about republishing spiked's content, a right to reply or to request a correction, please contact the managing editor, Viv Regan.