Antonin Scalia: defending democracy against judicial agitation
Scalia was right: judges have become too powerful and political.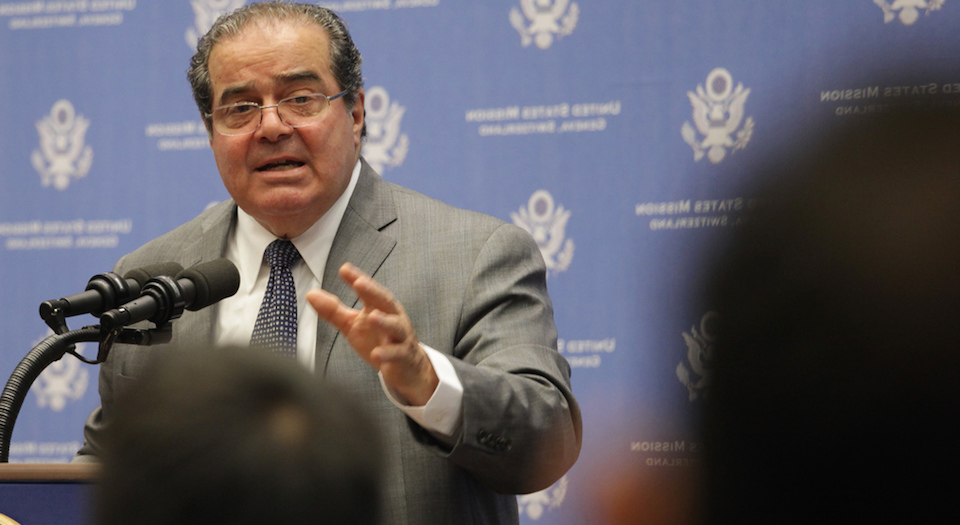 The death of Supreme Court justice Antonin Scalia on Saturday night has set off a bitter partisan fight. President Obama will nominate a successor, but Mitch McConnell, leader of the Republican-majority Senate, has told him not to bother. Republicans vow not to approve any candidate on the grounds that the appointment should be delayed until after the November 2016 election. Scalia's replacement looks likely to become a central issue in the election campaign.
Scalia was a larger-than-life figure, and he will have a lasting impact on law in the US. As fellow justice Elena Kagan said, 'The fact of the matter is, you wake up in 100 years and most people are not going to know most of our names… [T]hat is really not the case with Justice Scalia, whom I think is going to go down as one of the most important, most historic figures on the court.'
Appointed by President Ronald Reagan in 1986, Scalia was the most prominent face of the conservatives on the court. He was both cutting and funny, a writer with flair who used phrases like 'pure applesauce', 'interpretative jiggery-pokery', and 'argle-bargle'. But it was his philosophical approach – emphasising the close reading of texts and the original meaning of the US Constitution – that made him so influential. He stood opposed to the liberal 'living constitution' method, which, he argued, gave judges leeway to apply their own views.
Scalia did not hide his socially conservative views. He became the face of the culture wars, writing prominent dissents in cases involving abortion rights, affirmative action and gay marriage. Liberals strongly opposed him, even hated him (evidenced by all those on social media who dance on his grave). Some critics contend that Scalia's 'originalist' approach was a smokescreen to pursue his prejudices, but there are many examples where he was willing to go against his personal views, such as supporting due process for Guantanamo detainees and protections for criminal defendants.
For those who support freedom and democracy, there is much that Scalia got right. He was far from the authoritarian some made him out to be. He was arguably the most robust defender of free speech on the court. He upheld the right to burn the American flag (as much as it galled him), and he invalidated a law against violent videogames. In a 1992 case, RAV v City of St Paul, he wrote the majority opinion that ruled against a city ordinance that sought to outlaw hate speech.
Scalia was driven by a belief that the Supreme Court had become too powerful and political. He was deeply concerned about judges usurping the role of elected legislators. With respect to issues of morality in particular, he wanted the American people to decide for themselves. 'If you believe in democracy, you should put it to the people', he told Georgetown University law students in November. To me, this was his most important insight.
In his dissent to the Supreme Court's 5-4 decision in favour of same-sex marriage as a constitutional right, Scalia argued it was anti-democratic that five judges could decide such a major change in public policy. It is worth quoting him at length:
'Today's decree says that my Ruler, and the Ruler of 320million Americans coast-to-coast, is a majority of the nine lawyers on the Supreme Court. The opinion in these cases is the furthest extension in fact — and the furthest extension one can even imagine — of the court's claimed power to create "liberties" that the constitution and its Amendments neglect to mention. This practice of constitutional revision by an unelected committee of nine, always accompanied (as it is today) by extravagant praise of liberty, robs the People of the most important liberty they asserted in the Declaration of Independence and won in the Revolution of 1776: the freedom to govern themselves.'
Scalia was not saying that same-sex marriage should be illegal. He was saying it was a matter for legislatures to decide, not courts. Essentially, Scalia was defending the right for all to have a voice in a public debate about a moral issue. As he noted in his dissent in United States v Virginia (1996), a ruling that ended a men-only admissions policy to the Virginia Military Institute: 'The virtue of a democratic system with a First Amendment is that it readily enables the people, over time, to be persuaded that what they took for granted is not so, and to change their laws accordingly. That system is destroyed if the smug assurances of each age are removed from the democratic process and written into the constitution.'
The Supreme Court was set up by the constitution's framers as a check on the two other branches of government: the legislative and the executive. In particular, it was intended to ensure that neither of those two branches denied individuals certain rights (the so-called 'tyranny of the majority'). However, at the same time, there is a risk that the court will overreach and effectively override elected representatives. Scalia's respect for democracy, coming from within the Supreme Court, was a healthy thing, just like a president who renounces imperial powers.
Would I like it if a majority of elected officials voted in restrictions on free speech? No. Am I pleased when the Supreme Court upholds the First Amendment? Yes. But, ultimately, the Supreme Court is not a solid line of defence for liberties. If political struggles become matters for courts of law, rather than courts of public opinion, people's rights will eventually lose. Top-down law rulings create the potential for backlash and a loss of legitimacy for the judiciary. If judges act like politicians, the public will treat them like politicians.
Scalia worried about a politicised Supreme Court, and the acrimonious fight over his replacement that his death has unleashed proves he had a point. Scalia laid the blame for this development on the court itself: 'The reason (the confirmation process of a new justice) has become politicised is that the Supreme Court has been making more and more political decisions that are really not resolved by the constitution at all.'
It wasn't always so, but today it is commonplace to assume that the appointment of a Supreme Court Justice is a major political issue. Immediately following Scalia's death, pundits stressed that much was at stake in upcoming cases involving voting rights, affirmative action, abortion and contraception, among others. Few ask if it is right that the Supreme Court has become such a major battleground for politics, often eclipsing public discussion and decision-making.
Scalia was right to push back against this shift of battleground into the courtrooms, and against those who seek to win in the court of law what they fear they won't win in the court of mass opinion. He was also right to warn that judges have become too powerful in our politics – proved by the fact that his replacement on the Supreme Court has become a major feature in a presidential election. May many after him take to heart his warnings about the threats to freedom and democracy posed by putting courts above the people.
Sean Collins is a writer based in New York. Visit his blog, The American Situation.
To enquire about republishing spiked's content, a right to reply or to request a correction, please contact the managing editor, Viv Regan.