All hail the Gypsy King
So what if Tyson Fury's opinions are mad. His boxing is world-class.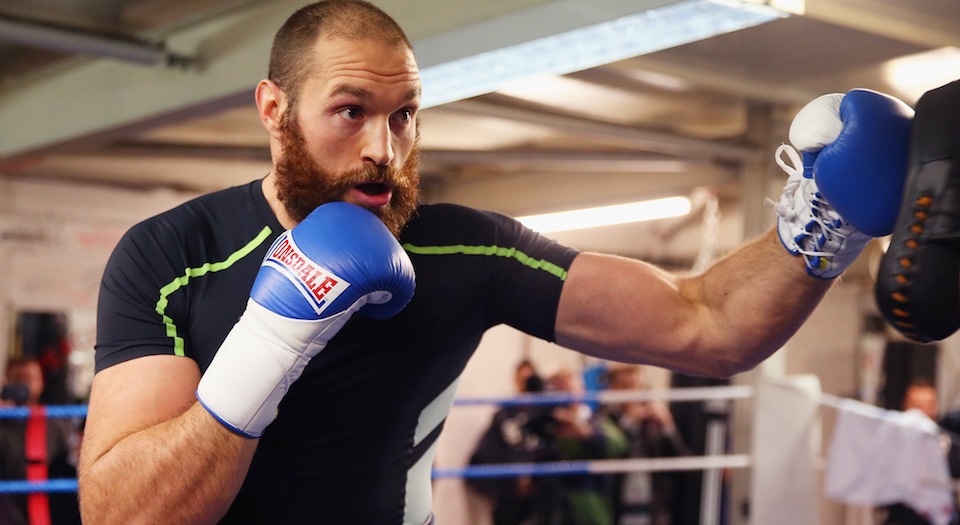 On 28 November, British boxer Tyson Fury became heavyweight champion of the world. Few expected him to beat the reigning champion Wladimir Klitchko, from Ukraine. Klitchko had dominated the division for the best part of 15 years. He first won the heavyweight title in 2000 and defended it successfully on five occasions. He then reclaimed it in 2008 and defended it on 15 separate occasions. Few thought the cocky 27-year-old Fury had any chance against such an established champ.
But Fury's victory has hardly been greeted with the admiration it deserves. Rather than dutifully kneeling at the feet of the self-styled 'Gypsy King', people have launched a petition to remove him from the list of nominees for the BBC's Sports Personality of the Year award on the basis that he holds homophobic views. Fury is deeply religious and has been outspoken about his views on homosexuality, virtually equating gay men to paedophiles and arguing that homosexuality should be illegal across the world. Alice Arnold, wife of sports presenter Clare Balding, called Fury a 'homophobic idiot' in the Guardian, arguing that such views drive young people to suicide. As I write, the petition has reached in excess of 80,000 signatures.
It is shameful that Fury is being chastised for his private beliefs. He explained in an interview on BBC Radio 2 yesterday that his views on homosexuality are based on his interpretation of scripture. It is a matter of his private conscience. Had he gone out and beaten up a homosexual, it would be a different story entirely; but no one should be demonised for their beliefs, even if they are stated in public. His view of women, that they should be 'in the kitchen and on [their] back', is similarly no business of the public moralisers. It is a private matter between him and his wife. Luckily, Fury has proven himself just as capable of dealing with online witch-hunts as he is at dealing with opponents in the ring. When a journalist asked him what he felt about the 50,000 people who, at that point, had signed the petition, his response was '50,000 wankers'.
Fury himself does not seem to care whether he remains nominated or not. It turns out he cares more about winning the most vaunted prize in his sport than he does about receiving the rubber stamp of moral approval from our national broadcaster. He rightly pointed out that the Sports Personality of the Year award is often a complete misnomer, given that those who win consistently lack any personality whatsoever. Previous winners Lewis Hamilton, Andy Murray and Mark Cavendish are luckily all exceptional sportsmen, because collectively they have less personality than the average vacuum cleaner. Among these brilliant but undeniably dull characters, the swaggering, unapologetically bigoted Gypsy King certainly stands out as having plenty of personality, even if that personality is a bit mad.
But who cares whether Hamilton, Murray or Fury have great personalities? We don't admire sportspeople for their personalities, nor should we. It would be unfair for us to rate elite athletes on the basis of their personalities, precisely because professional sport tends to deny its participants the space to develop a personality. Rigorous training and focus mean athletes cannot spend a lot of time doing all the things that give the rest of us the space to become interesting people with stuff to talk about. While we were all out seeing Radiohead at Glastonbury, abseiling down Canary Wharf or drinking our way through the clubs of Bangkok, Andy Murray was rigorously pounding a rowing machine and practicing his backhand. No matter how you spin it, elite sporting achievement requires the kind of focus that is likely to leave its participants with little to say about anything other than their sport.
That is why it makes no sense to talk about sports stars as 'role models' for what they do or say in their own time. Sports stars are expected to be morally pristine robots, programmed to trot out flat, pseudo-progressive opinions on command, for the sake of properly socialising our young people. This idea is nonsense for two reasons. First, it is perfectly right that we admire people for what they do in their field while ignoring the transgressions of their personal lives. I admire John Coltrane as a saxophone player, not as a heroin addict. I admire James Brown as a musician, not as an allegedly violent sociopath. I admire Fury for his punch accuracy and strong jab, not because of his bonkers opinions about gays. And secondly, the idea that a generation of young boxers will immediately become devoutly religious homophobes merely because Fury told them to is nonsense. Young people are brought up and educated by people other than their sporting 'role models'. To argue that sports celebrities wield this kind of influence over the minds of the young is radically to underestimate the influence of parents and other adults in the process of raising children.
It is a shame that we cannot greet such sporting excellence with the admiration it deserves. Even if you disagree with what Fury says, he is a modern hero of his sport. He has successfully dispatched one of the titans of heavyweight boxing and given the UK its first heavyweight champion in many years. I, for one, will gladly kneel before the Gypsy King, whether he stays on the list for the BBC's Most Sanitised Personality of the Year award or not.
Luke Gittos is law editor at spiked, a solicitor practicing criminal law and convenor of the London Legal Salon. He is the author of Why Rape Culture is a Dangerous Myth: From Steubenville to Ched Evans. (Buy this book from Amazon(UK).)
Picture by: Bryn Lennon / Getty Images
To enquire about republishing spiked's content, a right to reply or to request a correction, please contact the managing editor, Viv Regan.