After Paris: we must refuse to be terrorised
Fear is what they want; let's not give them it.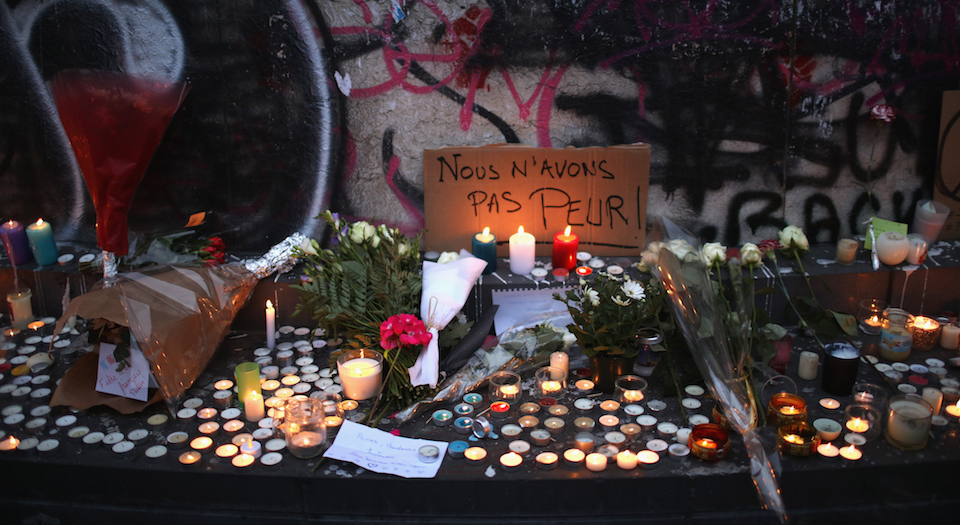 I was aboard the Eurostar on my way home from Brussels when I first heard about the tragic events in Paris. Sadly, I wasn't surprised. Travelling around Europe in recent years, I have become increasingly aware that some very troubling passions and sentiments are bubbling beneath the surface. Since 9/11, Europe has become an increasingly divided, fractured and culturally polarised continent. And national governments have been unwilling and unable to acknowledge the scale of the problem.
It is highly likely that the Paris attackers were operating in a land that was not entirely foreign to them. They knew that they could rely on the help of other like-minded people. They also knew their actions would enjoy the passive support of a significant section of society, which is estranged from, and hostile to, the way of life of European societies. By now they must also know they are holding their own in a battle of ideas with European governments.
As was the case with the Charlie Hebdo massacre, the Boston marathon bombing or the Mumbai attacks, the Paris attacks were meant to intensify the public's sense of insecurity and powerlessness. Yes, the immediate targets of this callous act of terror were diners, football fans and concertgoers. But the ultimate targets were the millions of people watching the events unfold on TV and social media. In this sense, the motivation behind the Paris attacks was far from new. The attackers wanted to inflict fear on the target population. By killing and maiming so many, they wanted to make society feel defensive and anxious. And the more defensive, anxious and fearful we become, the more the attackers' power and prestige is enhanced
But there's something different about this type of terrorism, too. Such acts are not simply about unsettling the public and creating a climate of fear – they also aim to encourage others to take up the fight against the purported enemy. They seek to provide an example for others to follow in the fight against European or Western culture. In a sense, the Paris attacks represent an act of cultural war, but carried out in the form of classical acts of random terror.
The post-Charlie Hebdo reality
Cultural terrorism came into its own with the attack on Charlie Hebdo. Outwardly, it appeared that the revulsion provoked by the massacre led to an unprecedented display of solidarity. Everybody claimed, 'Je suis Charlie'. But, in the weeks and months that followed, it became clear that despite the mass show of support for the victims of the attack, many Europeans were ambivalent about Charlie Hebdo itself. Sections of the media criticised the Charlie journalists for taking free speech too far – a move that lent credence to the idea that Charlie Hebdo had brought the massacre on itself.
On a more ominous note, it soon became clear that not everyone was upset about the Charlie Hebdo massacre or the killing of Jewish people in a related incident at a supermarket. In many of Paris's banlieues, there was little mourning for the victims. Numerous teachers in France reported that some immigrant children expressed deeply hostile sentiments towards the terrorists' victims. Others said that some children refused to believe the official version of events. And many French teachers were at a loss to know how to react and respond when many Muslim children refused to respect the minute's silence for the dead.
If young children acted in this manner, it was clear that many members of their community were anything but 'Je suis Charlie'. What this showed was that alongside the media display of solidarity with the victims, there lurked unreserved hatred for both Charlie Hebdo and the cultural attitudes that permitted its publication. The polarised reaction to Charlie Hebdo shows that a shared, common response to a tragic loss of life can no longer be taken for granted in European societies.
Indeed, the tacit support for the Charlie Hebdo massacre is symptomatic of the growing influence of a radical Islamic worldview in Europe. It seems that when it comes to the battle of ideas, Western governments are losing the argument.
Nowhere is this more evident than in the way 9/11 is now perceived and understood by many sections of European society. Since the Twin Towers fell, the number of people who refuse to believe the official version of the events has steadily grown. Many members of Muslim communities readily believe 9/11 conspiracy theories, especially the idea that it was all a Jewish plot. And claims about the world made by the Islamic State and other similar groups exercise a far greater influence today than they did three or four years ago. There are now far more people living in Europe who silently applaud or approve of an event like Friday's attack on Paris.
The growing influence of radical Islamic sentiments is paralleled by a growing moral and political disorientation within European public life. Displays of solidarity in the aftermath of a terrorist act are rarely translated into a more durable form of everyday public behaviour. European society is finding it very difficult to respond to what has now become a war against its way of life. This is especially clear in education, where numerous teachers have said how tough it is to discuss such 'controversial' subjects as 9/11 or the Holocaust in the classroom. Some teachers avoid these topics altogether, while others choose merely to maintain a pretence of discussion.
Both France and Britain are failing to socialise a significant section of young people. For many of these youngsters, an Islamist counter-narrative that calls into question Western Enlightenment values and celebrates jihadist identity politics is all too easy to embrace. One of the aims of the Paris attacks is to turn these anti-Western sentiments into a more active and potent force in European society.
How to respond to the Paris massacre
Acts of terrorism can kill and maim innocent civilians, and intimidate sections of the public. However, terrorism cannot seriously threaten the integrity of a society nor undermine the way of life of a nation. Acts of terrorism succeed only insofar as the target society responds in the way the perpetrators of terror intend. History shows that the damage an act of terror can inflict on a community is determined by the community's reaction to it. Terrorists can cause devastation. But the terrorist act alone is never sufficient to realise terrorists' objectives. They need the public to panic, and respond in a confused and disoriented way. Of course, France and other societies facing today's terrorist threat should take sensible precautions, but, at the same time, the public should be encouraged to behave in a way that shows we refuse to be terrorised.
Refusing to be terrorised also means fighting back. Back in August, a Kalashnikov-wielding terrorist on a French train was confronted and disarmed by three passengers. The passengers showed that a determination to fight back can disrupt and, in some cases, neutralise a terrorist attack. Not everyone has the skills necessary to fight back, but all freedom-loving people can still stand together against those who wish to inflict terror on their community.
The one response to terrorism that must be avoided, and fought, is appeasement. There are those who believe that if more concessions were made to radical Islamists in the Middle East, then the terror would stop. Others argue for greater sensitivity towards, and accommodation of, Islamic cultural practices in Europe. Some have even gone so far as to argue that even important democratic rights – such as free speech – should be restrained in order to avoid any hostile reaction from radical Islamist quarters. These calls for cultural appeasement represent a betrayal of the democratic and secular humanist values that infuse the best of European culture. Moreover, appeasement never works – it only serves as an invitation to terror. What Europe requires is a more open and honest acknowledgement of the threat it faces. European societies need to mobilise their moral and intellectual resources to provide the public with the sense of purpose necessary to face down and neutralise the effect and influence of the terrorist.
Frank Furedi is a sociologist and commentator. His latest book, Power of Reading: Socrates to Twitter, is published by Bloomsbury Continuum. (Order this book from Amazon (UK).)
To enquire about republishing spiked's content, a right to reply or to request a correction, please contact the managing editor, Viv Regan.