Smoked out of the public square
Outdoor smoking bans are not only illiberal – they can be cruel too.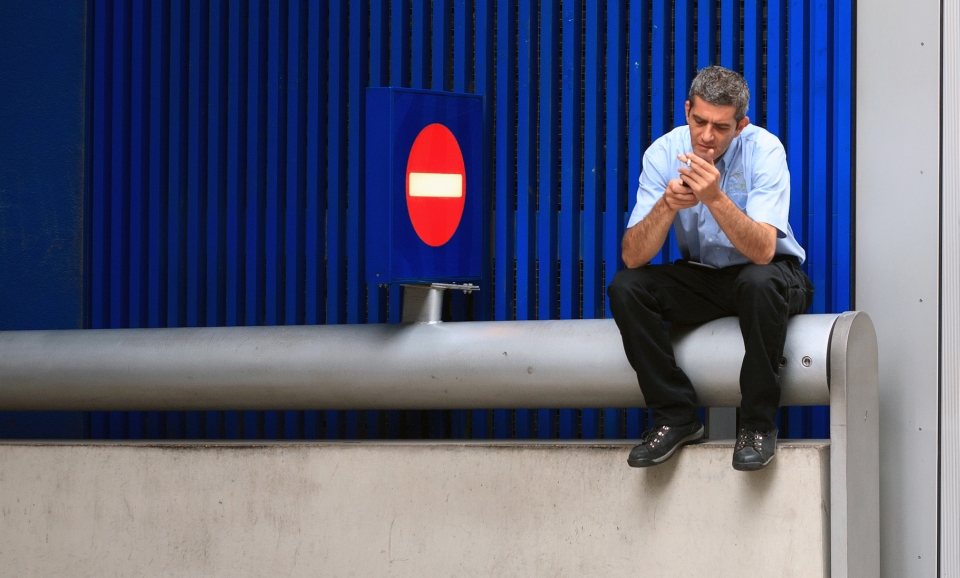 Outdoor smoking bans were almost unknown in the UK until a few years ago. They were first introduced in children's playgrounds and outside hospitals, where they are now the norm. Now bans are moving to other public spaces, including the school gates, squares, parks and beaches. Indeed, Brighton Council is proposing to ban smoking not only on the several-miles-long beach, but also in public gardens and seating areas outside restaurants and pubs.
Extending smoking bans to outdoor public places is rarely justified on health grounds. It is clear that smoking in the open air presents no real harm to anyone aside from the actual smoker, and in most outdoor spaces people can smoke without causing annoyance or otherwise affecting others.
The main justification for banning smoking outside is that it exposes other people to 'smoking behaviour'. That is, smoking is being prohibited because it is decreed that smokers' habits are setting a bad example to others, children in particular. The smoker in the park, say councils and health authorities, is giving the impression that smoking is 'normal'. By banning smoking outside, local authorities wish to 'denormalise' smoking, to make it clear that the habit is not normal.
Here, a person is made to answer not for the harm they cause to others, but for their role in the creation of public norms – or, rather, the norms of which officials disapprove.
In most cases, these anti-smoking policies are so-called 'voluntary bans'. They are enforced not through criminal codes and fines, but through emotional manipulation. Signs are often written in children's handwriting, bearing messages such as 'Consider tiny lungs' (Gwynedd), 'Kids' rights count' (Torfaen), or doggerel such as 'Show you care – don't smoke – it's not fair' (Nottingham), 'This is where we play, smoking ruins our day' (Cardiff) and 'Don't be a fool, smoking isn't cool – don't smoke in my space' (Carmarthenshire).
While not yet introducing legal restrictions, authorities are doing something similarly coercive – that is, using children and others as puppets to restrict legitimate adult behaviour in public spaces. Children do not go off and create 'no smoking' signs on their own; the dodgy verse is not the spontaneous work of a seven-year-old. When children are sent on to beaches holding signs saying, 'I want this space to be smoke-free', they aren't speaking for themselves – they're being used to impose the agenda of others.
This agenda is being pursued at significant expense. Our report published today (Smoked Out, produced by the Manifesto Club in association with Forest) highlights the 17 authorities that together have erected 1,570 signs in play areas, and 486 outside schools, at a total cost of over £340,000. The biggest spender was Blackpool, which spent £275,000 on 57 signs in 28 schools, parks and recreation grounds.
Over time, smoking bans are becoming more overtly coercive, especially in cases where people choose to ignore them. Although hospital bans – affecting patients, relatives, visitors, contractors and staff – are also nominally voluntary, they are in some areas enforced by wardens and officers, with disciplinary proceedings for staff who transgress. Our Freedom of Information (FOI) requests found that Glasgow hospitals spent £381,381 on 17 wardens patrolling its hospital sites, disciplining those found smoking. Four other health boards either employed wardens or actively intervened with smokers, who in the last instance would be escorted from the site. We also found that Nottingham hospitals have brought disciplinary action against 57 employees for breaching their outdoor non-smoking policy.
The Scottish and Welsh governments are currently planning legislation to introduce direct criminalisation of smoking outside hospitals, punished with on-the-spot fines and prosecution. The Scottish Parliament's forthcoming health bill would mean fines of up to £1,000 for anyone caught smoking on hospital sites. The long treks to get off site would, as one MSP put it, effectively leave smokers with a 'real, practical problem' and force them to go 'cold turkey'. It's hard to see how these punishments can be enforced with any reasonableness or humanity. Will patients be fined? Will their worried relatives be escorted from the site? Will hard-working staff members be disciplined and threatened with the loss of their jobs?
Open coercion is also evident in the growing restriction of smoking in closed mental-health facilities, with several mental-health authorities already banning smoking in outdoor areas. At the Manifesto Club, we decry this elimination of a small daily liberty for those otherwise restricted, and we are supporting the petition of a former patient against smoking bans in mental-health institutions.
Our report argues that these bans are driven not by public need or demand, but by a desire on the part of councils to comply with 'guidance' or an attempt to improve the 'image' of an area or institution. Indeed, bans have been introduced even in the face of direct public opposition. Blackpool Council was forced to remove signs at the entrance to parks after members of the public branded them 'monstrous'. Glasgow hospitals' smoke-free wardens resigned as a result of the degree of opposition they encountered from members of the public. Hospital smoking bans are often ignored. Meanwhile, when a councillor planned to ban smoking in the streets of Stony Stratford there was a high-profile public protest that led to the proposal being dropped.
Far from representing the public, institutions often put their 'smoke-free' policies above the interests and wishes of their patients and residents. When patients are denied the right to smoke a cigarette in the gardens of mental-health institutions, this 'voluntary' policy is revealed as coercive and dehumanising.
Smoking outside doesn't harm others, nor does it inconvenience anyone unnecessarily. Related problems that may emerge can be dealt with through simple measures, such as the provision of ashtrays, cigarette bins, or a mutual sensitivity and negotiation between smokers and non-smokers.
Our aim is to challenge the growing trend towards outdoor smoking bans in the hope that, through critical discussion, it can be slowed, halted and reversed, with toleration and common sense allowed to prevail.
Josie Appleton is convenor of the Manifesto Club.
Smoked Out, by Dolan Cummings and Josie Appleton, is published by the Manifesto Club, in association with Forest. The report will be launched at a public event tonight at the IEA, London, 6.30pm. For full details see here.
To enquire about republishing spiked's content, a right to reply or to request a correction, please contact the managing editor, Viv Regan.