Raymond Tallis and the meaning of life
Britain's leading polymath on life, death and why he loves James Joyce.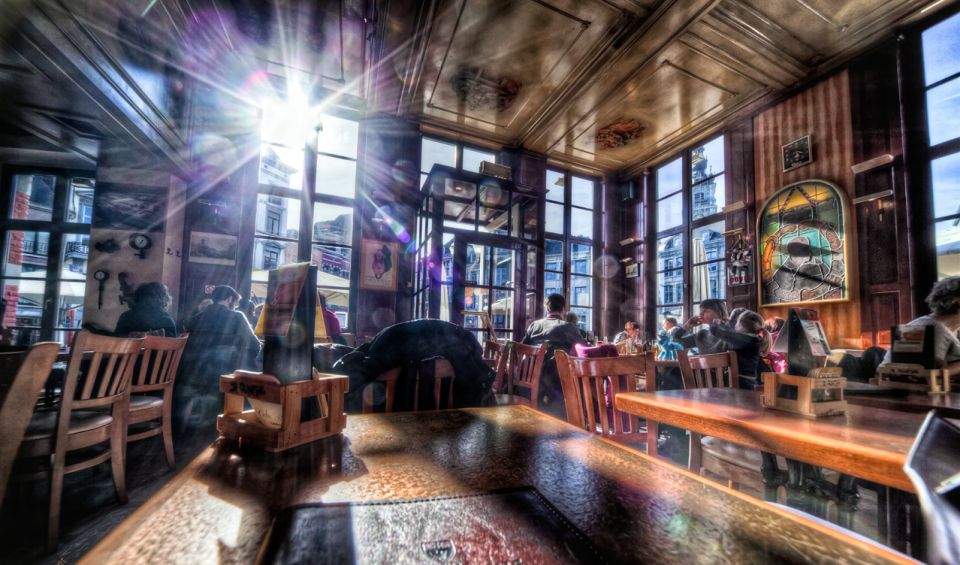 'I've had most of my life', says Raymond Tallis, his voice unwavering. 'Even the most optimistic prognosis says that I've had at least two thirds and most probably three quarters, so it's a pity most of it's behind me. And that's the source of a profound sense of melancholy; the sense of having outlived so much, and being, if you like, the survivor of so much, being surrounded by friends who are now running into problems… There's a strange thing when you look back on anything, even if it's only last Wednesday – the past has such a sort of privileged appearance. There are two sources of its privilege: the first is that you look at the past simply as a spectator – you can't do what Wednesday was up to; and the second is that last Wednesday I had more time. I'm struck by a sheer sense of the transience of things.' And then comes Tallis's never-to-be-denied impishness, his bolt of humour. 'Everyone else is sick of Raymond Tallis, but I can't get enough of him.'
The Black Mirror: Fragments of an Obituary for Life, Tallis's strange, brilliant new book, bears this out – he really can't get enough of himself. So much so, in fact, that he is feasting on his own corpse, savouring his hopefully none-too-imminent demise, and rendering up his life to the most thorough of post-mortems. The beginning of Black Mirror, then, is the end of Raymond Tallis (or RT as he refers to himself throughout), the point at which the 'I' becomes an 'it'.
If that sounds morbid, it's not. Tallis, physician, poet, philosopher and all-round know-it-all, in the best polymathic sense, is not only too compelling and effervescent a writer ever to depress the reader, he is also not really interested in death. Yes, he can do putrefaction, he can do cadavers, he can tell us what happens physiologically to the freshly deceased, from the scrubbing up to the obligatory anal plug. But that's not the point of Black Mirror. Rather, Tallis is interested in using death, or rather the idea of death, as a vantage point from which to view life. Just as Hegel felt one could only grasp the meaning of a historical epoch at the moment of its passing, as the owl of Minerva takes flight, so Tallis attempts to grasp life from the perspective of its end, as RT himself takes flight. Which makes sense. After all, it is only at the end that a life could be said to be whole.
Following EM Forster's epigram, 'Death destroys a man; the idea of death saves him', Tallis writes that the thought of death liberates the thinker: 'Using the idea of the Nothing beyond [RT's] life's end to illuminate aspects of the Everything that precedes it, Black Mirror has been an invitation to marvel at all those seemingly important hurries, all that activity and passivity, action and experience, from the standpoint of a stillness in which all hurry is spent, time is no longer tabled, insentience rules, and all ado is adone.'
And this Black Mirror does to life-affirming effect. It reflects on how we come to experience the world, how it acquires its meaning for us, and how we, as intermingling, social selves, acquire meaning for others – Tallis is particularly attuned to the infinitely significant gesture, the smile or the furtive gaze. His is a humanist, humanising endeavour, tracing the ways in which we give form to existence, and existence to form. He begins with the elements, with earth, water, fire and air, and how we as individuals, thanks to the labour of our forebears, encounter this elemental world as a world for us, from the hedges, streets and walls of our physical environment to the water bottled and sold in supermarkets. And it's fitting, given Tallis's love of language, of recondite vocab and mellifluous cadence, that his reflections on air turn on our use of it to speak, that is, to conjure communicable meaning, using our lungs and vocal chords, out of, well, thin air. 'Whether or not the universe began with The Word, with meant meaning, the word was close to [RT's] beginning and his end', he writes.
On Black Mirror moves, through our perception and experience of space, of 'near' and 'far', of our 'heres' and 'theres', and, with typical Tallis joie de vivre, 'the erotics of distance', through to the end, and the persistent attempt to pull oneself together, to recollect, to remember. And failing. 'Trying to remember your own childhood is like trying to get a sulky child who won't talk to you to speak', he tells me. 'And in many ways, my past self was that sulky child. I was totally aware that we do change, but we remain coherent, and that the one who changes and the one who remembers are two quite different persons.'
It is a stunning and unusual book, one that defies easy definition, as Tallis is the first to admit: 'One of the things I've always found difficult is to keep within genre boundaries. I've written poetry – for a decade that was my main literary output. I've written loads of philosophical books – 20 or so – and I've published a novel, and lots of short stories. So the task was really to find something that didn't confine itself to any of those genres. And ultimately the format that doesn't confine itself to any of those genres is this essayistic approach.'
Essayistic Black Mirror may be, but it is entirely consistent with Tallis's lifelong project. 'The whole of my intellectual enterprise has been to make the extraordinariness of human life visible, and that's why I've written so much against reductive approaches to human life, whether they're biologism or scientism more broadly, or indeed religion – all of which seem to reduce human life in different ways. So it's very much a part of the project that has occupied me over my 30, 40, 50 years of writing – which is to make life visible, in particular, human life visible.'
This Tallis does by reflecting on how we are in the world. If the philosophical debt is Martin Heidegger and Being and Time, other literary influences are equally as palpable and make sense of the fragmentary, genre-resisting nature of Black Mirror. 'I re-read and re-read Ulysses', Tallis tells me, 'because James Joyce is the one who turned the fabric of ordinary life into a vision. He's extraordinary. And the other influence is Samuel Beckett. I was worried when I sent the manuscript out into the world that a lot of the humour is playing with dissonance and linguistic registers, and being pedantic in contexts that are inappropriate. I'm a great fan of Beckett's tramps lying in a ditch discoursing on rare scholastic philosophers and so on.'
And Tallis is funny, treating the low with mock-pompous regard, shooting off self-deprecating asides about 'windbaggery', and his being a 'fluent sitter', and crafting bathetic passages on the cruel ironies of ageing, especially as they undercut the proud predicates of Homo erectus. 'A few decades later', he writes, 'obedient to the implacable symmetry of the arc of life, these hard-won competencies of upright man were withdrawn. Trudging, staggering, limping, stumbling, tottering, doddering, shuffling, and crawling marked the downward trajectory. The staircase, an Alp to his toddling self, regained its mountainous aspect.'
Black Mirror aims at universality. 'The life in question is said to be RT – or Raymond Tallis', he tells me, 'but, of course, really, I'm only an exemplar, and most of the things in the book are about anyone really. RT is an instance of HS, in other words Homo sapiens.' Yet what is most striking, and often incredibly moving about Black Mirror, is the extent to which this is RT's life, the extent to which these are RT's recollections, that these are his thoughts, his inspirations. There is a universality here, a resonance, but it's located in the treasured particularity of RT's life, something that is his and no other's, much as our own life's significance is our own and no other's. You can sense the Liverpool of RT's childhood, the Greece of his family holidays, the melancholy of his late look across his moonlit garden. And in RT's particularity, we can recognise, and therefore overcome, our own. Take this sublime passage on the role of light in experience and reminiscence:
'One version of [RT'S] biography could have been written as a "chronicle of lost sunlight", patches of light, memory-flares illuminating his vanished world. The square of sunlight on the nursery floor bathing a teddy bear's leg, the radiant green of leaf-dappled grass, a spark in the eyes of a loved one reflecting in miniature the view she is looking at, the old-looking light in a cupboard opened after a long time shut, the evening sun round the ankles of a hedge elevated above a deep lane leading down to a sea announced in the falls, pulsing aches of sound, of gulls, the platinum primrose-grey light hue of a remote tarn, the yellow of the sun-drenched stonework in the public square on a hot afternoon, the quiet candescence of the last leaves in a twilit November wood, dawn tingeing mountain crags and pinkness on evening clouds that had seemed like added pillows to his childhood bed, the tingling sequins of silver sea light. Gleams on furniture, on polished toenails, on the polished curve of his denuded cranium, sipped from clouds, glimmers caught on distant pools from remote towns, the spilt marmalade of sodium lit tarmac.'
These aren't an everyman's thoughts, but they're thoughts in which every man can recognise himself. Black Mirror is bursting with such lyrical litanies. But it's not an indulgence on the part of a hyperactively smart man. Rather, it's an essential part of Tallis's own project, an element of his attempt to lay bare, 'to make visible', the profane miraculousness of life, of what it is, in the strongest sense, to be, rather than not to be. In Black Mirror, Tallis retrieves the meaningfulness of a life, and allows us to be astonished by it.
I ask Tallis about his attitude towards a certain existential tradition of thought, in which the idea of death, of one's finitude, is mobilised to revelatory, 'live every moment as if it's your last' effect. 'I am much closer to the existentialists than perhaps you think', he tells me. 'And it seems that authentic being towards death is a way of breaking out of the carapace of habitual ways of thinking. It is a way of going beyond Heidegger's everydayness most certainly. Because it looks at everydayness from the outside, not necessarily rejecting it, but to see it from the outside. And I think that is part of being towards death. The knowledge that because you're finite, and that if you do X you can't do Y, that as you get older, you define yourself ever more narrowly because the plenipotentiality you had when you were young boils down to the actual life you've lived. Again it's something that existentialists were aware of, and it's something I believe very strongly.'
But there is a divergence, and it's a crucial one. From Heidegger to Sartre, there was a determination to wrench the individual free of the inauthenticity and bad faith of the everyday, the habitual and the routine – to live your own life, not the life others have made for you. But Black Mirror is different. It is not, at the last, calling out the absurdity of our Godless existence or urging us to live authentically. Indeed, it's not a rejection at all; rather, it represents a joyous reconciliation with life as it is lived, in all its unfathomable depth, and apparent wonder. In Tallis's black mirror, we glimpse the fragments of a life lived well.
Tim Black is books and essays editor at spiked.
The Black Mirror: Fragments of an Obituary for Life, by Ray Tallis, is published by Atlantic Books. (Order this book from Amazon(UK).)
Picture credit: Paolo Margari. Published under a creative commons license.
To enquire about republishing spiked's content, a right to reply or to request a correction, please contact the managing editor, Viv Regan.