Do not go gentle into that political night
Corbyn's call for a gentler politics won't aid the enlightening debate we need.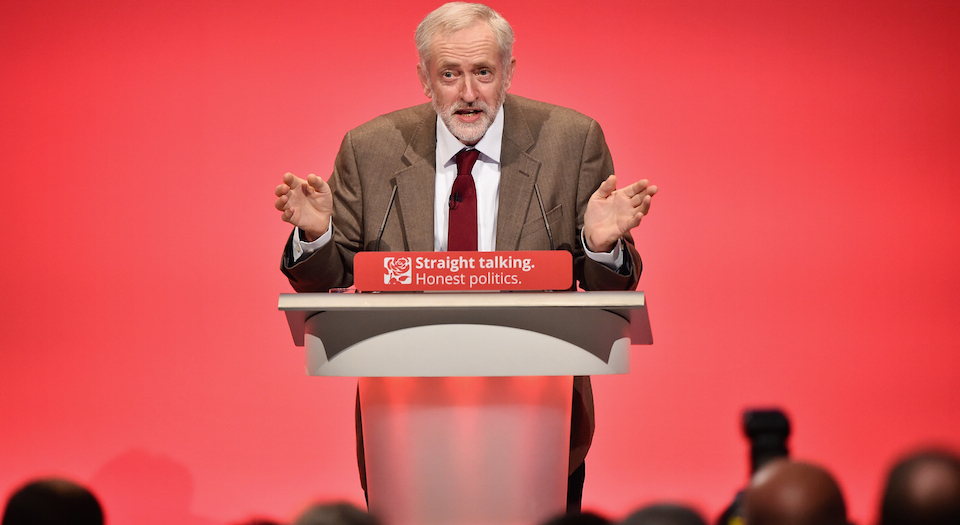 Labour leader Jeremy Corbyn made headlines calling for a 'kinder, gentler' politics in his first big conference speech. That might sound like Corbyn's version of a mum-and-organic-apple-pie issue. Who could disagree with the notion of nicer, gentler political debate? Well…
Nobody might want to celebrate rudeness or roughhouse tactics for their own sake. But anybody who wants to take seriously Corbyn's supposed support for 'real debate' and 'straight talking' will need to trample on his notion of kinder, gentler politics.
What politics in the UK and elsewhere is crying out for today is more direct confrontations between opposing principles and visions of the future; more head-on clashes between those who have both convictions and the courage to fight for them. That is a far cry from the blandness of debate in the managerial politics of the modern day.
History suggests that such meaningful clashes are rarely gentle, and the language used to fight proper political battles is not necessarily kind. Would Nye Bevan, 'father of the NHS' and historical hero of Corbyn's supporters on the Labour left, have passed the new leader's 'gentleness' test with his famous denunciation of the Tories as 'lower than vermin' at a Labour rally in 1948?
Corbyn's conference speech singled out for criticism the 'personal abuse' and 'rudeness' reportedly being hurled around on social media, notably by his supporters during the leadership election campaign. 'So I say to all activists, whether Labour or not, cut out the personal attacks. The cyberbullying. And especially the misogynistic abuse online.' Instead, Corbyn urged all activists to 'treat people with respect'.
But the use of personal abuse in these online clashes is not simply about bad manners, rudeness or a lack of respect. It is another symptom of the absence of a meaningful political contest. The less political substance there is to debates, the more personal and shrill the tone tends to become. For example, as major political differences between the two big American parties have become ever-narrower in recent times, so the culture-war clashes between the 'red' and 'blue' camps have tended to become more bitter and personal.
The antidote to these trends is not to insist on better manners or more personal respect. It is to start a political debate of real substance about the sort of society we want to live in; an 'open debate' that is not just 'inclusive' of everybody, as Corbyn desires, but in which no holds are barred and no opinions ruled too rude to be heard. The lack of substance and avoidance of controversial issues in the Labour leader's banal speech did not bode well.
In fact, if anybody takes Corbyn's call for open debate and 'straight talking' too much at face value, they are likely to find his insistence on 'kinder' politics and more 'respect' puts a stop to all that. Because the bigger barrier to the sort of political debate we need today is not rudeness and abuse. It is the fashion for insisting that 'offensive' ideas and opinions should be outlawed, and drowning out non-conformist views with a chorus of You Can't Say That.
The crusade against offensive speech now extends from the low comedy of social-media 'banter' to high-powered political debates. As Richard King, author of On Offence, observes, going on the offensive has been part of political struggles since ancient times, as 'the word offend derives from offendere, a Latin word meaning "to strike against"'. Offensive arguments that strike against your opponents have long been the normal ammunition of a political fight. Things are different in politics today, however: 'In the 21st century, it isn't only offence, but also the taking of offence that is weaponised – that is, used to strike against opponents.'
Taking offence at the other side's 'rude' argument has itself become an easy knee-jerk intervention, without the awkward necessity of having to come up with an argument of your own. To claim that you feel offended by something your opponent says has become a shortcut to winning – or at least, ending – a political debate, regardless of the relative merits of debaters' points.
The attempt to de-normalise any speech that somebody finds offensive is having a stultifying effect on public debate, encouraging an atmosphere of tame conformism and mute self-censorship, punctuated by outbursts of puerile personal abuse. The biggest victim is not the one who is taking offence; it is the rest of us, robbed of the opportunity for open-minded discussion and free, enlightening debate that offers our best hope of getting at the truth and deciding a way forward on controversial issues.
The debate about curbing offensive, unkind and disrespectful speech might seem very modern, yet it is not entirely new. More than 150 years ago, the British philosopher John Stuart Mill, author of On Liberty, dismissed suggestions that the free expression of opinions should be limited to those whose 'manner be temperate, and do not pass the bounds of fair discussion': 'Much might be said on the impossibility of fixing where these supposed bounds are to be placed; for if the test be offence to those whose opinion is attacked, I think experience testifies that this offence is given whenever the attack is telling and powerful.'
In other words, the more forceful the opposition's arguments, the more offence they cause. For Mill, complaints about 'offensive' speech are often really a response to opponents 'whom they find difficult to answer'.
Mill himself was no fan of 'intemperate' debating methods. He believed in 'the real morality of public discussion', preferring calmness, honesty and candour to 'malignancy, bigotry or intolerance of feeling'. But he insisted these were questions for public judgement: 'It is however obvious that law and authority have no business with restraining' any 'offensive attacks' by either side. We might wish that was so 'obvious' to the would-be prosecutors of offensive speech today, as well as political leaders who give sermons about how we should all be kinder and gentler with one another's opinions.
Mick Hume is spiked's editor-at-large. His book, Trigger Warning: Is the Fear of Being Offensive Killing Free Speech?, is published by Harper Collins. (Order this book from Amazon(USA) and Amazon(UK).)
To enquire about republishing spiked's content, a right to reply or to request a correction, please contact the managing editor, Viv Regan.