What about 'religious freedom' for the secular?
Why we need to amend the First Amendment.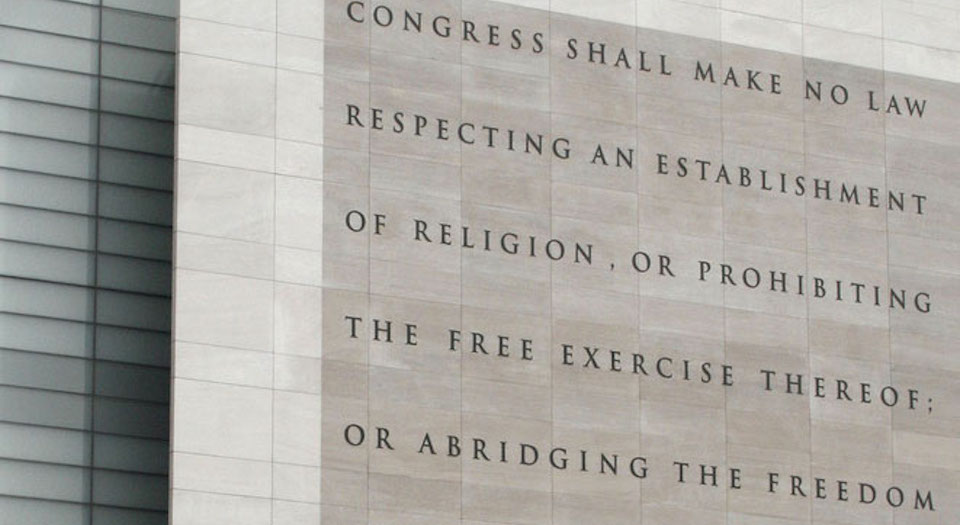 The US Bill of Rights provided 10 constitutional amendments that, first and foremost, discouraged interfering with a true 'separation of church and state'. In other words, in 1791, our nation's leaders made explicit the idea that in matters of religion, the government should do its best to butt out.
While this may suggest a secular bent, it does little to undermine the ultimate law of a predominantly religious constitution. This creates many problems for secularists and humanists today. Whom does the First Amendment really protect? It only mentions people of faith. Are the rights of those without a religion covered? If religious and constitutional dogmas are implicitly intertwined, how can the rights of the non-religious be upheld if Congress continues to mind its own business?
What becomes clear, especially as we look at the recent gay-marriage debate, is that the law traditionally favours the religious. Furthermore, it often doesn't allow the non-religious the same rights – which should be considered basic American freedoms. When the desired equal rights of atheists are under attack, because of misogyny and other prejudices implicit in many religious doctrines, it is not always evident how the government can serve.
While the First Amendment does explain that citizens can petition the government with their grievances, it mainly focuses on protecting those of faith and makes no specific provision for non-religious citizens. It states that Congress shall not prohibit the free exercise of any religion, even implying through the clauses on free speech and assembly that proselytising ought to go unfettered by the law. The First Amendment states that Congress should not favour any particular religion in its lawmaking, only incidentally suggesting that atheists and agnostics might be protected.
Our First Amendment, after all, is titled 'Religion and Expression', as if religion ought to be the very first freedom we ought to protect. Undoubtedly, the way we talk about civil liberties is greatly skewed by this language — it really only leaves room for those who hold a secular worldview to challenge it.
Secularism is not a religion; it is diametrically opposed to making this mindset a priority. Therefore, the heading 'Religion' does not serve to encompass a secular stance, and from a legal standpoint, the 'Nones' are not protected with the same verve as those who have literally any religious viewpoint at all. This means the door is left open for an irrational distribution of securities for Americans. For instance, a group of Satanists worshiping the devil as their god might be considered freer than a group of non-believers.
More practically, we can look at a problem like the Klu Klux Klan. The fundamentals of the hate group are religious in nature (or so goes the claim), so until individuals cross a tangible legal line – for example, violence or threat of violence – the government cannot prevent such a group from congregating. However, the government can prevent a mother, who does not believe in a divine intervention upon inception of a pregnancy, from getting access to abortion services. The government can (and is encouraged by the First Amendment to) allow companies to make religious-based healthcare decisions for their employees, which consequently infringe on free exercise of secular practices that prevent pregnancy altogether.
We need to protect scientific and rational-minded US citizens who do not enjoy the same rights as religious individuals under the current stipulations of the First Amendment. Our Amendments need further amending.
Edwina Rogers is the CEO of Secular Policy Institute.
Edwina will be speaking at 'Freedom of religion: the forgotten liberty?' at our First Amendment conference in Washington DC on Thursday 15 October. Get your tickets here.
Picture by: Wikimedia Commons.
To enquire about republishing spiked's content, a right to reply or to request a correction, please contact the managing editor, Viv Regan.