Je Suis Toujours Charlie
Yes, we must also defend their freedom to publish
cartoons about drowned Syrian refugees.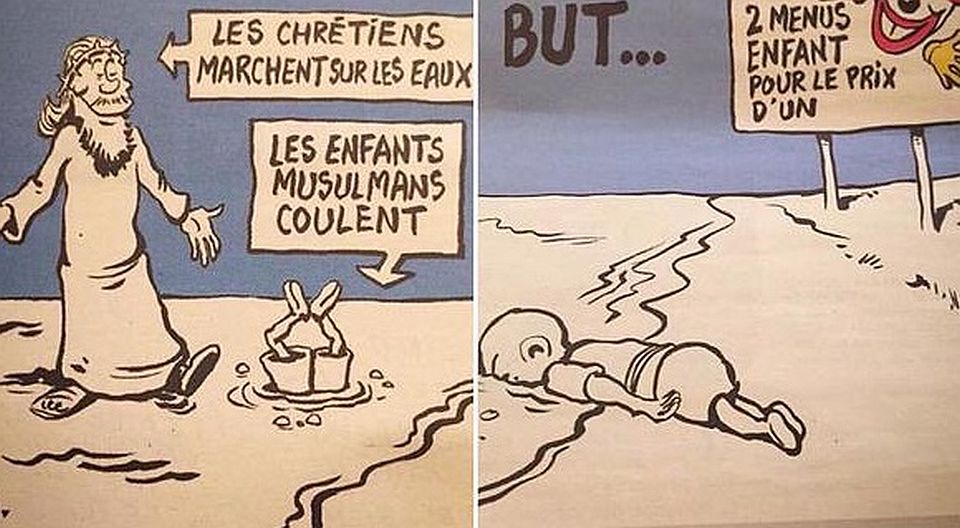 The French satirical magazine Charlie Hebdo is in trouble again – this time for publishing two cartoons about drowned Syrian refugees. And anybody who believes in unfettered free speech needs to stand up for Charlie's liberty to offend the pro-refugee and anti-racist lobbies just as staunchly as its right to offend Islam.
It is barely nine months since people across Europe and America marched behind those 'Je Suis Charlie' banners, for the scurrilous mag's right to freedom of expression after the murderous attack on its editorial office by Islamist gunmen who shot dead eight cartoonists and journalists and four others. Now the online footsoldiers of the You Can't Say That lobby are marching across the internet, denouncing Charlie on social media and threatening it with prosecution, if not actual execution, for crimes against humanity.
Peter Herbert of the Society of Black Lawyers – one of the UK's leading offence-taking outfits – has made headlines after announcing via Twitter that his group will consider reporting the Charlie Hebdo cartoons 'as incitement to hate crime and persecution before the International Criminal Court'.
Herbert's tweets continued in the same vein, declaring that 'Charlie Hebdo is a purely racist, xenophobic and ideologically bankrupt publication that represents the moral decay of France'. Good to see such racially sensitive souls avoiding national stereotypes. Meanwhile, many others have denounced the 'disgusting' Charlie, said they have 'lost all respect' for the magazine, and that, in the words of one tweeter, it was time to 'Draw the line'.
As it happens, some of us might fail to see anything 'racist [or] xenophobic' about the new Charlie Hebdo cartoons. One uses an image of a toddler in shorts and a t-shirt face-down on the shoreline, like the infamous photo of the drowned Syrian toddler Aylan Kurdi, beside an advertising billboard that offers two children's meal menus for the price of one. The headline says 'Welcome migrants! So close to his goal…'.
The other one – also by a cartoonist who survived the January attacks – depicts a Jesus-like figure walking across the sea saying 'Christians walk on water', while a smaller figure wearing shorts is upside down in the water, saying 'Muslim children sink'. The caption concludes 'Proof that Europe is Christian'.
You surely do not need to be an expert in French satire to see that the target of the cartoons is European society rather than Muslim migrants – a familiar-looking attack on consumerism and hypocrisy over here. That makes no difference, however, to those constantly on the prowl for any words and images to take offence at and demand action against.
In fact, it does not matter what you think the Charlie Hebdo cartoons are trying to say, or whether you find them funny or offensive. Defending unfettered free speech is both a non-negotiable principle and a practical necessity today. It means defending the freedom of Charlie Hebdo, or anybody else, to offend who it chooses whether we like it or not. You don't have to be Charlie, read Charlie or chortle at Charlie in order to defend it. Free speech is always primarily about defending what a US Supreme Court justice once called 'freedom for the thought that we hate'.
The new backlash against Charlie Hebdo has exposed the truth behind the free speech fraud we witnessed after the January massacre. The false image projected then was of a Western world united behind the 'Je Suis Charlie' banners, defending freedom of expression against the barbarians at the gate. The truth, as we argued from the first on spiked, was that the more powerful and insidious threats to free speech came from within the citadels of civilisation itself. Indeed, those freedom-hating Islamist gunmen were not alien imports so much as products of the prevailing mood in Western society, where free speech is increasingly out of fashion and we spend far more time discussing how to limit our most precious liberty than defend and expand it.
As I put in the prologue to my book Trigger Warning: 'We need to face the hard fact that the Islamist gunmen who attacked the offices of Charlie Hebdo acted not just as the soldiers of an oldish Eastern religion but also as the armed extremist wing of a thoroughly modern Western creed. From the official censors of the police and political elite to the army of unofficial censors online, the cri de coeur of these crusaders is You Can't Say That. The Islamist gunmen took that attitude to a murderous extreme.'
France is of course the land of Voltaire, whose classic defence of free speech and tolerance is summarised as 'I disapprove of what you say, but I will defend to the death your right to say it'. The latest backlash against Charlie Hebdo confirms that we are now living in the age of those I call the reverse-Voltaires, whose slogan is 'I know I will detest what you say, and I will defend to the end of free speech my right to stop you saying it'.
In response, we must insist on the freedom to think what we like and say what we think, and defend the freedom of Charlie Hebdo or anybody else to publish what they believe to be true or just funny, whether it offends Muslims or Catholics, Tories or transgender activists, racists or the refugee campaigners. Je Suis Charlie, not just in January, but Je Suis Toujours Charlie.
Mick Hume is spiked's editor-at-large. His book, Trigger Warning: Is the Fear of Being Offensive Killing Free Speech?, is published by Harper Collins. (Order this book from Amazon(USA) and Amazon(UK).)
To enquire about republishing spiked's content, a right to reply or to request a correction, please contact the managing editor, Viv Regan.