To see why he won, look at the clueless Corbyn-bashing
The emptiness of politics means a veteran non-entity can become Labour leader.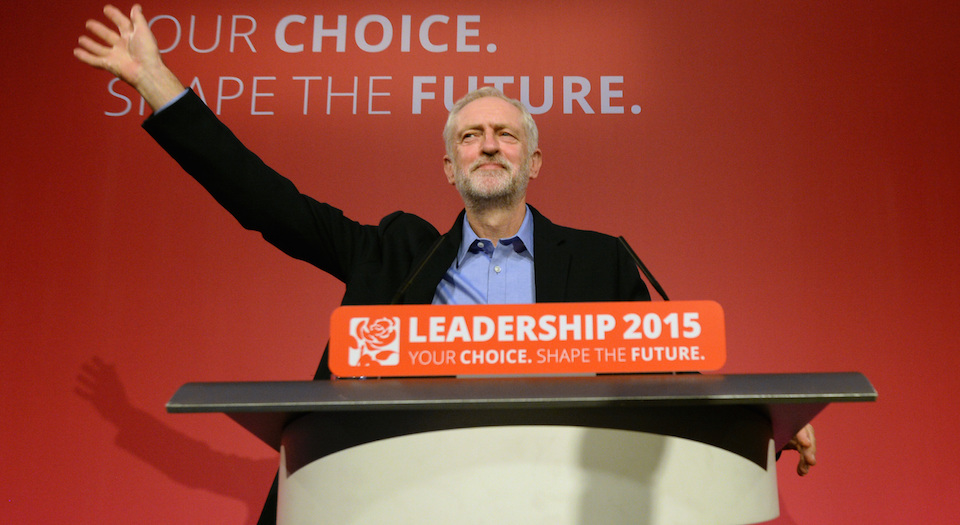 If there is one thing more pathetic than the Labour left's attempt to depict new party leader Jeremy Corbyn as the socialist Messiah, it has been the attempt of his opponents to attack him as everything from a non-feminist to a threat to national security. Neither side shows any capacity for handling substantial political issues or facing up to the reality revealed by Corbyn's election as Labour leader.
Corbyn has spent 32 years as a Labour MP without ever leading anything or leaving any visible mark on UK public life. His victory clearly had little to do with the man or his personal beliefs. Instead, if we want to understand how Corbyn won, just look at the reaction to the leadership election results from his opponents inside and outside Labour.
The overnight stardom of this 66-year-old political non-entity is entirely a by-product of the disintegration of the Labour Party and the reduction of British politics to a principle-free wilderness. That wilderness has been revealed once more by the emptiness of the post-election Corbyn-bashing.
As a veteran of the left myself, I am no fan of Corbyn or his stale state-socialist politics. But that's not the real issue today. He was backed by all those new £3-a-vote Labour supporters as a consequence of the disaffection with moribund mainstream politics. Despite all the big talk, there is no mass radical 'movement' on the march in the UK. If there was, then everybody – including Corbyn himself – would hardly have been so shocked at his sudden elevation over recent weeks.
So let us leave a detailed critique of Corbyn's politics for when he actually does something (merely observing in passing that there was nothing in his victory speech that Ed Miliband could not have said).
For now, it is worth focusing on how the hostile reactions to his election have been so desperate and tired that they have succeeded in making this bearded relic appear almost dynamic by contrast.
Corbyn's opponents seem to have nothing of substance to say about the all-party crisis of political authority that has allowed him to rise so rapidly without trace. Instead they have, in sporting parlance, been reduced to playing the man rather than the ball.
So Corbyn's embittered critics inside the parliamentary Labour Party can only focus on appearances rather than politics, complaining that his new leadership team looks far too 'male and pale'. (This is of course a criticism that Corbyn was asking for, given his long indulgence of identity politics.) Meanwhile, Corbyn-bashers among the Tories and in the media have been reduced to poring over his old speeches and dodgy allies, as if his election had anything to do with the fact that he has shared platforms with some Islamist nutters. (Quite frankly, given the three-forgettable-speeches-a-night routine that some of us recall Corbyn performing back in the 1980s, it would be a wonder if there were many figures he had not shared a platform with at some time.)
You knew things were getting desperate when Conservative spokesmen were quickly reduced to branding Corbyn a 'threat to national security', as if we really were back in the Cold War era that they accuse him of hankering after. The sense of grinding through the motions was so palpable it was hard to believe that even they could believe they were saying it.
Revealing, too, was the excited talk on the right, about how Corbyn's election would guarantee another 10 years of Tory government. Seemingly unable to offer any positive case of their own, it appears that all the Conservatives have to hang on to is the collapse of the Labour Party. (And even then, we should surely be wary of accepting the electoral predictions of Tory experts who were as surprised as anybody by their own electoral victory in May.) The Tory attack on the 'red loon' Corbyn seems as empty as their renewed legislative assault on the shells of the trade unions – which is a case not so much of flogging a dead horse as unearthing a corpse in order to string it up again.
The one indisputable point that Corbyn made in his acceptance speech on Saturday was that 'Things can, and they will, change'. Things are indeed changing in politics across the Western world, as the chasm grows between the political elites and the disaffected people. But not in ways that either the new Labour leader or his opponents can predict or control.
It should be a sobering thought for the overexcited British left that Corbyn's election is as much a product of the disintegration of the old politics as is the rise of Republican maverick Donald Trump in the US. And it is also a sign of the times that the political mainstream appears to have little of substance to say in response to either of them.
Mick Hume is spiked's editor-at-large. His book, Trigger Warning: Is the Fear of Being Offensive Killing Free Speech?, is published by Harper Collins. (Order this book from Amazon(USA) and Amazon(UK).)
Mick will be delivering the opening address at the Battle of Ideas festival in London on Saturday 17 October. Get your tickets here.
Picture by: Stefan Rousseau / PA Wire / PA Images.
To enquire about republishing spiked's content, a right to reply or to request a correction, please contact the managing editor, Viv Regan.