Do disabled acts need a helping hand?
Christian Butler reports on the Edinburgh Fringe's new push for inclusivity.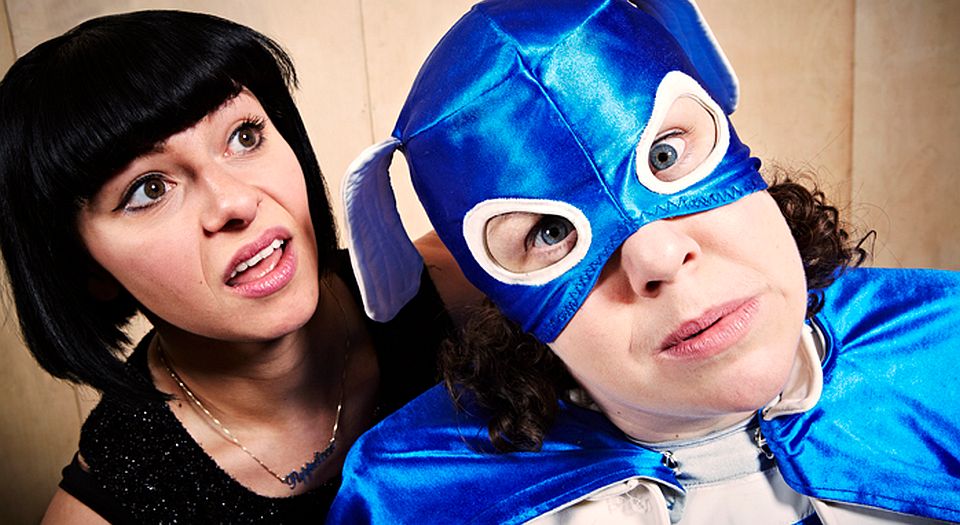 The Edinburgh Fringe, like all liberal-arts festivals, prides itself on being 'inclusive'. But given that less than half of the Fringe's 270 venues are fully wheelchair-accessible, and only 25 of its 2,871 shows are signed or captioned, there are plenty of disabled punters who still feel edged out of the fun.
This year at the Fringe, a group of performers, directors and writers is trying to remedy the situation with the iF Platform, a showcase of disabled and integrated productions presented by the Stopgap Dance Company.
I spoke to Jess Thom, who is performing at the showcase as her comedic, superhero alter-ego, Touretteshero. 'I think it's very easy for people making shows for Edinburgh – when they're on a stretched budget and have no experience of disability – not to think about access', she tells me. 'But one in five people identify themselves as disabled, that's a fifth of the population. Improving access makes strong business sense, as well as being the right thing to do.'
Thom describes her new Fringe show, Backstage in Biscuit Land, as a celebration of the creativity and spontaneity produced by her Tourette's syndrome – 'biscuit' being her most recurrent tic. But, while few would disagree with her on the issue of access, I wonder to what extent banging the drum for disabled acts might pigeon-hole these artists unnecessarily.
On top of the showcase, the iF Platform led 'a day of provocations and presentations' at the Forest Fringe this year, with discussions about the profile and future of disabled artists. The event's blurb asked a pertinent question: 'Do we need to label people disabled artists?' Thom says she's proud of the tag and the 'thriving disability arts scene' it represents. But Rowan James, another performer at iF, disagrees.
James, who has a learning difficulty, comes to the Fringe this year with his show Easy for You to Say, an exploration of society's ideas of normality, incorporating poetry and hip-hop. Meeting with him and his director, Daniel Pitt, at Zoo Southside, James seems far less comfortable with being labelled a disabled act. 'I've created this platform for myself, as a performance poet, without really mentioning disability', he says. Pitt adds: 'I think because the Fringe is full of gimmicks, there is a slight risk it could be seen as a gimmick – but it mustn't be.'
Perhaps they're right to be cautious. Too often, James tells me, disabled acts become the subject of unwelcome patronage and pity. 'I hear people from theatres talk about when they're booking and planning [disabled] shows, and there's always a concern of how to get over people's perceptions of thinking "let's go and show them support", rather than "let's go and see a really wicked piece of theatre".'
Indeed, if there's a label all so-called disabled acts hate, it's being called 'inspiring'. When James and Pitt were putting together Easy for You to Say, they were careful to avoid tripping into what they call 'inspiration porn'. 'I don't feel that what I'm doing is brave', James explains. 'It should not have to be "he's amazing, because he's achieved something". Why wouldn't I be able to achieve it?' Thom agrees: 'With disability, it can be very easy for people to bandy the word "inspiring" around… That's something a lot of disabled people have spoken out about.'
So what does the future hold for disabled artists and audiences at the Fringe? 'I feel encouraged to hear the Fringe society talking about improving access over the next four years', says Thom. 'I think what's needed is a long-term approach.' And, indeed, given that disabled people represent a significant section of its clientele, the Fringe would do well to take her advice.
But, talking to these performers, it becomes clear that, while the Fringe has a particular responsibility to its disabled audiences, the performers hold precisely the same responsibility as any other performer at the Fringe – that is, to put on a great show. For all the debate around disabled acts, it's high-quality work that will ensure their place in a diverse Fringe line-up in the future. Thankfully, the quality on show at the iF Platform proves that these performers are more than up to the task.
Christian Butler is a writer and musician based in London.
Backstage in Biscuit Land is at the Pleasance Courtyard until 30 August.
To enquire about republishing spiked's content, a right to reply or to request a correction, please contact the managing editor, Viv Regan.