Kids Company: a cuddly front for state intervention
Camila Batmanghelidjh's financial management is not the real scandal.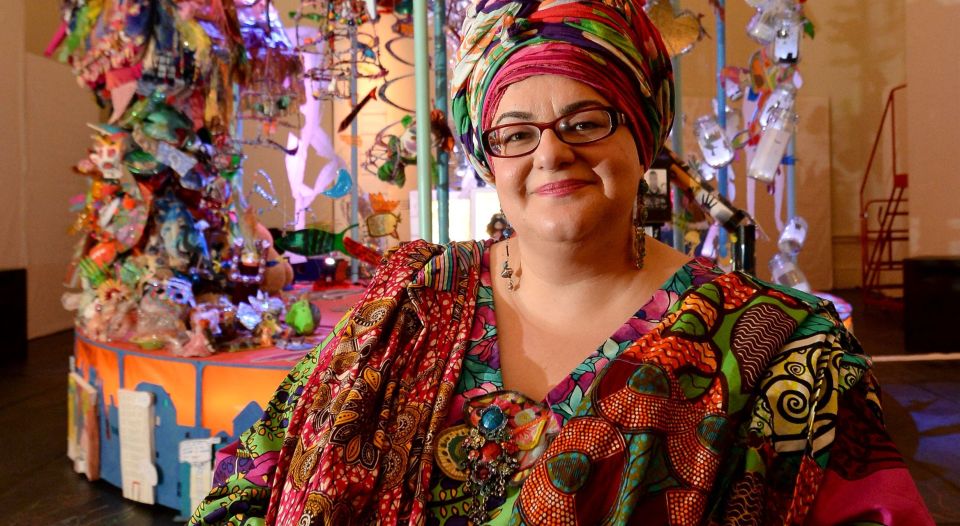 It was announced recently that the UK government was withholding £3million of Kids Company funding until Batmanghelidjh resigned, due to concerns about the financial management and accountability of the charity. This seemed like a remarkable turnaround in official attitudes towards Kids Company, which is said to have received up to £30million from the government since 2008, to provide practical and therapeutic services to children and young people through schools and in its own centres in London and Bristol.
It is not just the government that has courted Batmanghelidjh. Since she gained public prominence for her views 'from the streets', following the killing of Damilola Taylor in Peckham, south London, in 2000, Batmanghelidjh has received numerous public commendations, awards, honorary degrees and fellowships. In 2013, she was awarded a CBE for services to children and young people. Kids Company was the charity of choice for pop stars such as Coldplay and Florence and the Machine, while numerous celebrities and figures from the worlds of art and business have publicly endorsed its work. Most notably, back in 2006, David Cameron embraced Batmanghelidjh's approach to inner-city youth issues when he made his infamous 'hug-a-hoodie' speech – part of his attempt to rebrand the Conservative Party as 'compassionate' rather than 'nasty'.
Batmanghelidjh is certainly a curious figure, worthy of closer scrutiny. Not because of her exotic dress, dramatic family history or even the new claims about dodgy goings-on in her fiefdom. But because her success as a public operator has relied on her ability to press the buttons of the zeitgeist. Looking back at her many public statements over the years, it is difficult to tell whether she was particularly clever at shaping her message to fit the government agenda or was actually an agenda-setter herself. Batmanghelidjh's success is perhaps best explained by her impressive ability to say the right thing at the right time – in particular, her tendency to blame inadequate parents for the emotional suffering of children and her propensity for summoning up apocalyptic visions of social disintegration. Her solutions were fashionably therapeutic, straddling the old-style 'woo-woo' therapies of reiki and reflexology and the new-style 'hard science' of brain scans and neurological rewiring.
Parent-blaming
Batmanghelidjh has little time for parents and has been an outspoken critic of parental failure, primarily among the poor, but also the rich. In this respect, she has been one among many voices who, since the mid-Nineties, have laid the blame for social problems at the feet of unloving, neglectful and abusive parents. Batmanghelidjh rarely talks of parents except to refer to them as shadowy, malevolent or useless figures, crashed out on the floor of a crack den or pimping their children to feed their habits. In this respect, she resonates with a cultural appetite for tales of child suffering, demonstrated by the popularity of so-called 'misery lit', such as Dave Pelzer's A Child Called 'It', and the rise of the paedophile as the perennial bogeyman of public policy and discourse.
She positioned herself, aesthetically and therapeutically, as a substitute mother figure who took a soft, non-judgemental line with teenage delinquents, but a tough line with their parents. In an interview with journalist Deborah Orr, which appeared in the Independent in 2009, Batmanghelidjh said:
'I would have teams with roving vans, and, if you are on the child-protection register, then you would be obliged to hand over a house key. You would understand that the roving team could turn up at any time, night or day, to check that child and check that household. None of this telephone-call-I'm-coming so that chocolate can be spread over the wounds. You just turn up.'
On another occasion, she criticised black single mothers to an audience of MPs:
'I actually think the mothers are hugely responsible, because they have created a culture where they can get rid of the adolescent boy… They can get rid of the male partner, they can survive on their own… Often people think it's the males who are the culprits, the irresponsible people who actually come along and make these girls pregnant and walk off. And they underestimate the level of rejection and cruelty from the females towards the males… The minute the adolescent boy begins to look slightly like a male and behave like a male, often the mother wants that young male banished from the house. A hate relationship often develops. I really think we underestimate the vulnerabilities of young black men.'
Rather like TV chef turned healthy-food crusader Jamie Oliver, Batmanghelidjh has carved out a role for herself as the person willing to 'tell it like it is'. Historians have written at length about the history of philanthropists lobbying for money, laws and policy to 'save' children from their dreadful parents (see Cunningham and Pratt (1)). For obvious reasons, charities in need of funds tend to focus on the most sympathetic symbol of suffering: the vulnerable child. But the child-saving argument, which tends to demonise parents, needs tempering with a less emotive consideration of what causes social problems and what can be done about them.
The tyranny of emotional discourse
The problem with current public discourse is that the emotive advocates tend to have the loudest voices – and, worse than that, they have a silencing effect on those who try to raise more difficult questions. It is noticeable that since formal criticisms were raised about Kids Company, many individuals, who have quietly expressed concerns about its operations for years, have felt emboldened to speak out. The comment sections of newspapers and online forums are full of testimonials from anonymous individuals claiming direct experience of Kids Company, as ex-volunteers, clients or professionals operating in the same area. Many of them have declared their relief that the untouchable, 'saintly' Camila has finally been challenged. Even within government, it seems there was an unwillingness to countenance criticism of Kids Company. Dominic Cummings, a former special adviser to Michael Gove in the Department for Education, said Downing Street overruled requests to stop the charity's funding, for fear of bad publicity.
The embrace of figures like Batmanghelidjh reflects both the cowardice and crisis of authority within officialdom. The UK government has hidden behind Batmanghelidjh, allowing her to stick the boot into parents and call for the further policing of family life on its behalf. What's more, rather than tackle the substantial questions of youth disaffection and integration, politicians tend to accept, at face value, the mantle of expertise that Batmanghedlidjh and her ilk bestow upon themselves. (This trend, whereby politicians borrow the authority of more popular or 'legitimate' public figures, or bodies of knowledge, has been written about at length by Frank Furedi.)
Neuro-bollocks
Batmanghelidjh has become not so much a spokeswoman for, but an interpreter of, troubled youth – someone seen as having the almost Doctor Dolittle-like skill to see inside their hearts. She has taken this conception even further in her collaborative projects with academic neuroscientists, aimed at 'seeing inside' the brains of delinquents to examine the effects of abuse and neglect. Here, too, there are plenty of authoritative voices who are critical of the fashion for 'brain-claiming', but they are ignored, with a few notable exceptions, by journalists who have reported with total credulity the pseudoscientific ideas of 'fright hormones', 'toxic stress' and 'frontal-lobe rewiring' that Batmanghelidjh has helped to promote.
When she began to attach herself to determinist brain science, Batmanghelidjh was making an astute attempt to ride a fashionable wave of 'expert'-informed policy. She was not alone. Politicians and public-sector commissioners have also embraced this sort of neuro-bollocks in order to make the case for 'early intervention'. The 'first three years movement', an alliance of politicians, policy advocates and academics who insist that social problems are caused by the experiences of early infancy, have used neurodeterminist arguments to demand state funding for interventions with toddlers, babies and even fetuses, all with the promise of saving money 'down the line' on adult services for the mentally ill, the criminal, the addicted, the unemployed and the under-educated. Such services will, it is promised, be rendered miraculously unnecessary once human suffering is eradicated at the source, not by eugenic sterilisation programmes, but by the neurological neutralisation of parental harm.
New institutions such as the Early Intervention Foundation have been established, and millions of pounds of funding paid to third-sector enterprises, to train a growing army of professionals in the ways of 'neuro-parenting'. Midwives, health visitors, social workers, foster carers and early-years workers are routinely shown pictures of 'healthy' and 'damaged' children's brains, and told that their work supporting parents will not only guarantee the future emotional wellbeing of the nation, but revolutionise class differentials.
In the same Deborah Orr interview cited earlier, we can see how these brain-framing arguments seem to subdue the critical faculties of observers. Claiming to have been 'shocked', at first, by Batmanghelidjh's statement that neglect is worse than abuse, Orr goes on to describe how she was miraculously converted to Batmanghelidjh's point of view:
'I quickly understand that she is absolutely correct. Batmanghelidjh shows me a couple of photographs of brain scans, one of a cared-for child and one of a neglected child. She traces her finger round the periphery of the brain of the neglected child, where a white line representing absent neural development can clearly be seen. "Neglect – continuous lack of love", she says, "deprives the child of a personal soothing repertoire".'
In an interview with Cotswold Life, Batmanghelidjh told an even more credulous reporter that, 'in about five years' time, you're not going to be able to tell the difference between problems in the inner cities and problems in the countryside'. The reporter responded with horror, wondering what might happen if Kids Company wasn't around to 'put the brakes on': '[D]rug dealers will spread their insidious net; raids on wealthy rural properties will increase; there will be more riots; and police everywhere will be overwhelmed.'
Here, we can see Batmanghelidjh's impressive ability to play to conservative fears about social disintegration, while offering radical-sounding plans to reinvent the welfare state along therapeutic lines – a trend very popular among the metropolitan left. Batmanghelidjh has often combined vivid descriptions of secularised sin (child abuse and neglect) with hyperbolic, teary-eyed offers of redemption (empathy and love). But there is nothing touchy-feely about this. As her dream of van-loads of inspectors letting themselves into the homes of suspect families suggests, her success has stemmed from her ability to embody the hard edge of therapeutic politics, while offering a maternal bosom to which the disaffected can attach themselves and be healed. She also brings together the threat of infant determinism deployed by the 'first three years movement' with the opportunity for intervention offered by the promise of 'neuroplasticity' – the idea that even street-hardened toughies can have their brains rewired by unconditional love.
Dodging debate
Going back to Cameron's hug-a-hoodie speech, we see perhaps why Batmanghelidjh's management of Kids Company's finances, and her relationship with government, might have become so fraught. Back in 2006, you see, Cameron had the luxury, pre-recession and while in opposition, of pooh-poohing the bottom line of hard cash.
'It seems sometimes that when it comes to these difficult social issues, we're obsessed with measuring the quantity of inputs. How much money. How many more staff. Whether targets are met.'
However, more crucial is Cameron's clear intention to pursue New Labour's approach of borrowing the authority of the third sector in order to reinvent the state and the political class, an idea he called 'the big society':
'We've heard a lot over the past few years about a partnership between government and the voluntary sector. Too often, the reality is that for "partnership" you can read "takeover". If we're serious about the social sector doing more, then government and the public sector has to learn to let go. To let the social sector and social entrepreneurs take wings and soar. Our record is lousy; yours is great – so you should be in charge.'
What the Kids Company story seems to show is that in the government's efforts to identify 'authentic' voices, people like Batmanghelidjh who 'tell it like it is' and promise to 'get things done', the political class has refused to engage in genuinely open and critical debate. Instead, it has got into bed with professional advocates, social entrepreneurs and celebrities, parroting their often hyperbolic and emotive claims, rather than engaging with experienced professionals, genuine experts and, indeed, the general public in a creative discussion about how public money should be spent.
Rather than taking pleasure in the demise of a modern-day saint, we need to develop a culture that asks hard questions of how policy is discussed and developed. It is this lack of critical engagement, the outsourcing of government authority and the seeming inability of critics to speak out, that allows the likes of Batmanghelidjh to become so untouchable.
Dr Jan Macvarish is a founding associate of the Centre for Parenting Culture Studies at the University of Kent and co-author of Parenting Culture Studies, published by Palgrave Macmillan. She is currently working on a book for the Palgrave Pivot series called Neuroparenting and the Destruction of Parental Love.
(1) The Child Savers: The Invention of Delinquency, AM Platt, 1977.
Picture by: Ian West/PA Wire/Press Association Images
To enquire about republishing spiked's content, a right to reply or to request a correction, please contact the managing editor, Viv Regan.