Jaws: telling an eternal tale
Why, 40 years on, Spielberg's classic is not showing its age.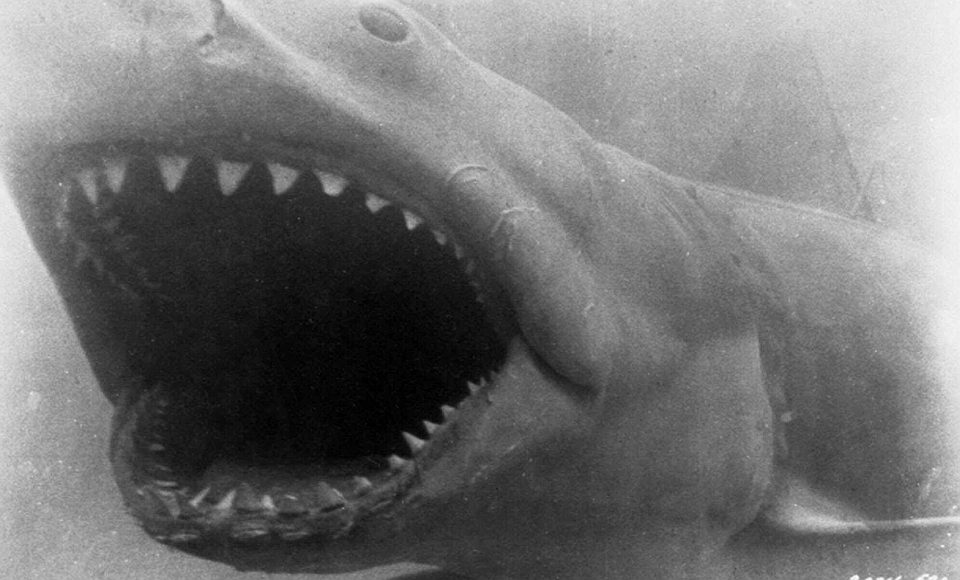 The film Jaws subconsciously exposes the crisis at the heart of masculinity, charts the the rise of eco-feminism, is a metaphor for the Vietnam War and uses sharks to represent 'queer dissidents'.
These are some of the interpretations to be put forward at a symposium at De Montfort University, Leicester, next week, to mark Jaws' fortieth anniversary. One paper to be delivered is entitled 'Jaws: The Case of the Archetypal American Villain as Queer Dissident Attacking the Heteronormative.' Another is 'Three Men in a Boat: Masculinity and Crisis in Jaws.' Elsewhere: 'Does the shark represent rampant capitalism or Watergate?'
Art cannot help but reflect the culture and time in which it's created, and people will read into artworks their own concerns and prejudices. It's commonly understood that the 1970s were such a boon for disaster movies because of that decade's multitude of woes, with the 1973 Opec oil crisis, inflation, Vietnam and Watergate, as well as hijackings and terrorism in Western Europe. Jaws, like The Towering Inferno, The Poseidon Adventure and the Airport movies, appealed to a mood of gloom and foreboding.
Yet a more compelling deconstruction of Jaws comes from the journalist Christopher Booker, who, in his 2004 book The Seven Basic Plots, asserts that Jaws is merely a retelling of Beowulf.
The Anglo-Saxon epic poem relates how the peace of the seaside community of Heorot is shattered by the arrival of the seaborne monster, Grendel, who makes a series of nighttime raids, seizing victims and tearing them to bits. The inhabitants are thrown into panic and confusion. Then the hero, Beowulf, sets out to battle first Grendel and then its even more horrifying monster mother. There is a gory climax 'with much severing of limbs and threshing around underwater, until at last both monsters are slain. The community comes together in jubilation. The great threat has been lifted. Life in Heorot can begin again.'
Booker stresses that the creators of Jaws were not plagiarists, merely that there are some eternal stories that appeal to our inner psyche. The same goes for Harry Potter and the Philosopher's Stone, the plot of which is indistinguishable from that of Star Wars: A New Hope, which in turn was Lord of the Rings in space: an 'orphaned' youth is raised by his aunt and uncle before a bearded old man turns up with an unexpected quest; the hero then ventures into the wilderness, receives training, meets his buddies, confronts the dark-lord figure, and triumphs. This is eternal monomyth, outlined by the Jungian mythologist Joseph Campbell in his 1949 work The Hero With a Thousand Faces.
Jaws may reflect today's very real issues such as eco-feminism and heteronormativism, but some stories transcend such transient concerns.
---
Bruce 'Caitlyn' Jenner – a backward step
Somewhere in a parallel universe, there's been much praise lavished upon a one-time athlete and TV presenter following his race-change operation. 'Bruce X', as he's now known, has been lauded for his 'brave' decision to change his skin colour, via a 'whitectomy'. 'Finally, I can be true to my real self', he declares. The stormtroopers of the liberal-left have stoutly defended his pronouncement, stressing that 'he's always been black, even when he was so-called white', and denouncing the 'transdermaphobes' who have questioned his 'racial transitioning'.
When I was a Guardian-reading, Liberal Democrat-voting undergraduate 20 years ago, it was drilled into me that race, like gender, was a cultural construct. What's happening in the real world, as evidenced by the Bruce 'Caitlyn' Jenner affair, now seems to be a curiously retrograde step, in that 'woman' is here defined entirely in terms of physiognomy, by the absence or presence of genitals and hormones – be they implanted or inherent.
This return to gender determinism could hardly be called progressive. 'My brain is much more female than it is male', says Jenner. Equally retrograde is the insidious discourse that emanates from Jenner's dribbling sycophants, in whose judgement he must be called 'she' even when he was literally a he (and won medals in races in which 'she' wouldn't have been eligible). We read that he 'fathered' children, those snide inverted commas intimating that he only figuratively did so, when he literally and actually did so. This determination to alter reality through words is two parts Alice in Wonderland and one part Nineteen Eighty-Four.
If I was a (real) woman and progressive feminist, I would take issue with this collective flight into fantasy. I dare say I would be 'offended', much as a white man declaring himself black also would be a source of scorn and derision.
It's all reminiscent of the scene in Monty Python's Life of Brian, where Stan, of the People's Front of Judea, declares that he wants to be called 'Loretta'. The leader, Reg, asks why:
Stan: I want to have babies.
Reg: You want to have babies?!
Stan: It's every man's right to have babies if he wants them.
Reg: But… you can't have babies!
Stan: Don't you oppress me!
Reg: I'm not oppressing you, Stan. You haven't got a womb! Where's the foetus gonna gestate? You gonna keep it in a box?
---
Overcoming Generation Selfie
I'm doubtful in any case about the notion of being 'true to oneself', a rather worthy, soppy maxim you would expect from a cast member of Glee. Yet this pursuit is entirely fitting for Generation Selfie.
We have no 'true self', an idea that belongs in the realms of religion and spirituality. We're all different from day to day, from year to year, from one person to another. We had no 'essence' before we were conceived, and all our thoughts, feelings, memories and very being will vanish when we die – like tears in rain, as the replicant said.
The real essence of life is to strive, to better oneself, to overcome oneself. As Nietzsche put it in Thus Spoke Zarathustra: 'Man is something that must be overcome… man is a bridge and not a goal.'
Patrick West is a spiked columnist. Follow him on Twitter: @patrickxwest
To enquire about republishing spiked's content, a right to reply or to request a correction, please contact the managing editor, Viv Regan.