Civil rights come before religious freedom for secular businesses
If you are open for business, you should be open for business.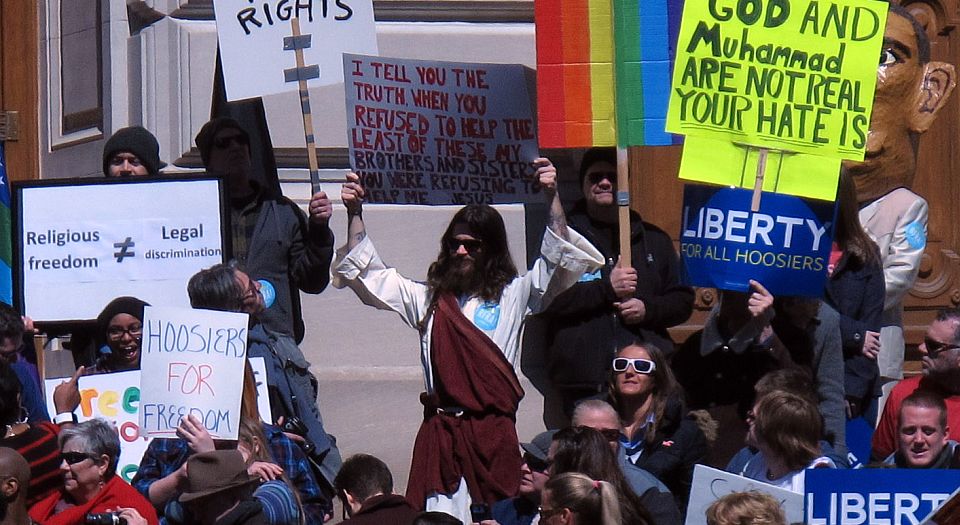 Should commercial enterprises enjoy the same rights to discriminate on the basis of race, religion, sex or sexual orientation that private, non-commercial associations enjoy? Should businesses be entitled to choose their customers, just as associations are entitled to choose their members? 'Yes', according to advocates of state laws in the US that allow large and small businesses to deny services to members of groups they disdain, so long as that disdain is based on a religious belief.
Of course, supporters of religious-freedom laws, like the controversial (and recently amended) Indiana bill aimed at legally immunising businesses that discriminate against customers for religious reasons, do not, and would not, dare to claim a right to engage in religious discrimination against African Americans: support for racial discrimination is culturally taboo and electorally fatal. State religious-freedom laws are intended to allow discrimination against gay people, especially married gay people, whose conduct and civil-rights claims are highly offensive to religious, social-issue conservatives.
But as opponents of laws imbuing secular commercial enterprises with a religious right to discriminate frequently point out, the principle enabling discrimination against gay customers would also allow discrimination against racial or religious minorities, among other groups. Racial integration, in general, and mixed-race marriages in particular, once aroused religious opposition, as did the prospect of women working outside the home. Should business owners with religious objections to sexual or racial equality have enjoyed exemptions to mid-century civil-rights laws barring racial or sexual discrimination? You should probably answer 'yes' if you defend, in principle, the right of businesses today to discriminate against gay people.
It's worth remembering that the landmark 1964 Civil Rights Act, which barred discrimination in employment and public accommodations on the basis of race, sex, religion and national origin, was considered by some opponents a violation of business owners' associational rights. This was not an entirely frivolous argument, and the public accommodations law included exemptions for small, owner-occupied motels, hotels and inns with five or fewer rooms to rent. If you were renting rooms in your own house, running your own modest bed and breakfast, your associational rights were relatively robust. But if you were operating a business outside the home, in the stream of commerce, your associational claims were weak; businesses exist for purposes of financial gain, not the fruits of friendship and association. And even if you accord a business some cognisable associational rights, they're generally outweighed by the burdens imposed on stigmatised groups by discrimination in public services, accommodations and employment.
Is this an illiberal position, as Tim Black argued last week on spiked? Only if you believe that liberalism should not include a civil-rights agenda, which limits the rights of businesses to discriminate against customers and employees. Is it illiberal to prohibit businesses from discriminating on the basis of sexual orientation, as well as race, sex, religion and ethnicity? Only if you believe that gay people should not enjoy civil rights.
Libertarian advocates of free markets also oppose civil-rights laws, not generally out of bigotry but out of faith that the market will remedy discrimination because it's bad for business. The history of racial and sexual discrimination did not prove them right, unless you consider it a coincidence that businesses and educational institutions stopped discriminating on the basis of race and sex at about the same time that federal law started prohibiting it. But the market is reacting strongly to discrimination against gay people. The opposition of major corporations – notably Walmart and Apple – to religious-freedom laws intended to legalise discrimination based on sexual orientation partly vindicates libertarian faith in free markets.
Corporations advocating equal treatment of gays and lesbians are not exactly trailblazers. They're adapting to strong cultural trends, at least partly for financial reasons. But the financial pressure they're applying to politicians who are considering granting businesses religious rights to discriminate is having dramatic effects.
Advocates of state religious-freedom laws protecting businesses charge liberal opponents with hypocrisy, claiming that liberals supported a similar religious-freedom bill signed into law by Bill Clinton in the 1990s. Tim Black cites liberal (and bipartisan) support for the federal Religious Freedom Restoration Act (1993) as evidence that liberalism has subordinated regard for religious freedom to identity politics. That might be true if state laws that liberals oppose today were essentially the same as the federal law they supported yesterday. In fact, the state and federal laws differ dramatically.
The federal religious-freedom law limited government power to interfere with private religious practices. It was sparked by a Supreme Court decision upholding a state agency's denial of unemployment benefits to Native Americans who were fired for the sacramental use of peyote. In other words, the federal law imbued individuals with religious rights against the government. The Indiana bill, like other recently enacted state laws, imbued businesses with religious rights against individuals.
You can sympathise with small-business owners whose religious beliefs militate against serving gay and lesbian customers. You can argue about the necessity or wisdom of passing laws requiring family-owned bakeries to bake cakes for gay weddings. As a matter of strategy, I might ignore the occasional baker who declines to serve gay couples. If the market doesn't put him out of business, it will likely provide gays and lesbians with other bakers happy to serve them.
As a matter of principle, whether and when small businesses offering non-essential services should enjoy exemptions from generally applicable civil-rights laws is debatable. Photographers with religious objections to same-sex marriage, for example, claim a right to discriminate because their work – taking pictures – is an expressive activity, protected by the First Amendment. It's an argument you can make without blushing. But it has, at best, limited applicability to small-business owners engaged in arguably protected speech, and it doesn't confuse secular commercial enterprises with private non-commercial associations.
When you enter the stream of commerce, you leave the private sphere for a very public one. When you open for business, you should expect to be open for business. Bakers who can't stand the heat of cultural change might consider getting out of the kitchen.
Wendy Kaminer is an author, lawyer, and civil libertarian.
Picture by: Getty
To enquire about republishing spiked's content, a right to reply or to request a correction, please contact the managing editor, Viv Regan.