The real reason Obama hates Bibi
This is more than a personality clash – it's a shift in the world order.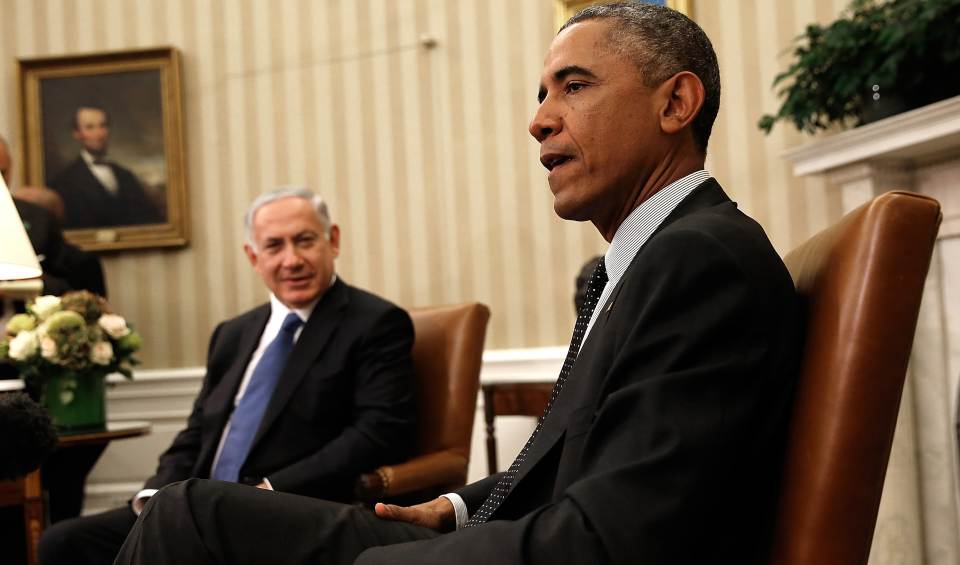 It is hard to resist the conclusion that Barack Obama loathes Benjamin Netanyahu, the Israeli prime minister, after watching videos of their joint press conferences. President Obama's eyes sometimes seem to glaze over as Netanyahu explains Israel's official position in his characteristically forthright style.
In fact, it isn't necessary to rely on body language to discern Obama's feelings. His dislike of the Israeli leader has been an open secret for years. Although Obama has avoided insulting Netanyahu to his face, the US media have clearly been made aware of the president's view. Obama has also made trenchant public criticisms of Netanyahu, blasting his recent address to Congress as 'theatre' and warning that Netanyahu is threatening to 'erode the meaning of democracy'. It is also inconceivable that Denis McDonough, the White House chief of staff, would have called for an end to Israel's '50-year occupation' of the West Bank without the president's permission.
It is likely that at least a small part of this animosity is personal. Netanyahu, known as Bibi in Israel, is a consummate practitioner of what Israelis call dugri: a slang term that can be roughly translated as frankness or straightforwardness. Foreigners often see what Israelis regard as honest directness as rudeness or arrogance. A BBC article on the subject gave several examples that will no doubt ring true for many who have visited Israel. For instance, the author recalled being told off for time-wasting by a museum official after asking politely whether it was permissible to take photographs.
But even interpersonal tensions should be seen in a broader context when they strain relations between two national leaders. Obama clearly resents Netanyahu's failure to treat him with what he regards as due deference. He is, after all, the president of the United States, while Netanyahu is, when it comes down to it, the leader of a small Middle Eastern state.
When looked at from this perspective, it soon becomes apparent that stark double standards are in play. No doubt Netanyahu lacks diplomatic tact. It is also true that his recent address to Congress, made at the invitation of the Republican speaker of the House of Representatives, represented interference in domestic American affairs. However, Obama has no qualms about America's right to intervene overseas, including launching drone attacks in several countries and, in effect, endorsing the 2013 military coup in Egypt. Western leaders are apparently allowed to use all means they see fit, up to and including military force, to interfere in other nations' affairs. In contrast, Netanyahu's slightly partisan approach to US politics is seen as the outrageous stance of an uppity Israeli. From the Obama administration's perspective, Netanyahu's biggest sin was acting as if he were equal to the American president.
Ironically, many self-proclaimed supporters of the Palestinians, as well as some prominent members of the Israeli elite, essentially endorse the view that Netanyahu is failing to show due deference to the American president, and to the West more broadly. In recent months, pro-Palestinian activists have redoubled their calls for Western diplomatic action, often including sanctions, against Israel. In one stroke, they are endorsing the West's right to interfere overseas and supporting the scapegoating of what is, by global standards, a small nation: Israel.
Such critics point to Netanyahu's ill-judged remarks in a Facebook video, in which he referred to leftists bussing in Arabs to vote in 'droves'. But those who argue that Israel should be singled out as a pariah state should reflect on the West's own record. Perhaps they should visit the 1,954-mile border, heavily fortified across much of its length, between the US and Mexico. If they did, they should be left in no doubt that the American authorities discriminate against Mexicans. Or maybe they should take a voyage to the Mediterranean, where they can witness a European Union naval armada keeping out desperate migrants from Africa and the Middle East. As a result, the sea has become a watery graveyard for many thousands of people over the years.
Sometimes the singling out of Israel for particular moral condemnation is justified by its supposedly special relationship with the US. According to this view, Israel is especially dangerous because of its close ties to the world's largest economic and military power. In the most common version of the argument, which has echoes of traditional anti-Semitism, the Israeli lobby is portrayed as a shadowy body manipulating US politics. An alternative version, generally associated with the left, is that Israel acts as a watchdog for the West in the Middle East.
Historically, until about 1990, there was a degree of truth in the second view. The US typically saw Israel as a strategic asset that would generally align itself with American interests in the Middle East. This was partly because both were hostile to what were then radical movements of Palestinian nationalism and pan-Arabism. Both those movements viewed themselves as fighting for a degree of autonomy in the region outside of Western interference. It was also a time when the US was itself reluctant to intervene too openly in the Middle East. Instead, it depended on local allies, such as Israel and (until 1979) Iran, to help pursue Western interests.
What the contemporary critics of Israel miss, however, is that this set-up was swept away a quarter of a century ago. In Operation Desert Shield (1990/91), the US led a huge military force against Iraq. This was followed by a full-scale Western invasion of Iraq in 2003, and the sending of large numbers of troops to Afghanistan from 2001 onwards. There have also been numerous smaller-scale interventions, including the 2011 military intervention in Libya and the launch of numerous drone strikes in Yemen.
Such interventions mean that Israel has long since ceased to play its role as a strategic asset for the West in the Middle East. On the contrary, in the days of the Islamic State and civil wars across much of the region, the Israeli state is typically viewed by the West more as a liability than an asset. The West is increasingly keen to distance itself from Israel rather than to befriend it.
This is the broader context that explains Obama's falling-out with Netanyahu. It is far more than just a personal matter. In the decades that followed the Second World War, both of the main US political parties could be relied upon to give Israel broad support. However, in recent years Israel has become particularly estranged from a large section of the Democratic Party, including the current president. It is true that, for the time being at least, Israel still has generally warm relations with the Republicans. But the fallout with the Democrats represents an important shift in relations between Israel and the US. It is also one that is likely to persist after Obama leaves office in January 2017.
That still leaves what critics of Israel typically regard as their trump card: the fact that the US still gives Israel about $3 billion (£2 billion) every year in aid. This, they contend, proves that the two countries still have a special relationship.
But a closer look at the aid figures shows the trend is going in exactly the opposite direction to that the critics claim. For a start, the $3 billion aid figure should be set against Israel's GDP of $320 billion and US GDP of $16.5 trillion. In other words, US aid to Israel is equivalent to about one per cent of Israel's annual economic output.
A closer look at the figures also shows that, in real terms, the amount of US aid to Israel is steadily trending downwards. A study by the official US Congressional Research Service shows that official US assistance to Israel peaked at about $4.9 billion in 1979 (the year of the overthrow of the pro-Western shah in Iran, as well as the signing of the peace treaty between Israel and Egypt). Converted into current prices, using the official US inflation calculator, that is equivalent to about $15.8 billion in today's money. In real terms, then, the level of US aid to Israel is running at less than a fifth of what it was running at at its peak. This confirms that the US is distancing itself from Israel. Even if 1979 is regarded as an exceptional year, the amount of US aid to Israel has diminished sharply in real terms over the years.
It is time for some Israeli-style straight-talking on the changed realities in the relationship between the Middle East and the West. Relations between Israel and the US, particularly the Democrats, are at an all-time low. Israel no longer plays the role it once did as a strategic asset for the West in the Middle East. If anything, it is increasingly seen by Western leaders as a problem. And under such circumstances, it is more important than ever to oppose Western intervention against all countries in the Middle East — and that includes Israel.
Daniel Ben-Ami is a writer based in London. Visit his website here. An expanded version of Ferraris for All, his book defending economic prosperity, is available in paperback (Buy this book from Amazon (UK)).)
Picture by: Getty Images.
To enquire about republishing spiked's content, a right to reply or to request a correction, please contact the managing editor, Viv Regan.