'The government should butt out of parenting'
Lenore Skenazy, 'World's Worst Mom', on her new TV show.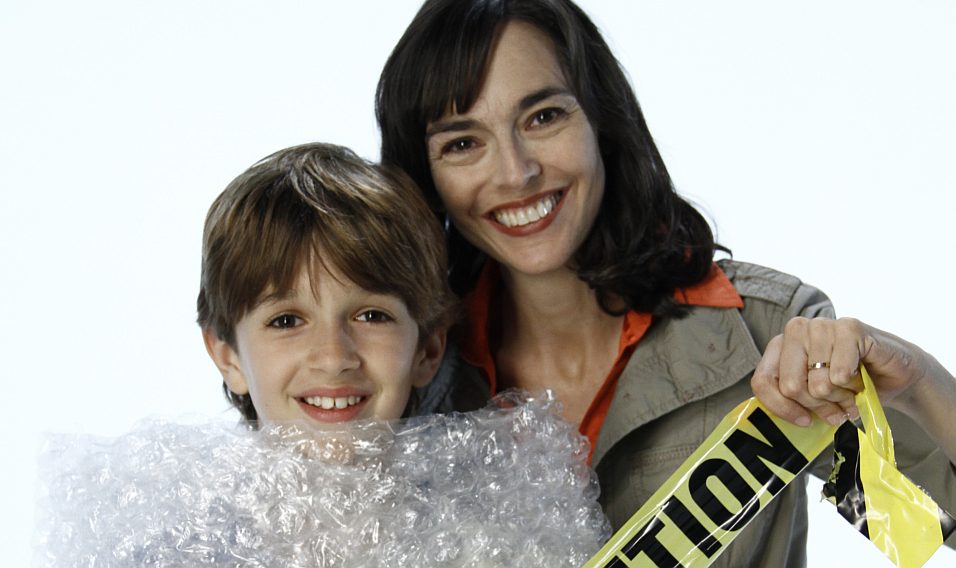 Lenore Skenazy, aka American's Worst Mom, first shot to infamy in 2009 when she wrote about letting her nine-year-old son ride the New York City subway home by himself. Since then she has authored a book, Free-Range Kids, and become a champion of so-called free-range parenting.
I chatted to her about her new reality-TV show, World's Worst Mom, which premiered on the American Discovery Life network in January. In this 13-part series, Skenazy helps extremely nervous and over-protective parents to step back and give their kids the chance to do things on their own.
Nancy McDermott: Free-range parenting has been all over the news this month because of the case of Danielle and Alexander Meitiv, the Maryland couple who are being investigated by the Child Protective Services for allowing their kids, aged six and 10, to walk home unsupervised from a local park. The Meitivs describe their philosophy of child rearing as 'free range' and this has sparked a discussion about whether parents should be able to let their kids do things on their own.
Your blog, Free-Range Kids, features a lot of similar stories of parents getting into hot water over letting their kids do things on their own. In that sense, your TV show seems to go against the grain of what the authorities think parents should be doing. What has the response to the show been like?
Lenore Skenazy: It's been really good. It seems like people are a lot more receptive to 'free range' (ie, normal, non-fearful parenting) than when my son took the subway back in 2009. It's also important to say that things are not as bad as it might seem from reading my blog. I'm like the equivalent of one of those crime shows that makes you think that every third person is a murderer – because that's all you're seeing. But thankfully, cases like the Meitivs' are still pretty rare.
It's been a while since we made the show (it was first shown in Canada in 2012). I don't know why it wasn't aired in the US sooner, but in some ways the timing couldn't be better. It seems like most people are more open to 'free range' now. Things that seemed really radical and outrageous three years ago when we made the programme just seem 'right' now. This is the free-range moment, and the fact that the Meitivs' case has generated so much interest is a good thing. The show feeds into that: it's the right message at the right time.
It has also been very nice for me personally. I hadn't looked at it for a while and watching it now is like visiting old friends. I find myself cheering for the families and remembering times when I thought it might be impossible.
NM: Impossible is how it looked when my sons and I watched it. For people who haven't seen the show, the first episode, 'Meltdown in the Museum', featured a set of parents who wouldn't allow their kids to play in their big, fenced-in backyard by themselves, and made their six-year-old son ride in a stroller. The dad seemed fairly open-minded but the mom really, sincerely believed you were insane and that you would be eventually locked up to protect the public. They were extreme for sure – but sadly not at all uncommon. How do you even begin to address that level of fear?
LS: It is hard because people feel it very deeply. For instance, there was one family I remember where the mom was convinced that if her children came home with a cut or a bruise it would prove that she was a bad mother. She even admitted that she was secretly scandalised by moms letting their kids go to school wearing a band-aid, thinking 'Oh my God, I guess they don't really care!'.
I wasn't sure they would listen to me. I had this desperate moment early in the filming when I cornered one of our production assistants, who I knew was studying psychology, and blurted out: 'Tell me everything you know about anxiety!' But it turned out that I didn't need what she told me.
What I've learned in the course of the show is that parents don't need therapy. What changes them is seeing their kids happy and competent because they've done something on their own. It's incredibly powerful and I saw it happen over and over again. That's what really inspired me to expand the free-range programme into schools.
NM: What is the free-range programme and how did it get started?
LS: Back in 2009, just after my son Izzy rode the subway and we were all over the newspapers and television, a teacher here in New York City called me to say she'd just had the kids in her class do a free-range project and wanted to know if I'd like to come along and see their presentations. So I went along and saw all the wonderful things these kids had done.
My favourite project was by an 11-year-old girl who decided to bake an 'independence cake'. This meant she had to walk to the grocery store by herself, buy all the ingredients, walk back home and bake the cake.
On her poster she described walking the half mile to the store like this: 'On my way there, everyone looked angry, like they might want to snatch me.' But she got there safely, found all the things she needed, paid for them with her own money (because that's what independent people do), then walked home and baked the cake. She wrote about the trip home this way: 'It was much quicker and more pleasant because I was already used to the walk.'
It really just sums up how transformative one small act can be. She started out on her trip a little fearful, but on the way back, reality flooded in: the distance wasn't shorter; the people weren't nicer. What really changed is that she stopped seeing stranger danger everywhere and just saw her neighbourhood as it really was: filled with people, not abductors. I loved that story but it was only after a few years and doing the show that it finally dawned on me that if one class could do it, why not a whole school?
I had the idea when I was visiting a school in Menlo Park, California. The school had chosen 'confidence' as its motto for the year. There were all these posters up that read 'What would you do if you weren't afraid?'. So I asked them, why don't you do a free-range project? I told them what I had in mind, the principal, the vice principal and the school psychologist all signed on, and that was that.
NM: How did it work?
LS: Every teacher in the school told each kid to go home and ask their parents if they could do one thing they felt they're ready to do but haven't done yet, for whatever reason. It could be something really simple, like walking the dog or going to get a haircut, or riding a bike to school – not extreme things like bungee jumping – just some activity that would have been considered normal a generation ago.
It was strictly voluntary, but knowing the school was endorsing it, a lot of the parents said 'yes'. In the end, about a third of the 700 students at the school participated. We were also careful to present it as a one-shot deal. It didn't mean making a commitment to letting their kids walk to school every day. They just needed to let them do it this once. But that 'once' changed everything.
So, for instance, there was one family, where the father was (unusually) more nervous than the mother. Their son, a 10-year-old, wanted to ride his bike to school but his dad said 'no way'. But his son persisted and showed him the material I'd sent along explaining what the project was about. There was one line in it – actually something someone wrote on my blog – that went 'all the worry in the world doesn't prevent death; it prevents life'.
That line affected this father so much that he cut it out and posted it on the kitchen cabinet. Then he and his wife decided to compromise with their son. They told him he could ride his bike over to a friend's house on a Saturday when there was less traffic. So he went, stayed a long time and came back so grateful and beaming with pride that his mom and dad were overwhelmed. When Monday morning rolled around, his parents looked at each other and said 'why don't we just let him ride his bike to school?'. And so he did for the rest of the school year.
Just one thing can have a knock-on effect. There was another kid whose project was to get his hair cut on his own. He came back with a Mohawk! His mother was furious – she hated, hated this haircut. But then she calmed down eventually and thought: 'If he's old enough to choose his own haircut, he's old enough to do more around that house.' And she started giving him more chores. She also decided to do her own free-range project where she looked at what she was doing for him, things that were a hassle for her, and just stopped doing them. In particular, she stopped doing his homework with him. His grades went down a little bit to start with, but he eventually got back into the swing of things and this time all the efforts were his own.
The ripple effect through the school was palpable. The school psychologist told me that parents were coming up to her asking if they could do it again and bragging about all the things their kids were doing: 'my kid is making dinner'; 'my kid is walking the dog!'. The dynamic had flipped so that instead of feeling proud about all that they could do for their kids, they became proud of what their kids could do for themselves. It really is that simple.
And another thing, when a whole school takes on a project like this, it has the potential to change a whole town and prevent parents being singled out. If there are enough kids out, doing things on their own, walking home from school or the playground, it becomes normal again. Busybodies no longer call up and complain to the authorities, as they did in the Meitivs' case.
We need to stop the government telling us how to parent. The government is there to save children in danger: so if I'm starving my kid; pimping my kid; giving him drugs; beating him senseless – that's what the government is there for – to save them from imminent danger. It's not to say, 'Oh, I wouldn't do it that way'. That's the government as mother-in-law, and nobody needs that.
NM: This all sounds great! Are there many schools involved in free-range programmes?
LS: So far there are projects in California, Texas, Virginia and New York, and I hope that more schools across the UK and America will get involved. And of course, they could have me come and speak. Either way it's amazing how a complete sea change can come from one simple thing.
To Discuss Bringing The Free-Range Kids Project To Your School, Please Contact Judy Safern at Leading Thinkers: judy@leadingthinkers.com
Nancy McDermott is a writer and mother based in New York.
To enquire about republishing spiked's content, a right to reply or to request a correction, please contact the managing editor, Viv Regan.