It was a shopping spree, not a zombie apocalypse
The snobs freaking out about Black Friday need to calm down.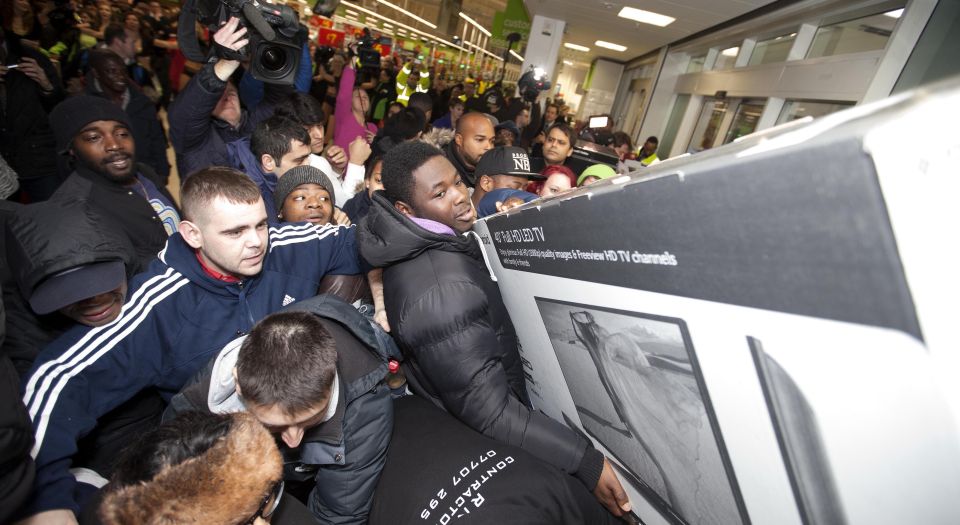 I wish Britain's bien pensant press would make its bloody mind up when it comes to the nation's poor. At the moment, the great and good of the comment pages seem caught between two competing moralisms. In one vision, Britain's lower orders are foraging for grains in the crags of 'late capitalism', struggling to make ends meet and lining up outside food banks in the hope of feeding their malnourished young. In the other, they're all obese shut-ins, sat in the glow of their flat-screens with discarded Greggs bags stuck to their trackies. So what are they? The pitied or the pitiable? The blessed meek or the brainwashed fat?
Well, this past week, it seemed to be the latter. Black Friday, a discount retail promotion imported from America, set tills ringing and the ground rumbling as Brits jostled for bargains in retail-park superstores across the nation. Worth an estimated £500million in UK sales, Black Friday – and its attendant online version, Cyber Monday – is the perfect marketing combination: a big, attention-grabbing gimmick along with a genuinely good deal. Retailers including Tesco, Asda, Amazon and John Lewis reduced big-ticket items by as much as 40 per cent and – surprise, surprise – people turned out in droves to get in on the action. Simple as.
But if you read the coverage, you'd have got a very different picture. Footage of skirmishes in Glasgow, London and Manchester was plastered over the news. There were reports of biting, punching and kicking and one poor woman having a TV dropped on her head in the mêlée. Then there was the inevitable brow-furrowing. It was 'a national embarrassment, akin to a retail feeding frenzy', said Barbara Ellen in the Observer; it was a metaphor for 'the greedy capitalism that is making us so fat', said Yasmin Alibhai-Brown in the Independent; it was the 'dystopian conclusion of a hyper-consumerist pathology', said James Dyke in the Conversation.
It seems the desire of normal British people to save some cash in the run-up to the festive season has been imbued with a quasi-religious significance. It was, in Ellen's words, 'shaming' – a sign of the shallow, step-over-your-own-grandmother selfishness of our age. But when you look beyond the headlines it all becomes a lot more innocent. Aside from the scarce and unconfirmed reports of violence, it all looked like, well, a bit of fun. People were smiling – enjoying the rough and tumble. It was a Tesco-set mosh pit with the added bonus of a bargain at the end of it.
What these commentators were objecting to was hoi polloi consumer culture itself. For these people, the desire of ordinary Brits to own nice things and make life just that little bit more plush sticks in the craw. It's soulless, it's not eco-friendly and it's shallow, they say. This is anti-'Essex man' snobbery taken to grotesque extremes and it's all too common – especially around Christmas. The Roses tins, the mass-produced presents, the Christmas-themed Stella cans – these are the tacky signs of a slovenly society, apparently. Rather than celebrate the fact that most people no longer wake up on Christmas morning to find a lone orange in their stocking, observers seek political justifications for turning their noses up.
There's a debate to be had about consumerism. The fact that today people increasingly define themselves by what they buy rather than what they do speaks to an absence of political and moral purpose in society. But Black Friday patrons are hardly the worst offenders. They want to buy nice things, while the well-fed columnists castigating them sing the praises of buying the right kind of things – things that are secondhand, ethical and good for the planet. Since when has the contents of your shopping trolley become a window into the soul? How shallow.
Tom Slater is assistant editor at spiked. Follow him on Twitter: @Tom_Slater_
To enquire about republishing spiked's content, a right to reply or to request a correction, please contact the managing editor, Viv Regan.