Don't blame Bob for the plight of the Third World
The rubbishing of Band Aid 30 is based on cynicism, not substance.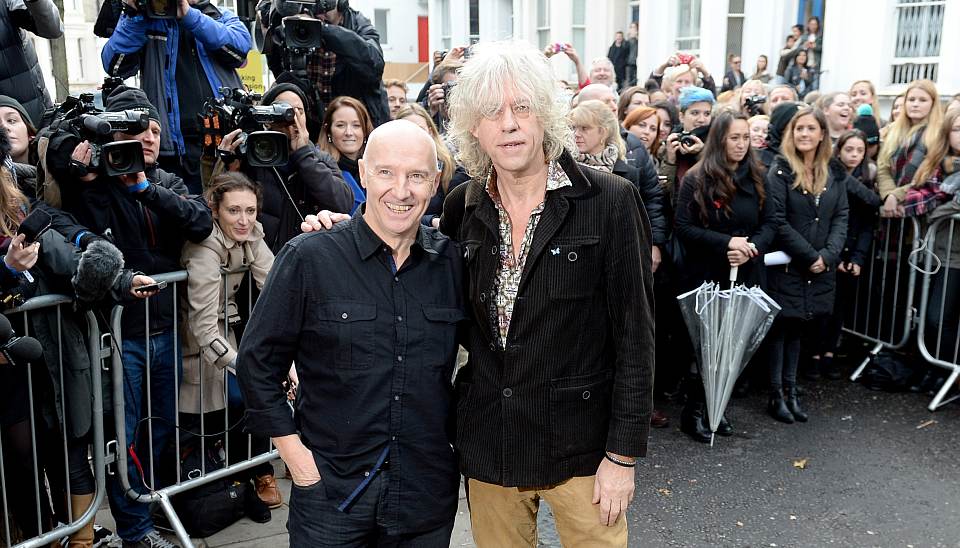 I never thought I would say this, but I have got a newfound respect for Bob Geldof. In an interview on Sky News yesterday, to plug the new Band Aid 30 charity single aimed at tackling the menace of ebola, he gave short shrift to the suggestion that if he and his glitzy mates bothered to pay their taxes there would be no need for another interminable refrain of 'Do They Know It's Christmas?'. 'Total bollocks', was his response.
Too right. Not only was this burst of sleb sincerity refreshing, it was also a fitting response to the principle-free carping that has met the latest Band Aid effort. 'It's time the likes of Geldof stopped asking us to give money… [and] started donating some themselves', wrote Bryony Gordon in the Telegraph. In the Observer, journalist and African Express founder Ian Birrell lambasted Geldof for 'propping up despots [and] promoting Africa as a basket case in need of Western salvation'. 'How about the super-rich start paying all their taxes instead of posing as saviours of Africa?', he asked, in a critique that was met by Geldof with another, forthright 'bollocks' on Sky News.
It seems everyone is out to burst the Band Aid bubble. And, when people are not simply bleating about One Direction's tax arrangements, they are still banging on about how patronising and ignorant the lyrics are. We've heard it all before. Yes, we know there is snow in Africa; yes, given 500million Africans are Christian, they probably do know it's Christmas time; and, yes, that blood-curdling line the blood-curdling Bono sung on the first three Band Aid singles (it's finally been rewritten this time around) is perhaps the most hamfisted lyric ever to batter innocent ear drums – but this is the sort of forensic scrutiny no Midge Ure and Bob Geldof collaboration should be expected to stand up to. It's just not fair.
The problems with Band Aid are clear and the critiques of it are well rehearsed. The original Band Aid single in 1984, inspired by Michael Buerk's emotionalist reports from the Ethiopian famine, was an exercise in black-and-white moralising, predicated on the idea that First World smugness and thoughtlessly flung cash was enough to resolve complex international problems. Even as the cause of the day changed – ethnic cleansing for the 2004 single and ebola today – Geldof and Co deployed the same patronising logic: Africa is a perennial victim and, no matter what the issue, they need us – now. There is no thought, no discussion, no tricky questions about where our 'focking money' might be going.
Band Aid does represent the disastrous consequences of the West's pious, paternalistic approach to the Third World. But the trendy rubbishing of Band Aid has nothing to do with principle, or with challenging the underlying logic that permeates not just rock-star egos but much of the modern international-development industry, too. Rather, what's driving the Band Aid-bashing is pure cynicism, the very modern tendency to sneer at any attempt to do something positive, no matter how misguided, rather than say anything of substance. It is the flipside to Geldof's sanctimony, and it is just as corrosive.
While everyone is getting their rocks off by sniping at some well-meaning popsters, the edifice of the feudalist international-development racket remains unchipped. Western politicos continue to cast aspersions on Chinese investment in Africa – money that is building roads and hospitals. And they continue to promote green-hued development projects that are providing compost toilets and safe-sex advice in the hope of managing the predicament many African countries find themselves in, rather than working towards plenty for all. Real development, the sort that would allow parts of Africa to consign famine and disease to the past, is demonised as shameless, anti-environment profiteering. This is the problem that needs to be tackled, if we really want to make Band Aid history.
Tom Slater is assistant editor at spiked. Follow him on Twitter: @Tom_Slater_
To enquire about republishing spiked's content, a right to reply or to request a correction, please contact the managing editor, Viv Regan.