The biggest load of 'general strike' hype since the last lot
Thursday's public-sector walkout looks more like a therapeutic gesture.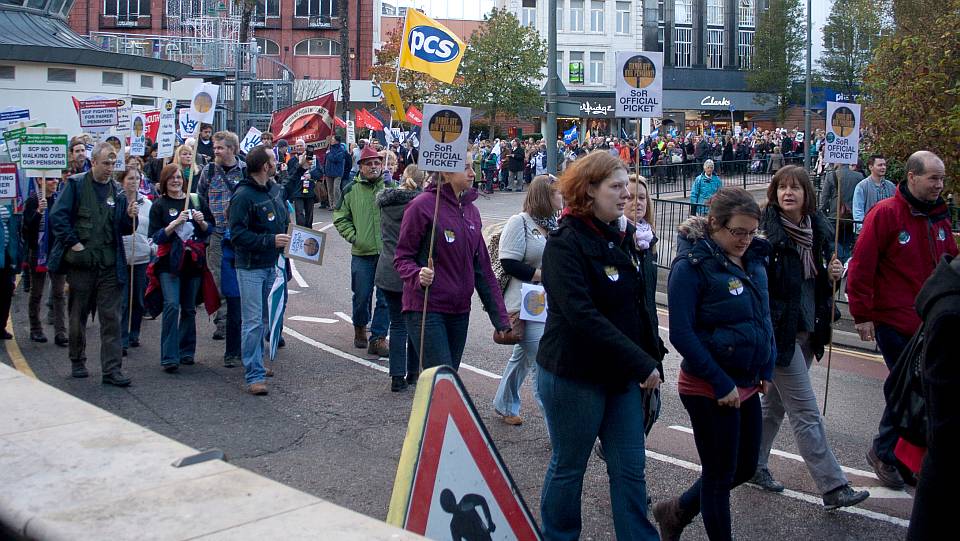 History will be made this week. Allegedly. According to the Observer, trade union leaders say that Thursday's one-day strike by 'more than a million' UK public-sector workers protesting against government austerity measures 'could be the biggest since the General Strike of 1926'. Blimey – as big as the General Strike.
The Daily Mirror reveals one British union chief going further: 'Unison general secretary Dave Prentis said the 24-hour walkout could end up being bigger than the General Strike of 1926.' Extraordinary – even bigger than the General Strike!
In response to these blood-curdling warnings, the Tories have threatened to change the law to make it harder for public-sector workers such as teachers and council staff to go on strike at all. It sounds like old-time class war is kicking off again.
To some ears, however, all this talk of historic strikes sounds less like rewriting the history books than déjà vu all over again.
Those of us whose memory exceeds that of a goldfish might recall, for example, the shock headlines of November 2011 when the Mirror announced that that month's one-day strike by the public-sector unions 'will involve up to two million workers', and hence 'could be the biggest industrial action since the General Strike of 1926'.
How quickly they forget. After all, back in September 2005 the Guardian reported that public-sector unions representing no fewer than three million members were then threatening a one-day strike that would be, wait for it, 'the biggest industrial action since the General Strike of 1926'.
This is fantasy trade unionism (similar to fantasy football, but without the shooting). It's a sort of phoney class war, in which both sides behave like those historical re-enactment hobbyists who take a day off from reality to dress up and pretend to recreate an historic battle, then go home for their tea.
The media is the substitute battlefield here and mostly plays its part, reproducing and then denouncing those public-sector union press releases about a token walkout being 'the biggest since the General Strike'. That amounts to job done for the union leaders, whose main aim in all this is simply to remind the government, the public and their own members that they still exist, and whose fighting slogan these days might as well be: 'What do we want? A headline! When do we want it? Anytime you can fit us in!'
The pattern is the same with each of the recent disputes. There are weeks and months of threats and promises about 'the biggest industrial action since the General Strike' unless the government gives in on pay, pensions and cuts. At the end of this there may or may not be a one-day walkout by local government workers, teachers and school staff and other public-sector workers, with high-profile news coverage of some union activists on picket lines and protests. A few days later it is as if these 'history-making' events have never happened.
And each time, the token protest walkouts make less of an impact. The supposed great strikes and demonstrations against the government's reforms to public-sector pensions did nothing to stop the Public Service Pensions Act 2013 coming into law, increasing workers' contributions and raising pension ages. Nor have the protests against the government's punitive pay restraint policies made any difference to the public-sector pay freezes of recent years or the current derisory offer of a one per cent increase for many public-sector workers.
Behind the repetitive rhetoric about 'the biggest industrial action since the General Strike of 1926', a glance at the official figures for industrial action in the UK reveals a striking reality gap. In 1979, at the height of the modern trade union movement's membership and pre-Thatcher power, all of 29million working days were lost due to mass industrial action over pay restraint and job losses. That is more than the total number of days lost to strikes over the past 20 years put together.
In 2012, the number of days lost due to industrial action reached an all-time low of 250,000 – less than one per cent of the 1979 peak. And many of the days that have been lost in recent years were due to one-day strikes in the public sector, rather than the bitter, drawn-out industrial disputes of the past. No amount of PR hype can hide the fact that British trade unions are now smaller, weaker, less active and more pathetic than at any time in memory.
Each time around it becomes more ridiculous to make comparisons between today's token walkouts and the actual General Strike of 1926. Without wishing to repeat myself like certain trade-union leaders, what I wrote on spiked before the last 'biggest industrial action since…' in November 2011 still stands: 'Suffice to say that this week's token and half-hearted one-day strike bears no comparison to the nine-day General Strike of 1926, which came at the end of an era of revolution in Europe and class warfare in Britain and saw workers across many industries strike in support of the miners, in a battle against a Tory government that deployed emergency powers, troops and an army of middle-class scabs, while waging a fierce propaganda war (led by Winston Churchill) against the "Red Menace to the Nation"'.
Indeed, by historical standards this week's one-day walkout hardly qualifies as a 'strike' at all, in terms of striking a serious blow against the employers. It is more like a therapeutic gesture, allowing public-sector employees to show how frustrated and fed up they feel for the day. Relatively few of the thousands absent from work on Thursday will play any active part in protesting or picketing, just as few have any active relationship with the unions of which they are, on paper, members. Many schools will be closed by headteachers on health-and-safety grounds, more of a management lockout than a workers' walkout. In the unlikely event that their grandchildren ask 'What did you do in the great strike of 2014, grandma?', most of Thursday's 'strikers' will be able to offer only a general shrug. All in all, the latest greatest industrial action since the General Strike looks likely to be a fittingly empty gesture for today's empty shells of trade unions.
There are of course many serious problems facing working people who have been hard hit by the recession and have not felt much benefit from the alleged economic recovery. We should certainly defend the right to strike as resolutely as any other liberty. But there are no easy or obvious solutions on offer in an era when there is no longer any organised workers' movement on the political stage. A first step, however, might be for those who want change to at least recognise the problem, face the sobering facts, and stop kidding themselves (and nobody else) that the biggest overhyped gesture since the last one is really the biggest industrial action since the General Strike of 1926. That makes about as much sense as calling David Cameron the new Winston Churchill.
Mick Hume is spiked's editor-at-large. His book, There is No Such Thing as a Free Press… And We Need One More Than Ever, is published by Societas. (Order this book from Amazon(UK).) Visit his website here.
Picture by: Wikimedia commons
To enquire about republishing spiked's content, a right to reply or to request a correction, please contact the managing editor, Viv Regan.