Clarkson: the c-word that counts is 'context'
The hysteria over his 'n-word' mumble marks a new stage in the war on words.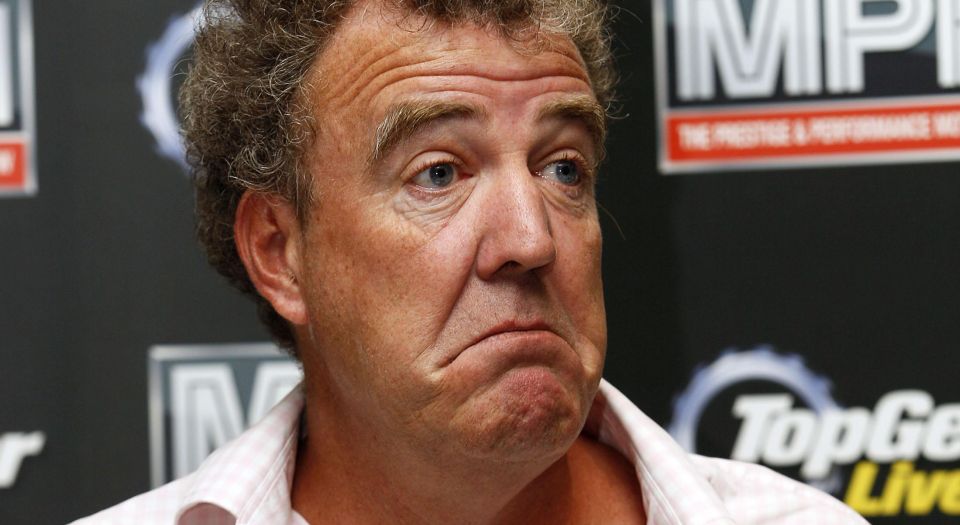 Some of us might normally not much care whether celebrity bell-end Jeremy Clarkson continues to present Top Gear on the BBC. But we should be concerned about the implications of the demand that he be censored or sacked for allegedly using the 'n-word'.
Clarkson found himself in this media car crash last week after the Daily Mirror got a hold of some unreleased Top Gear footage from a few years ago, in which he recites the old playground rhyme 'Eeny, meeny, miny, moe…' to choose between two sports cars, and twice mumbles through the part where his (and my) generation of schoolchildren might have said 'catch a nigger by his toe'. Some 'experts' claimed to be certain that he actually used the n-word.
A predictable furore followed, with Clarkson first denying he had ever used that word and then, under orders from BBC bosses, issuing a grovelling video apology for offending anybody in the first place. In his Sun column on Saturday, Clarkson insisted that he often used the f-word and the c-word, but never the n-word. However, he revealed he had 'been told by the BBC that if I make one more offensive remark, anywhere, at any time, I will be sacked. And even the angel Gabriel would struggle to survive with that hanging over his head.'
In all the overblown controversy over a snippet of never-seen video from the BBC archives, the most objectionable words were surely not Clarkson's inaudible mumblings. They were the clear and unambiguous statement made by Harriet Harman MP, deputy leader of the Labour Party. In a post on Twitter (where else would a politician say Something Important these days?), Harman declared that 'Anybody who uses the n-word in public or private in whatever context has no place in the British Broadcasting Corporation'.
Harman's intervention captured the intolerant essence of those calling for Clarkson's (admittedly swollen) head. For today's free-speech police, there is no difference between saying something 'in public or private', or presumably saying it in your own head. Most importantly, they insist that somebody like Clarkson should be censored or sacked for using an offensive word 'in whatever context' – which, in his case, apparently includes thinking it while trying to avoid saying it.
This illiberal idiocy drives an SUV through the principles of liberty and justice. The specific context in which anybody uses language matters. We properly judge people not merely by the words they use, but by what they mean. Common sense should suggest that mumbling a nursery rhyme – and then trying to ensure that nobody sees the film of your mumble – is in no way comparable to shouting the n-word at a black person in the street.
Yet such common-sense views seemingly have no place in our public life today. British law now decrees that if anybody at all interprets any word or deed as racist then it is a hate crime, regardless of the intention of the 'offender'. Some have joked in recent days that the c-word the elite seem to find most offensive is 'Clarkson'. The c-word they seem keenest to see removed from the language, however, is 'context'.
The battleground in the free-speech wars has shifted in recent years. Once the censors sought to repress political and cultural ideas that they found dangerous, these days they want to outlaw a lengthening list of specific words that they find offensive, 'whatever the context'. As I noted on spiked five years ago, 'Now it's a war on words', in which the focus of censorship is not on ideas but on 'words that nobody is apparently allowed to use in any circumstances, whatever they meant by them, and regardless of whether they are spoken in public or private – or even inside somebody's own head'. Over the past five years, that context-free war on words has escalated, with the Clarkson carry-on only the latest battle. The notion that words themselves can be seen as inherently evil looks like a modern version of the superstitious belief, popular in the Middle Ages, that there were 'words of power' which, whether uttered as a prayer, a spell or a curse, could themselves alter real lives and situations.
The modern-day belief in 'words of power' is underpinned by an equally firm belief that most of us are what we might call 'people of weakness'. The elitist assumption is that people are so stupid, vulnerable and pathetic that they can be mortally offended or incited merely by hearing, or even thinking they hear, a naughty word. Thus words must be outlawed, the speaker punished 'whatever the context' in which they are allegedly used, and a TV presenter must be banned from our screens based on the suggestion that he might have thought about using a word. As Clarkson wryly observes, 'I've always thought I'd be sacked for something I said. Not for something that actually, I didn't say.'
Football has been thrust into the frontline of the new war on words. The Football Association (FA) has for some time insisted that the use of 'discriminatory language' at football matches will be punished 'regardless of the context' in which the offensive words are used. This led to the ludicrous spectacle of Tottenham Hotspur fans being arrested for a racially aggravated public-order offence because they called themselves the 'Yid Army'. It also sparked a mad controversy after last year's Professional Footballers Association (PFA) awards dinner, where black American comedian Reginald D Hunter was effectively accused of racism for doing an ironic routine about the use of the n-word. The PFA chairman was all over the media expressing his outrage at the word being uttered in his presence, even in an anti-racist joke, and earnestly apologising to 'everyone who was offended – and everyone who wasn't'.
Now it appears the zero-tolerance zealots are marching on from football into television. You need not be a fan of either Top Gear or Tottenham Hotspur (I am neither) to see the bigger dangers here. The war on words risks creating a wider chilling effect on freedom of expression, making people too worried about linguistic etiquette to say what they really think and too anxious about possibly causing offence to speak clearly. In effect, we all start mumbling over the controversial parts of the argument. That does nobody any favours.
Free speech has always involved defending what we might not like. It is, after all, only that which is deemed extreme or offensive that needs defending – the moderate mainstream can look after itself. This does not mean upholding the 'right' to hurl racist language around (although it is better if bigots come clean with their prejudices so that they can be challenged in public). What it does mean, however, is fighting for freedom of expression with no buts, as an inalienable and indivisible liberty for all. As spiked's Free Speech Now! campaign slogan says, let everybody think what they like and say what they think. Even Jeremy Clarkson.
Contrary to what the authorities assume, most people are not stupid. All the media polls showed the vast majority were against Clarkson being sacked by the BBC – not because they like the n-word, but because unlike our cultural guardians they understand the meaning and importance of context. That audience approval may save Top Gear from the BBC zealots for now, but Clarkson probably should not count on any more invites to join the illiberal liberal clique on shows such as QI. Anyone seen Reginald D Hunter on the telly lately…
Mick Hume is spiked's editor-at-large. His book, There is No Such Thing as a Free Press… And We Need One More Than Ever, is published by Societas. (Order this book from Amazon(UK).) Visit his website here.
To enquire about republishing spiked's content, a right to reply or to request a correction, please contact the managing editor, Viv Regan.