Frack to the future
Forget 'security' and 'resilience' - we need a positive case for new energy.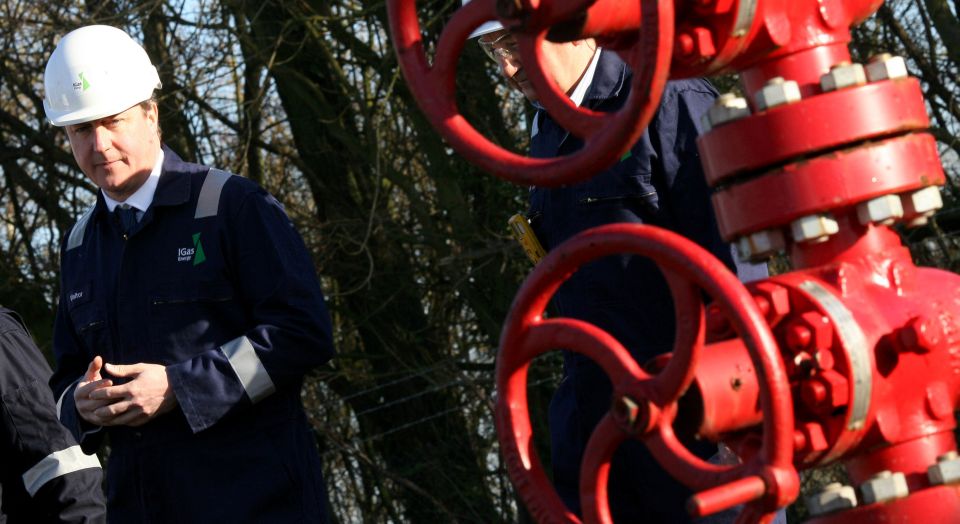 No one could accuse UK prime minister David Cameron of taking his job too seriously. A few weeks after he and his fellow lighthearted leaders in Washington and Brussels had baited resource-rich Russia into a lukewarm conflict over Ukraine, he told the press assembled after this week's Nuclear Security Summit in The Hague that he thought 'something positive should come out of [the Ukraine crisis] for Europe which is to take a long hard look at its energy resilience, and its energy independence'.
Having identified this silver lining to the cloud of chaos unleashed in eastern Europe, Cameron warmed to his theme. It was 'our duty', he said, to be more energy-independent, and central to this project was hydraulic fracturing – or fracking as it's better known. The process of extracting, in this case, shale gas, may be the subject of 'worries and concerns', he said, but ensuring our 'energy security' amid, for instance, the bickering with Russia, is a 'tier one' political issue. In this regard, he was only reiterating what energy minister Michael Fallon had told the Telegraph earlier this year: '[The crisis in Ukraine] is a wake-up call to Europe of the need to develop more energy sources of all kinds. We can't be more and more dependent on imports from unstable regions.'
Energy security. Energy resilience. 'Tier one' political issue. It's inspiring stuff and no mistake. Aspiring policy wonks across the UK must be swooning as they hear Cameron and pals drop these jargon-tastic Westminster floor fillers.
Sadly, for the rest of us, there is something profoundly dispiriting here, not just in the blithe way the EU-inspired mess in Ukraine is casually dismissed, but in the downbeat approach to the issue of fracking, and energy more broadly. What's consistently striking about the contemporary energy discussion is that there is no really positive case being made here for expanding our energy supply, no attempt to say why producing more energy would improve our lives or expand the horizons of society. Instead, the case being made by the leader of the Tory party, which is nominally the most pro-fracking of all the major parties, is couched in terms of risks and threats. What if Russia ramps up the prices on its gas and oil exports? What if the conflict in Ukraine and newly annexed Crimea leads to disruption of oil and gas supplies? What if terrorists or state agents sabotage the supply lines? On and on the fearful 'what ifs' go.
This is typical of the way in which the debate about energy is conducted today. The prospect of having to expand society's energy supply is marked by trepidation, not enthusiasm or resolve. It is not the potential benefits of a new energy source that fall from the mouths of politicians; it's the risks and uncertainties it might entail. As a recent academic report into the potential for fracking in the UK felt the need to warn: 'There were unknowns we couldn't get to the bottom of.' Threats, you see, proliferate in the policymaking imagination. We're told to worry about energy sources in unstable regions of the world; we're told to be concerned about accidents, be they fracking-prompted earthquakes or nuclear disasters; and we're told, above all, to think of the environment, and to be very afraid of climate change.
The expansion of energy supply has not always been a source of anxiety. At points during the previous century, when the future was often grasped as an opportunity, rather than a threat, the issue of energy was approached in terms of how it could enable us to improve people's lives. Hence Russian revolutionary Vladimir Lenin could talk in 1920 of the promise of 'the electrification of the whole country', of how it will 'provide a link between town and country, will put an end to the division between town and country, will make it possible to raise the level of culture in the countryside and to overcome, even in the most remote corners of land, backwardness, ignorance, poverty, disease, and barbarism' Or, on the other side of the political spectrum, take the then Conservative government's 1955 white paper, A Programme for Nuclear Power: 'Our civilisation is based on power… As a leading industrial nation, our duty, both to ourselves and other countries, is to establish this new industry of nuclear energy on a firm foundation, and to develop it with speed.'
It was not unusual to think in terms of what a new or improved energy supply could do for us. For a large part of the twentieth century, it was the norm. The production and supply of energy was grasped in terms of the extent to which it emancipated people, the extent to which it freed them up to realise ever expanding objectives, from flight to electricity grids. In a sense, our civilisation, such as it is, is based on power.
Today, 'our civilisation' is presented as the problem. Our material needs and wants, our social objectives, are damaging. We are using up too much of the planet, and, in the form of the apocalypse currently known as climate change, we are about to reap the whirlwind (and various other exceptional weather events) – such is the environmentalist narrative that currently structures the Western political imagination. So the focus now is not on expanding and improving energy supply – after all, that will only exacerbate the environmental catastrophe. No, it is all about reducing energy demand.
Which is why fracked shale gas is so interesting as a potential new energy source. Because not only will it enlarge our energy supply, it is relatively light on CO2 emissions. As one advocate notes, 'Thanks to shale gas, America's carbon-dioxide emissions in energy production have plummeted by nearly 20 per cent in five years without political targets or policies'. And because of the almost environmentally friendly aspect of shale gas, the response to it reveals something of the essence of environmentalism. After all, a potentially cheap, plentiful, and relatively 'clean' energy supply surely ought to appeal to greens as an upgrade on other, dirtier fossil fuels?
Well, no, not really. If anything, the environmentally concerned, be they the Hollywood celebs so fond of anti-fracking movie Gasland or professional campaigners, are as opposed to fracking nearly as much as they loathe coal mining. As Greenpeace director John Sauven claims in a Guardian article this week, the unknowns, the uncertainties, the what ifs, are too numerous in shale-gas extraction to be worth the risk. 'The truth is', writes Sauven, 'that nobody even knows whether the UK's shale gas reserves will be economic to extract, let alone significant enough to reduce our reliance on gas imports.' He proposes an alternative solution to our energy concerns: 'What we know for certain is that using less of something means you don't depend on it as much.'
What this shows is that the environmentalist mindset is informed far less by climate science or CO2 targets, than by a profound ideological aversion to 'our civilisation'. Even if the impact on the environment is negligible, a new energy source is still opposed. Which just goes to show it's the idea of expanding our energy supply itself that is anathema to the committed green.
This is why it's so dispiriting when politicians, like Cameron, try to make the case for fracking or, indeed, any potential energy source, on such environmentally informed, risk-averse grounds as 'energy security'. What we need is a positive case to be made for fracking and expanding our energy supply, an inspiring case in which the human benefits of having more energy to do more things with is emphasised. What we don't need is a reluctant, half-baked case grounded upon fear and trepidation.
Tim Black is deputy editor of spiked.
To enquire about republishing spiked's content, a right to reply or to request a correction, please contact the managing editor, Viv Regan.