Lad culture: a defence
Student laddishness is a kind of rebellion against the new authoritarianism.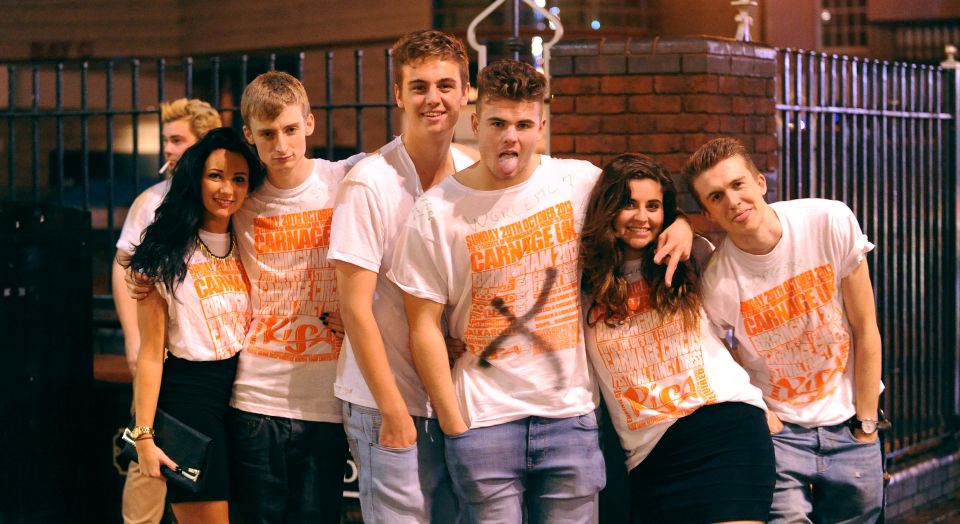 It's hard not to feel sorry for Britain's so-called student radicals. They really do try so hard. While genuine radicalism, revolution and upsetting the status quo have long since fallen off their agendas, they still really want to Do Something. Or, at least, have something against which they can strike some moral poses.
For the past decade, campus radicals had the supposed scourge of the far right to keep them occupied. The right-on crusaders could pretend that the BNP, the EDL and all-manner of marginal and anachronistic fascistic throwbacks were a huge threat and rally the troops against them. Now, with the EDL effectively disbanded and BNP leader Nick Griffin bankrupt and reduced to asking his members to sell scrap metal in order to keep his flailing party going, the student set have been scrabbling around looking for another ignoble enemy.
So what fluffed-up enemy have the student apparatchiks come up with? Well, taking heed of that great Michael Jackson protest song, they've decided to look in the mirror in order to make a change. The new enemy, the new scourge of society, the new target for all their pent-up political furies has revealed itself among their own number – stalking their union club nights, pecs glistening in a low-v, with the smell of sex in his nostrils. I'm talking, of course, of the Uni Lad.
Following a slew of feminist-led campaigns at British universities, which have seen Robin Thicke's banal come-on anthem 'Blurred Lines', soft-porn lads' mags and Page 3-featuring tabloids banned from universities, the NUS held a 'Lad Culture Summit' in London last month. Supported by the Everyday Sexism Project and Universities UK, the summit was aimed at tackling the way that lad culture, and its nefarious bedfellow 'rape culture', have laid siege to campus life, apparently turning Britain's male students into creatine-baffing would-be rapists.
The website Uni Lad was a prime target for their ire. Part news-site, part soft-porn hub, part 'lad bants' repository, Uni Lad was decried by Laura Bates of the Everyday Sexism Project as spurring on sexual harassment and rape at universities, citing the crass rape jokes published on the site as proof that 'lad culture has led to the normalisation of sexual assault on campuses around the country'. The claim that this was merely 'banter' – and that surely there is a distinction to be made between what someone may find funny and their propensity for rape – was, as Bates put it, merely 'a very clever way of silencing the problem'.
Other targets have been the pub and club promoters in university towns, whose seedy club nights, from 'Tarts and Vicars' to 'CEOs and Corporate Hoes', are – in the eyes of student-union hacks – shamelessly profiting from lad culture and actively permitting sexual harassment. Over the course of her chilling closing remarks, Kelley Temple, NUS women's officer, suggested a 'zero-tolerance' policy to such club nights as well as 'compulsory consent training' for union officers and student society leaders and, most importantly, sports captains. According to this lot, if you play rugby, frequent Uni Lad and indulge in the odd 'Rappers and Slappers' club night, then you're either blithely unaware of, or genuinely incredulous about, the idea of female sexual consent.
Founded on dodgy dot-connecting, and bearing a complete lack of nuance in the differences between 'jokey' sexism, genuine misogyny and rape, it's clear the anti-lad lobby is driven by little more than snobbery and good ol' fashioned disdain for crass, ostensibly working-class culture. Like chavs before them, lads have been shamelessly painted as the source of society's ills, the dark heart of a supposedly broken Britain.
It's all patently absurd, but that doesn't negate the frightful impact it's having on university life. As part of spiked's 'Down With Campus Censorship!' campaign, I've been speaking at universities up and down the country in an attempt to get to grips with the ban-happy sentiment among students today. What's striking is the purchase these ideas have with student politicos, if not students themselves: whenever student unions have bothered to put bans on 'Blurred Lines' and the Sun to a referendum, they've invariably been overturned. The anti-lad new feminism has become the most potent form of student-union activism, fuelling a range of soft-totalitarian measures argued for in the name of creating 'safe spaces' for women, and tackling sexual violence.
This focus on safety is perhaps most disturbing. Not only has it insulated campaigners from debate and criticism, allowing them to insist that cracking down on lads' mags is a pragmatic move to tackle sexual violence, but it only adds to the vulnerability paradigm that is running rampant in student politics. In this misanthropic worldview, women can be reduced to quivering wrecks by boisterous lad jokes, and men are susceptible to being unthinkingly subsumed into a nasty culture.
Some of the most cloying comments made over the course of the summit were the explanations the delegates gave for the rise of lad culture. The most salient argument seemed to be that young lads are simply getting sucked in because of low self-esteem and a desire to fit in – they need our help, seemed to be the mood.
What the anti-lad camp fails to realise is that it can't help lads because, quite simply, it created them. Not only did it fluff-up the significance of this ultimately benign trend, but the rape jokes, the club nights, and the banter have all been the unintended consequence of the prissiness that has been running rampant at British universities.
With the roll-out of consent workshops, sensitivity training and bans on various forms of supposedly problematic culture at universities of late, the framework for what can and can't be said, what is acceptable and what is simply 'not OK', has been sharply narrowed. Lad culture is merely a juvenile, but completely understandable, rebellion against the prudishness being foisted on university students today. In a space where crude, distasteful and un-PC expression is effectively battered out of existence, lad culture has thrived: in this stifling environment, self-aware crudity has become a form of subversion.
It's not big, and it's certainly not clever, but in the anaemic, censorious and micro-managed world that is the modern university, lad culture is at least an erect digit to all those campus moralists.
Tom Slater is assistant editor at spiked and coordinator of the 'Down With Campus Censorship!' campaign. Find out how you can get involved here.
To enquire about republishing spiked's content, a right to reply or to request a correction, please contact the managing editor, Viv Regan.