Matteo Renzi: Italy's coup d'état
Italian voters have yet again been sidelined by backroom deals in Rome.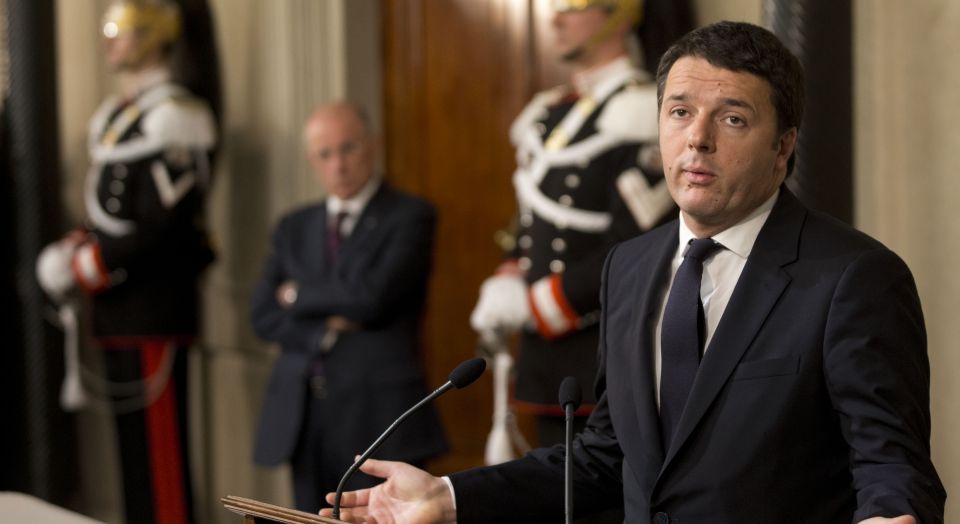 On Monday, Matteo Renzi was asked by the president of Italy, Giorgio Napolitano, to become Italy's prime minister and to form a government. Renzi has never stood in a national election or been elected to either Italy's lower or upper houses of parliament. He is the mayor of Florence yet has no national vote behind him. He replaced the previous prime minister, Enrico Letta, through political manoeuvring, which many democrats would consider as a coup d'état.
How a politician's principles change when they get a whiff of power. Leftist Renzi had promised not to oppose Letta, said he would avoid any pacts with centre-right political parties, and would only assume power through elections. Before becoming prime minister, Renzi broke all these promises. In January 2014, he held meetings with former right-wing prime minister Silvio Berlusconi and agreed proposals for electoral reform, which were examined by Italy's parliament this week. In Renzi's early negotiations with political parties to form a coalition government, he has already sought the support of the New Centre Right party.
Renzi has risen to the top job in Italian government by building alliances and cutting deals. It has been suggested that Renzi draws more on caricatures of Niccolo Machiavelli than the traditions of Florence's city-state democracy. Renzi became mayor of Florence in 2008 and in 2012 stood to become leader of the Democratic Party before Italy's last General Election in 2013. However, Renzi lost the party leadership vote to Pier Luigi Bersani, who went on to win the General Election. Nine months later, Renzi ran again to become leader of the Democratic Party and this time he won. By then, Letta had replaced Bersani as prime minister, and Renzi manoeuvred to undermine him by increasingly criticising Letta in public. Last Friday, Renzi met with the president to discuss forming a new government; Letta was not invited to attend and resigned. By then, Renzi had convinced the majority of Democratic Party members that he should lead the government as well as the party due to the slow pace of Letta's reforms.
In many countries, obtaining power through such manoeuvring and without a democratic mandate would be considered a coup d'état. Formally, Renzi has become prime minister constitutionally. According to Italy's constitution, Italians vote for political parties to lead the government rather than individuals. As the current leader of the Democratic Party, Renzi therefore claims a formal mandate. Nevertheless, this is stretching the notion of democracy, even at a formal level.
It is not as if the Democratic Party received an unequivocal mandate to govern in the 2013 election. In fact, it did not receive the highest number of votes for any one party. The Five Star Movement won the most votes for a single political entity. However, the Democratic Party won a majority of seats in the lower house of parliament and achieved a majority in the upper house through a coalition with other parties.
But the new coalition to be led by Renzi's Democratic Party will undoubtedly have a different make-up to the coalition that won the last General Election; as such, it will not reflect the will of Italian voters. This is inevitable because some political parties have been reconstituted since the 2013 election.
Moreover, Renzi is the third prime minister in a row who did not stand in an election to become prime minister. President Napolitano has appointed the past three prime ministers, including offering banker Mario Monti the job in 2011 while Berlusconi was still in office. Napolitano appears to have drawn on his experience in the Italian Communist Party (PCI) and repeatedly deployed the Stalinist tactic of appointment instead of election. By contrast, there is an expectation among Italian voters that a party leader will stand in an election campaign before becoming prime minister. The decline of the democratic tradition in Italy over the past two decades is worrying. Indeed, Renzi is Italy's ninth prime minister since 1992 – and only two of them have stood in elections to become prime minister (Romano Prodi and Silvio Berlusconi).
Italians rightly expect their prime minister to have been a candidate for the job in an election. So it is unsurprising that recent polls show most Italians would like to see elections rather than a government chosen for them. Yet there appears to be little chance of Renzi seeking popular approval. Instead, he has stated he would like his new government to run the full term until 2018. Italy has suffered an extremely severe recession and faces numerous political challenges, including immigration, pension and education reforms. The government's programme should be put to the Italian people in an election so it has their backing. But Renzi believes he can pursue his agenda over the next four years without their approval.
Despite his coup, Matteo Renzi has been widely hailed in the European press as a new hope for Italian democracy and has been compared to the left-leaning and fairly young former UK prime minister Tony Blair. Would that be the same Tony Blair who has just been to Egypt and endorsed the military regime that staged its own coup d'état last year? Okay, so maybe it does make sense to compare Renzi and Blair. But please don't call Renzi a democrat.
Dominic Standish lectures for the University of Iowa at its CIMBA campuses in the Veneto region of Italy. He is the author of Venice in Environmental Peril? Myth and Reality, published by University Press of America. (Buy this book from Amazon(UK).) Visit Dominic's website and blog here. He can be contacted at dstandish@europe.com.
Picture: PA
To enquire about republishing spiked's content, a right to reply or to request a correction, please contact the managing editor, Viv Regan.