Scotland the scaredy-cat?
Stop trying to frighten Scots off independence.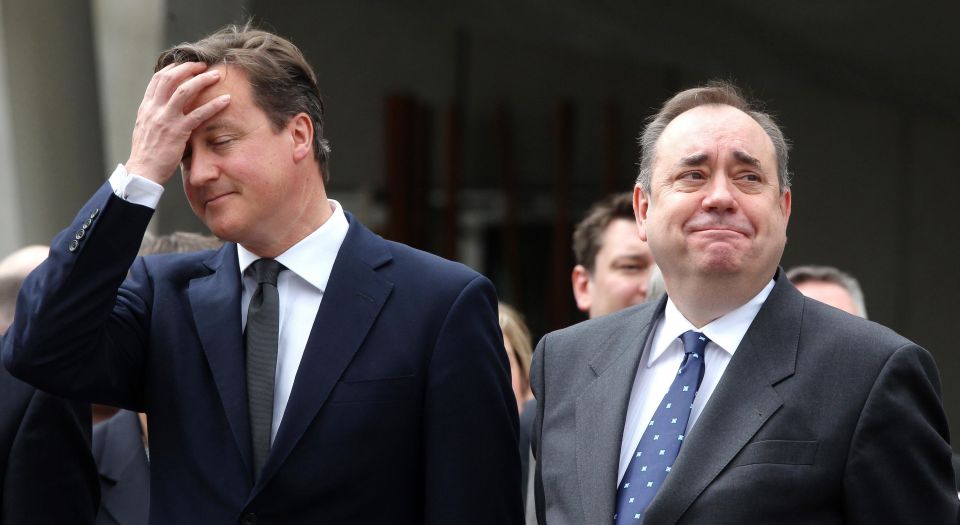 The debate around the referendum on Scottish independence ought to be a battle of high-minded political principles between Unionism and Nationalism. Instead, in our age of petty politics, it has largely descended into a low-temperature discussion about economic technicalities.
If one political thread has emerged, it is the ever-dreadful and destructive politics of fear, as opponents of independence seek to scare Scots away from voting 'Yes' in September's referendum.
On Wednesday the governor of the Bank of England, Mark Carney, went to Scotland and gave a typically dull bank manager's speech about the technical and institutional arrangements that would be required for an independent Scottish state to retain the British pound as its currency. Carney, a Canadian, stressed he was not a politician, refused to express any opinion on independence, and stuck to his technocrat's script, 'tiptoeing through the minefield', as one commentator observed.
Yet the anti-independence lobby reacted to his speech as if it were a political timebomb. Carney's observations about the 'clear risks' of an ill-founded currency union, as illustrated in the Eurozone's vulnerability to 'sovereign debt crises, financial fragmentation and large divergences in economic performance', were seized upon as apparent proof that a 'Yes' vote would be disastrous for Scots. 'Bank chief's warning to Scotland' shouted all the headlines on Thursday. Former Labour chancellor Alistair Darling, who now heads the 'Better Together' campaign for a 'No' vote, declared that the governor's dire warning was a 'devastating' blow to the independence lobby.
Is this really the best that supporters of the historic Union between the English and Scottish parliaments can do? Devoid of any inspiring political arguments, they are poring over a banker's speech that was about as exciting as a third-quarter balance sheet, trying to find something with which to frighten Scots off the idea of independence.
Whatever happened to the principled and proud case for the Union of the Scots and English? When the Act of Union was passed in 1707, Article One declaimed 'That the Two Kingdoms of Scotland and England, shall upon the 1st May next ensuing the date hereof, and forever after, be United into One Kingdom by the Name of GREAT BRITAIN' (emphasis in original). It was a statement to the world of the emergence of Great Britain as a great power which would soon command a global empire (a good deal of it conquered and run by Scots).
Three hundred years later, the empire is long gone and Britain is a ghost of its former greatness. The question of what it even means to be British, which nobody would have needed to ask when the United Kingdom was in its pomp, is now the subject of tortuous discussion. It is the loss of central authority of the British establishment, and the collapse of belief in 'Britishness', that has brought Scottish independence back on to the agenda, rather than any upsurge of militant nationalist feeling north of the border. That is reflected in polls which show that, while many Scots remain unconvinced of the case for independence, most English voters greet the idea of breaking up the 300-year-old state with a shrug of indifference.
Devoid of any positive case for maintaining the Union, the opponents of independence fall back into what is default mode for politicians today – the politics of fear. They seem to imagine that the way to win over Scottish voters is to treat them like little children, to be frightened into doing as they are told by mention of the bogeyman – this week a rather smooth-talking expensively-suited ogre, in the person of the governor of the Bank of England. If anything is likely to alienate more Scots, it is surely this sort of patronising stuff.
But then, if the pro-Union camp sees its target audience as Scotland the Scaredy-Cat, the nationalist lobby is hardly encouraging visions of Scotland the Brave either. The governing Scottish National Party under first minister Alex Salmond seems keen to give voters a pat on the head and reassure them that not much would really change if they voted 'yes' – that Scotland would still keep the queen and the pound, and presumably still have access to EastEnders.
Indeed the SNP executive has done more than anybody to infantilise Scottish politics, pioneering prohibitive laws on smoking, drinking and free speech that are based on the assumption that the childlike Scottish people are incapable of making their own choices in life. The move to give 16-year-olds a vote in the referendum is less about treating young people as adults than it is about putting all adults on the level of adolescents.
The future of the UK is far too big an issue to be reduced to an elitist squabble over the politics of fear and petty parochialism. One thing that surely unites Scottish and English voters is their contempt for politicians that treat them like wayward children. Time for some grown-up arguments for the Union, before it disappears under a wave of indifference.
Mick Hume is spiked's editor-at-large. His book, There is No Such Thing as a Free Press… And We Need One More Than Ever, is published by Societas. (Order this book from Amazon(UK).) Visit his website here.
Picture: Andrew Milligan/PA Archive/Press Association Images
To enquire about republishing spiked's content, a right to reply or to request a correction, please contact the managing editor, Viv Regan.