History makers: Winnie Mandela
As the world rushes in to praise Nelson Mandela, we reassess the role of his one-time wife, Winnie.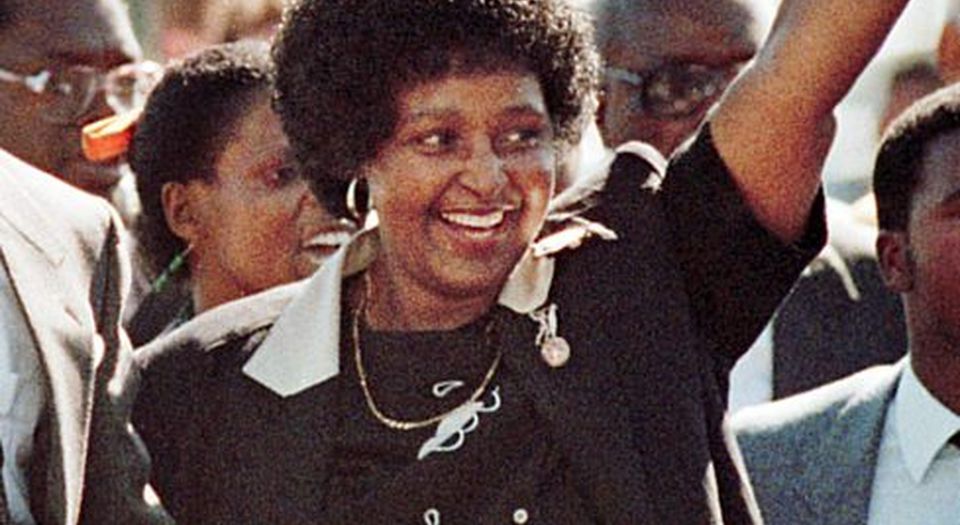 Hidden by clashing layers of mythmaking, 77-year-old Winnie Mandela is a difficult figure to see clearly. At first, when she came to global attention during the 1970s and 1980s, she was conjured up as the supreme victim of Apartheid South Africa. In 1962, she became the young wife forcibly severed from her incarcerated husband Nelson by the South African state; in 1969, she was the mother arrested and imprisoned by the authorities under the Terrorism Act, and sentenced to 491 days in solitary confinement; and in late 1977, she was the woman banished to a life of isolation and penury in a small town in the Orange Free State.
By the 1980s, Winnie Mandela was the focal point of a global anti-Apartheid campaign, a recipient of pity and support, and the link to a better South Africa through her husband Nelson, imprisoned on Robben Island.
Then, in the 1990s, the myth was turned inside out. Winnie was no longer a victim of brutality; she was presented as a perpetrator. She was no longer the victim of multiple injustices; she was the victimiser-in-chief.
The grounds for Winnie's demonisation, which began in the late 1980s, ostensibly lay in her involvement and putative leadership of 'Mandela United Football Club', a grouping of young black men in Soweto dedicated to meting out justice to police informants. It was in this context that Winnie, who was still a member of the African National Congress, started to be presented as little more than a local gang leader, interested in profiteering and violence.
In 1991 – less than two years after Nelson was released from prison, with Winnie defiant by his side – her demonisation was given official sanction. She was convicted at Johannesburg's Rand Supreme Court of assault and accessory to kidnapping a 14-year-old black boy, called Stompie Moeketsi, whom her driver had subsequently murdered because Winnie and her cohorts thought he was a police spy. This cemented the new image of Winnie: she was now a scheming warlord, marshalling a gang of armed thugs, a corrupt and powerful figure trading on her husband's name.
Yet in both cases, Winnie is misrepresented. She was no more the soft-focus object of Western campaigners' wet dreams than she was the evil gang lord, torturing and killing black boys. In fact, what she was at the time of her demonisation was continuous with what she was during her veneration. That is, she was a political activist committed to the liberation of South Africa's black majority.
In fact, Winnie was always more militant and more radical than the rather conservative Nelson, who was 15 years her senior. Despite being under various forms of house arrest, not to mention actual incarceration, she continued to work for the ANC during the 1960s and 1970s. Her clandestine activity took her into the circles around the Black Consciousness student movement, with Steve Biko to the fore, and the increasingly angry trade-union movement. Little wonder that in a speech she gave in 1975, she talked encouragingly of black people being impatient for change and angrily resentful. Unlike her husband, Winnie was neither surprised nor concerned by the Soweto Uprising in 1976; she was emboldened.
Even her involvement with the MUFC can be viewed in terms of her commitment to the struggle against the racist South African state. For Winnie, this was a war against the state; the police were the enemy, and police informants were traitors. A speech Winnie gave in 1986, which was dragged up throughout the later 1980s to scandalise her one-time Western supporters, ought to be understood in the context of this political struggle: 'Together hand in hand, with our boxes of matches and our necklaces [burning tyres], we shall liberate our country.' The racist South African state was not something that could be reformed, its laws were not her laws; it was to be fought with whatever the townships had to hand.
The problem for Winnie, then, was that she was always at odds with her husband. He was a man ready to compromise, who thought in terms of reform not revolution; Winnie was always the one who wanted liberation. Her 1991 trial, the principal reference point for every subsequent character assassination, was never really about Winnie Mandela. It was a chance to place black militancy itself in the dock, the chance to assert the right of the state to intervene in the internal affairs of a political movement.
No doubt Winnie was involved in morally dubious actions, but it wasn't up to the Apartheid state to judge her – a state that had hitherto been responsible for the beating, torture and murder of thousands upon thousands of blacks. No, the judgement of Winnie should have been up to her comrades, her brothers in arms. Yet stood in the dock, Winnie's personal failings were conveniently made into the failings of black militancy in general.
And what did the ANC leadership and, most important of all, Nelson Mandela do when Winnie's guilty verdict was delivered? They defended the courts and appealed to the black townships to remain calm. In that moment, Nelson, a man who had firsthand experience of South African justice, draped a veil of legitimacy over the South African state, the long-term oppressors of those he claimed to speak for. And at the same time, he pulled the rug out from under the black-liberation struggle.
Winnie's demonisation, then, was part of a deeper attempt on the part of the South African ruling elite to manage the dismantling of Apartheid in its favour. And it did so by criminalising the struggle for liberation proper in the 1991 trial. From this point on, Winnie – the one-time 'mother of the nation' – was on the wrong side of history. In 1997, the Truth and Reconciliation Committee damned her without evidence or testimony, calling her 'politically and morally accountable for the gross violations of human rights committed by the MUFC'.
Though still admired by her supporters (she got an enormous cheer at Nelson's memorial last week), Winnie was being rendered a political pariah. She was at odds with the new South Africa, a ghost of Apartheid past – her existence didn't chime with the narrative of Nelson's 'long walk to freedom'. This is why in 2010, her criticism of her ex-husband – in the eyes of the outside world, the closest thing to a living saint – sounded so incongruous. Observing that the sacrifices of the more militant younger black radicals like Biko had been obscured by the sanctification of Nelson, she said: 'Mandela let us down. He agreed to a bad deal for the blacks. Economically, we are still on the outside. The economy is very much "white".'
She then rounded on Nelson for his willingness to compromise, to cede so much to the South African state that had already taken plenty. 'I cannot forgive him for going to receive the Nobel with his jailer [President FW] de Klerk. Hand in hand they went. Do you think de Klerk released him from the goodness of his heart? He had to. The times dictated it, the world had changed.'
Her final words were scathing: 'Mandela is now like a corporate foundation. He is wheeled out globally to collect the money.'
Winnie may not have been a hero as such, but she is certainly not the demon many paint her as today. Her criticisms of post-Apartheid South Africa reveal more than any of the encomia for Nelson.
Tim Black is deputy editor of spiked.
To enquire about republishing spiked's content, a right to reply or to request a correction, please contact the managing editor, Viv Regan.