The trial of Michael Le Vell: Salem comes to Britain
This showtrial exposed how irrationally obsessed with 'evil' Britain has become.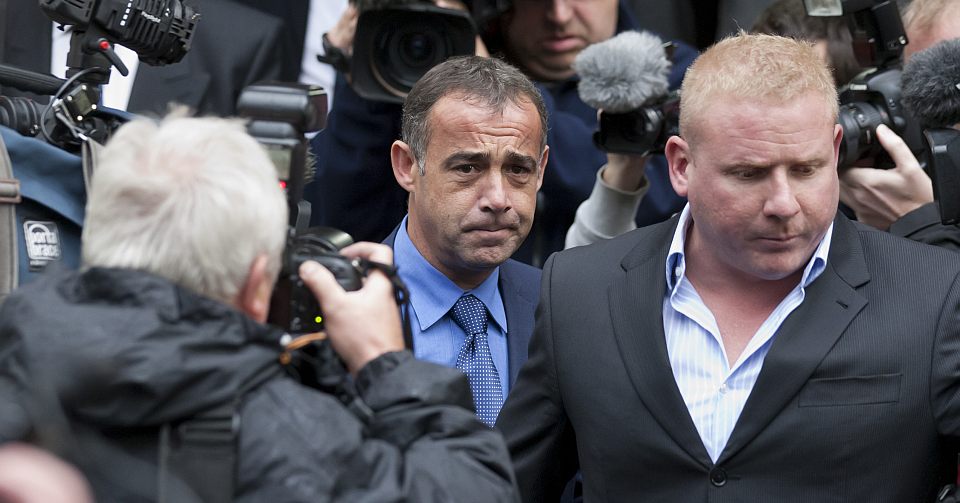 To see how hysterical and even Salem-like modern Britain's obsession with child sexual abuse has become, look no further than the Michael Le Vell case.
At every stage of the Coronation Street star's trial for child rape – from the decision to bring the case to court in the first place to the disturbingly salacious media coverage of the accuser's claims to the unhinged reaction of feminists to the not-guilty verdict – we have been treated to an unappetising spectacle of demon-hunting more befitting of the Dark Ages than a twenty-first-century democracy. We have seen what happens when the urge to uncover and point a collective finger at 'evil' takes centre stage in public life: rational debate dies, truth gets a kicking, and justice itself is openly called into question.
The Le Vell case was questionable from the very start. The decision of the Crown Prosecution Service to bring charges against Le Vell was highly peculiar given that, in the words of one news report, there was 'not a shred of evidence' against him – 'no medical evidence, no forensics, no witnesses, no suspicious computer records', nothing. To say the case was flimsy is a profound understatement – it was non-existent, emanating entirely from the head of what we now know to have been a very unreliable teenager.
It is striking that the CPS initially refused to pursue the case, when the accuser first made a complaint in September 2011, yet changed its mind earlier this year when the accuser claimed to have suddenly remembered, through a 'flashback', more occasions on which Le Vell raped her. After two decades of families being torn apart by false memory syndrome – where individuals come to believe that they were abused or raped or dragged to a forest by Satanists, when they weren't – you would think the CPS would know better than to bring a very serious case to court on the basis of a sudden flashback. It seems not.
Of course, something else changed between September 2011 and this year – the Jimmy Savile sex-abuse scandal exploded and the hunting down of any 1970s celeb alleged to have done untoward things with young women or girls became a frenzied national sport. And it's difficult to avoid the conclusion that it was the emergence of this febrile, abuse-obsessed, celebrity-hunting climate that encouraged the CPS to rethink its refusal to pursue a sex-abuse case against a high-profile star of Coronation Street, however fact-lite it may have been. As one reporter puts it, 'Prosecuting well-known individuals such as Le Vell attracts huge publicity for the police and the CPS, who appear determined to be seen to be taking action [against child sexual abuse]', and in such circumstances 'Le Vell's innocence or guilt were immaterial'.
That is, it seems the initiation of this case was motivated by something other than the pursuit of clean, objective justice and instead came with all sorts of political and public-policy objectives attached to it – particularly the objective of sending a message about the wickedness of celebrity abuse and the decency of those in authority who hunt, harry and expose it. In short, it was a showtrial – a showtrial of 'evil' by those who claim to be 'good', with Le Vell little more than a punchbag against which those in authority in need of some good PR and a sense of mission could land some ostentatious blows.
Then there was the media coverage. This, too, spoke to a society in which the obsession with child abuse has become a perversion of its own. The newspapers pored over the accuser's stories with a sometimes warped salacious glee. They leapt upon claims that Le Vell had covered the mouth of his accuser with a teddy bear as he raped her – this detail in particular, with its enticing combination of powerless child, evil man and fluffy toy, made it on to many a tabloid front page. Under the cover of being concerned about the scourge of child abuse, the media provided us with borderline pornographic details about the alleged depravity of a well-known celeb – not unlike those old Victorian magazines that claimed to be exposing the evils of child prostitution yet always seemed to do so in a disturbingly titillating fashion.
The aim of the modern-day obsession with child sexual abuse is also titillation – not sexual titillation but moral titillation. Ours is a society in which misery memoirs with graphic descriptions of alleged instances of child rape fly off the shelves (both in upmarket bookshops and supermarkets like Tesco); in which gritty novels and movies love nothing more than to depict child abuse, sometimes in gory detail; in which a newspaper that splashes 'Corrie's Kevin "raped girl as she clutched teddy bear"' on its front page can be pretty confident that it will shift more copies than normal. The purpose of all this Penny Dreadful-style promotion of lurid tales of child abuse, by everyone from the tabloids to the broadsheets, from real-world institutions like the NSPCC to the creators of fiction, is to provide a moral rush to the public, a feeling of collective decency in the face of such unspeakable evils. It is a shallow society indeed, a backward, morally bereft society, a borderline medieval society, that can only feel united and purposeful through flagging up and then flamboyantly condemning instances of evil.
And finally there was the reaction to the not-guilty verdict given to Le Vell. In many ways, this has been the most disturbing and revealing part of the whole sordid affair. Almost as soon as the verdict was read out, feminists and others took to Twitter and the blogs to announce 'I believe her' – that is, they believe the accuser regardless of the debunking of her claims. Remarkably, across Twitter, Le Vell is being referred to as a 'rapist' and his accuser as a 'survivor', as if the verdict of the jury counts for absolutely nothing.
The 'I believe her' meme is intended to sound radical, with some claiming they are taking a stand against 'the patriarchy' by siding with a 'victim of rape'. But in truth it is highly irrational, with echoes of the gullible fanaticism of the seventeenth-century Salem witch trials, as so memorably captured in Arthur Miller's play The Crucible. There, too, in a town enveloped by irrationalism and fear, it became de rigueur to say 'I believe' with no regard to facts or evidence – 'I believe girls have cavorted with the devil'; 'I believe they are witches'. In modern, democratic societies, by contrast, we treat those who claim to have suffered a crime sympathetically, of course, but we also treat them sceptically and believe that the accused is innocent until proven guilty. Such scepticism about accusations is an immeasurably important guard against miscarriages of justice, against having a situation where an allegation is enough to condemn a man to jail or death. Instantly to believe every accusation made by individuals is the hallmark of Stalinist societies, where finger-pointing trumps cool-headed analysis and justice.
From the CPS's strange decision to push the Le Vell case to the salacious and Salem-like reactions to it, we have been given a pretty scary insight into our increasingly irrational society. Still, there is one positive thing to take from this affair – the role of juries. Juries get a hard time these days, denounced as thick and prejudiced and unsuited for the tough task of deciding on complex legal matters. Yet in the Le Vell debacle we saw that juries, precisely because of their commonness and their distance from the prejudices of officialdom and so-called experts, are very often an oasis of reason in a mad, perverted world.
Brendan O'Neill is editor of spiked.
Picture by: Jon Super/AP/Press Association Images.
To enquire about republishing spiked's content, a right to reply or to request a correction, please contact the managing editor, Viv Regan.