The myth behind 'Transgender Day of Remembrance'
The dangers faced by trans people are being wildly exaggerated to promote a dangerous ideology.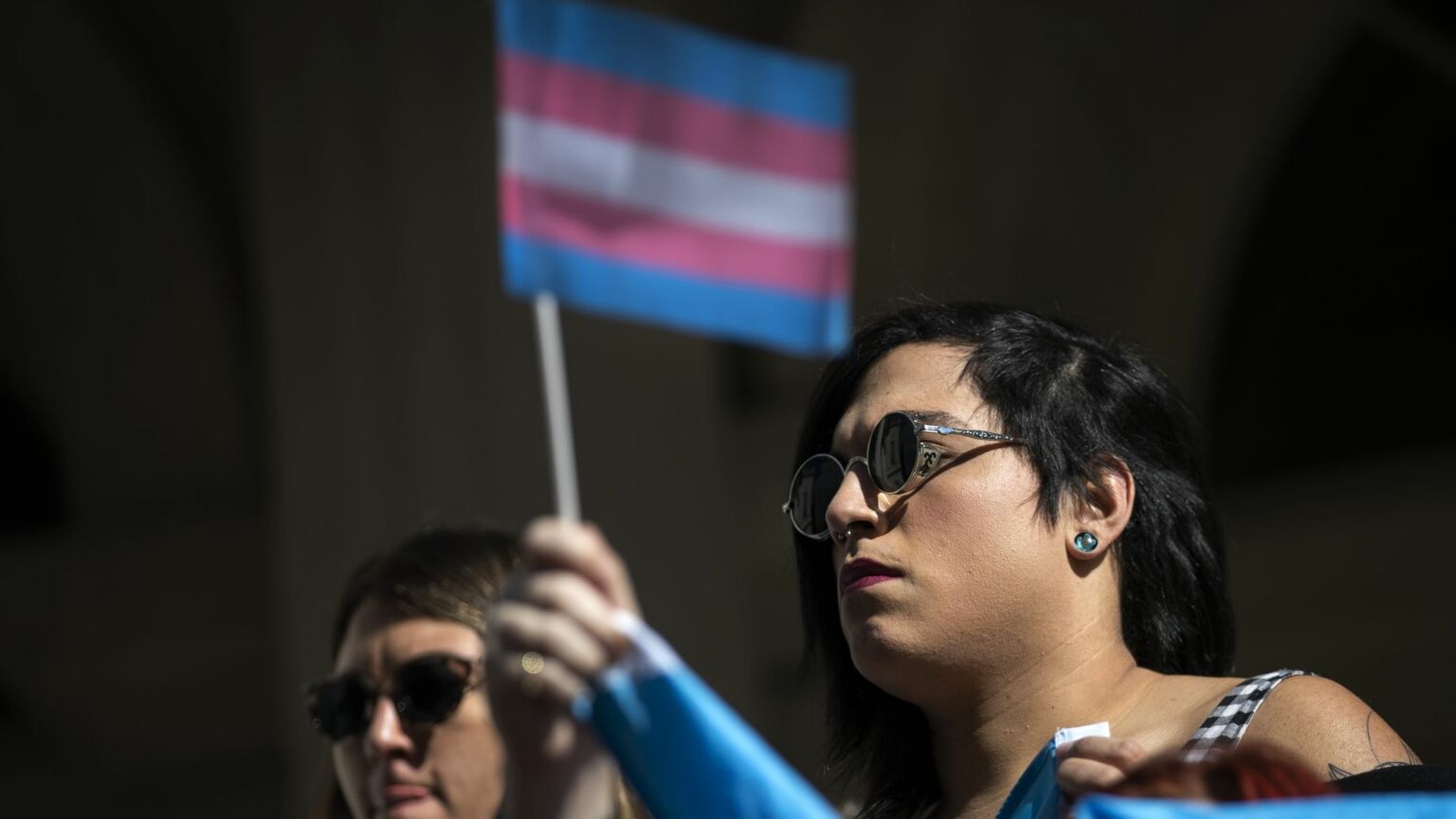 As the season of goodwill approaches, spare a thought for the group that considers itself the most vulnerable in the UK. No, I'm not talking about the poor, sick or homeless. I'm talking about the trans people who, occasionally, might have to deal with funny looks, being misgendered or one hell of bollock-rub when wearing tights designed for women. Thankfully for them, this week has been designated as Transgender Awareness Week. And it's one of the highlights of the corporate calendar.
Starting in mid-November each year, an entire seven days is now dedicated to highlighting the struggles of cross-dressing whingers in wigs. You might have noticed that, on the carousel of grievance, trans-themed events seem to come around with dizzying speed, from Trans Day of Visibility in March to Pronouns Day last month.
Although trans people claim to be a marginalised minority, their events are supported by a marketing machine and infrastructure of powerful international agencies. Bodies like the International Lesbian, Gay Bisexual, Trans and Intersex Association (ILGA) and even the United Nations have come out in support of Transgender Awareness Week.
Although it's an American import, it is now gaining traction across the UK. London mayor Sadiq Khan, a man who fancies himself as the capital's conscience, marked the start of Transgender Awareness Week on Monday with a social-media post, declaring that: 'Transphobia and hate crimes have no place in our city.' Khan also announced City Hall's commitment 'to stand in support and solidarity with London's trans and gender non-conforming communities'.
Predictably, universities, such as the University of Sussex, have also championed Transgender Awareness Week, as have once august institutions like the Victoria and Albert Museum and British Humanists. It seems you can't go two minutes without having a Trans Pride flag thrust in your face these days.
The week's events culminate on Transgender Day of Remembrance. On Monday 20 November, trans activists across the world will 'honour and remember transgender individuals who have lost their lives due to anti-transgender violence and discrimination'. It was started in 1999 by American male trans activist Gwendolyn Ann Smith, following the unsolved killing of transwoman Rita Hester in 1998.
While there is nothing wrong with paying respects to those who have been killed, the problem with Transgender Day of Remembrance is that it gives the misleading impression that trans people in the UK are under constant threat. For instance, an Evening Standard article shared by Khan piously opined that Transgender Day of Remembrance marks the 'memory of transgender people whose lives were lost in acts of anti-transgender violence during the year'.
Thankfully, there are no confirmed examples from the past 12 months of anyone who has been murdered as a result of transphobic bigotry in the UK. One trans-identified teenager, Brianna Ghey, was tragically killed in February. However, the full details surrounding the case, such as the motives of the suspects, have yet to be made public.
Nevertheless, trans activists have gone to great effort to stoke fear about a supposed wave of transphobic murders. One widely cited report, titled 'Trans Murder Monitoring 2023 Global Update', notes that from 1 October 2022 to 30 September 2023, an estimated 320 people thought to be trans were murdered across the world. While every one of their untimely deaths is tragic and the victims will be mourned by their loved ones, this is not evidence of widespread transphobia. Nor, thankfully, are trans people being murdered disproportionately compared with the general population.
If you dig a bit deeper into these numbers, a pattern emerges. The Trans Murder Monitoring report states that 'almost half (48 per cent) of murdered trans people whose occupation is known were sex workers'. It then goes on to note that 'almost three-quarters (73 per cent) of all registered murders were committed in Latin America and the Caribbean'. Nearly a third of those deaths occurred in Brazil.
Were these murders fuelled by transphobia? It's more likely that trans sex workers are killed because the sex industry is notoriously dangerous – and men who identify as trans are overrepresented within it. A long-term study of prostitution in the US showed that women who sell sex are 18 times more likely to be murdered than their peers in the general population. Finding specific statistics on the death rates for men who identify as women, or who advertise services specifically as trans prostitutes, is tricky. Suffice to say, prostitution is dangerous and often draws in those who are already on the margins of society.
It goes without saying that these deaths are desperately sad. And yet these statistics have not prompted much international condemnation of exploitation within the Latin American sex industry. Instead, the deaths recorded by Trans Murder Monitoring are used to push the agenda of trans activists here in the UK, and to try to shame and censor those who dissent against the erosion of women's sex-based rights.
The problems persistently raised by the trans community in the UK are trivial compared with the suffering of sex workers at the hands of violent pimps and punters in South America. This mismatch is illustrated all too clearly by the Evening Standard article on Transgender Day of Remembrance, which advises readers that a 'simple way of showing your support is to acknowledge and use a person's preferred pronouns'. To those who are really at risk of violence or persecution, finding offence in the wrong pronouns must seem like a luxury. It is ridiculous to compare the killings of prostitutes in developing countries with the refusal to call a man a woman in the UK. There is no pipeline from misgendering to murder.
With the help of international lobby groups like ILGA, transgender activists in the UK have elbowed their way to the top of the victimhood pile. Meanwhile, dimwitted politicians and virtue-signalling institutions have stoked false claims about transphobia and violence running rampant.
Here's hoping that this Trans Awareness Week, people will be made aware of what a grotesque lie British trans activists are telling whenever they appropriate the suffering of actual victims of violence.
Jo Bartosch is a journalist campaigning for the rights of women and girls.
To enquire about republishing spiked's content, a right to reply or to request a correction, please contact the managing editor, Viv Regan.