Why I've taken up smoking again
The nanny state is strong-arming us into a joyless, illiberal future.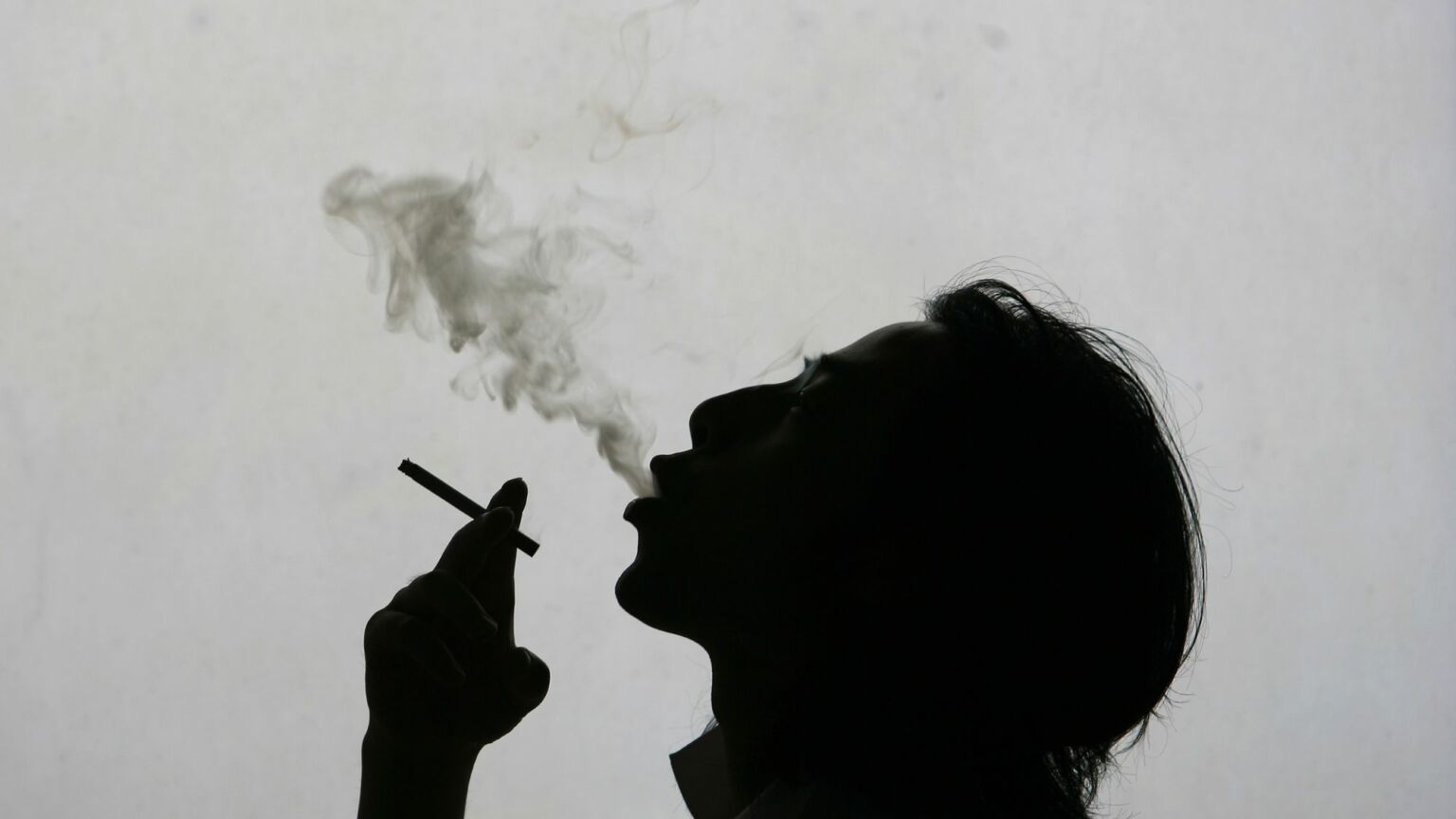 In August, after nearly a decade of abstinence, I took up smoking again. In the months since, I've been sparking up with the enthusiasm of a zealous new convert. But it seems the UK government is now determined to piss on my Rizlas, to burn my rediscovered pleasure to ash, and to wrench the roll-up from my tar-stained fingers.
This week, it was confirmed in the King's Speech that a new Tobacco and Vapes Bill will be introduced. If successful, the law will 'create a smoke-free generation by restricting the sale of tobacco so that children currently aged 14 or younger can never be sold cigarettes'. That would mean anyone born on or after 1 January 2009 will never be allowed to smoke – even when they turn 18. Arguably, this is part of a wider push by health-obsessed authoritarians to send personal freedom and responsibility up in smoke.
Grown adults should be allowed the choice to decide for themselves whether they want to take up the habit. Of course, no reasonable person can object to measures to stop kids from smoking. But once those kids reach adulthood, the choice should be all theirs. There is also something darkly comic about a future in which adults lurk outside corner shops, begging pensioners to buy them a packet of Marlboros.
I'm glad I was given the choice to pick up smoking. While the well-documented medical harms of cigarettes are now indisputable, I am thoroughly enjoying my newfound status as a smoker. At 41, thanks to this latest anti-smoking purge, I'm once again on the side of the rebellious and counter-cultural.
The demonisation of smoking has created a sort of grim camaraderie with other smokers. This social aspect is a godsend for oddballs like me. Asking for a lighter while huddled in the 'naughty corner' outside a pub or café is a brilliant way to spark a rapport with strangers. And as conversation-starters go, it's easier than having a child and less effort than walking a dog.
Counterintuitive as it may seem, I've also enjoyed physical benefits since relighting my passion for smoking, having lost half a stone since August. Granted, this isn't an especially scientific argument, but given the obesity crisis currently costs NHS England £6.5 billion a year, compared with smoking's £2.6 billion, I personally think smoking should be considered a net gain. Perhaps fatties could be given fags on prescription?
Joking aside, it is strange that smokers can be bullied by the state like no other group in society. Cigarette packets are emblazoned with graphic pictures of tumours to warn the unrepentant puffer what awaits them. 'No smoking' signs still litter public venues more than a decade after smoking was banned indoors. Yet you don't see pictures of clogged arteries and the morbidly obese adorning fast-food containers or chocolate-bar wrappers. Nor are beer bottles illustrated with sclerosis-scarred livers and vomit-strewn high streets. It seems that, despite the dangers of being fat or a problem drinker (not to mention the cost to the taxpayer), it is only smokers who are considered 'anti-social'. We are cordoned off, sneered at and banned from public spaces.
It won't stay that way for much longer, though. There is a broader trend towards public-health authoritarianism. The agents of the wellbeing industry now caution us that everything – from red meat to sugar, from booze to oral sex – is potentially harmful. These joyless puritans forget that happiness and liberty are just as important to some of us as our health.
That element of choice is vitally important – especially for the most vulnerable. As the anti-smoking charity Action on Smoking and Health (ASH) noted in 2019, 'smoking is far more common among people with lower incomes'. And, also according to ASH, more than 40 per cent of adults with a serious mental-health condition smoke.
I recently spoke to James (not his real name), who has both visited and been an inpatient in psychiatric hospitals on multiple occasions. He told me that 'everyone smokes in mental hospitals or at least they used to', and that the ritual of rolling cigarettes 'offered people not just calm, but also a little bit of control… the chance to break out of one's head for a moment'.
In this light, it is hard not to see all the crackdowns on smoking as profoundly cruel. These are top-down, disempowering diktats that take away choices from those who already have very few choices to make.
When my late mother was diagnosed with terminal cancer – a disease that started in her eye before moving to her liver – she told me with a glimmer of morbid pride that her particular cancer wasn't directly linked to smoking. I don't know whether this was true, but even as she was on her way to the hospice, she enjoyed a final, defiant cigarette.
I know that smoking might well speed up my meeting with her. But, ultimately, the choice to snuff out the small pleasure of huffing on a cigarette should be mine and mine alone to make.
Jo Bartosch is a journalist campaigning for the rights of women and girls.
To enquire about republishing spiked's content, a right to reply or to request a correction, please contact the managing editor, Viv Regan.