Why are libraries hiding gender-critical books?
Libraries are pandering to the demands of the LGBT lobby.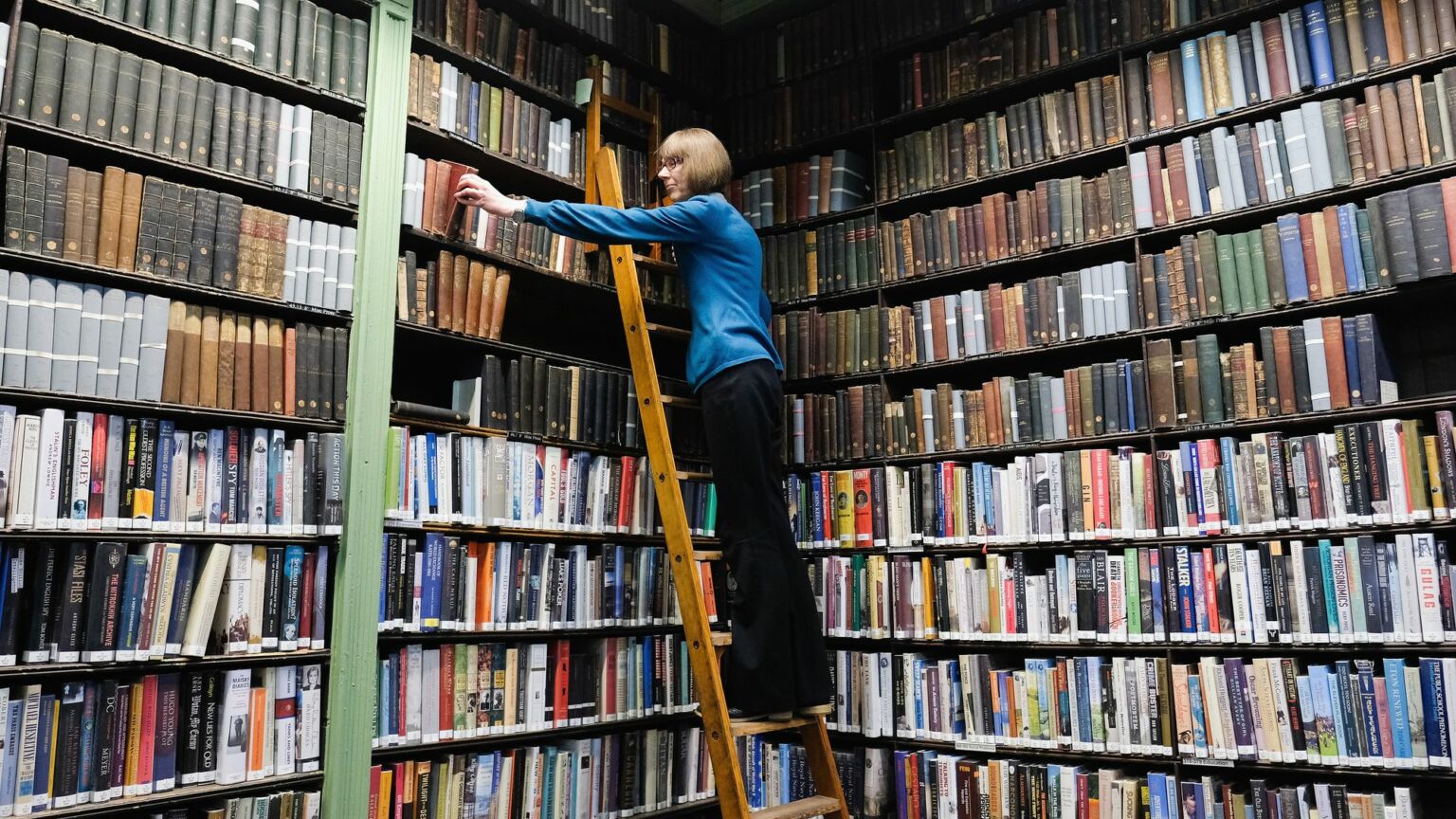 Does being a gender-critical writer put you on par with Hitler? According to Calderdale Council in West Yorkshire, the answer is yes.
Earlier this year, Helen Joyce's bestselling book, Trans: When Ideology Meets Reality, was deemed so offensive by a member of Calderdale Council that human resources insisted it be removed from public-library shelves and hidden in storage. Joyce wasn't the only gender-critical author to be treated in this way – Kathleen Stock, Abigail Shrier and Heather Brunskell-Evans also had their books removed from public view, while still being available for order.
In September, the Free Speech Union (FSU), where I work as a research officer, received an email from Joyce about the council's response to a freedom-of-information (FoI) request. 'Have any previous complaints [about controversial books] been met with such a draconian response?', a concerned Calderdale resident had asked the council. Yes, the council replied: Mein Kampf by Adolf Hitler. 'So', wrote Joyce, 'you will see that I am literally worse than Hitler'.
Ultimately, Calderdale Council concluded a review into this incident last month and returned the gender-critical titles to shelves, with the proviso that they not be promoted to library-goers. In any case, it seems that public libraries, which are supposedly committed to intellectual freedom and access to information for all, now think it is their job to tell us what we can and can't read.
When the FSU set out to investigate the extent of this kind of censorship in UK libraries, we made a shocking discovery. The UK library sector's leading professional association, the Chartered Institute of Library and Information Professionals (CILIP), is now pushing a form of soft censorship as part of its guidance to libraries across the country.
CILIP's influence over the library sector is significant. Eighty-three per cent of the local-authority libraries that answered an FoI request from the FSU either held CILIP membership, cited CILIP guidance or had carried out CILIP training in the past 12 months.
CILIP has not always been so censorious, however. Back in 2005, its statement on 'intellectual freedom, access to information and censorship' made a courageous case for absolute freedom of information within the law as the governing principle of the library sector. Works 'should not be excluded on moral, political, religious, racial or gender grounds, to satisfy the demands of sectional interest', it said.
Today, CILIP's attitude could not be more different. Last year, it published a draft of its new intellectual-freedom policy, which prioritises 'equality and diversity' over access to information. And CILIP's recently published 'Managing safe and inclusive public-library services' guide advises that 'there remains a risk that even though a piece of material or an activity may not be prohibited by the law, it falls into the category known as "lawful but awful"'.
So what should a librarian do when faced with one of these 'lawful but awful' texts? CILIP itself doesn't give a clear answer, but some of the organisations it promotes to its members do. The Calderdale Council review of the decision to remove gender-critical books from library shelves cited CILIP-approved guidance from Book 28, a volunteer-led company that runs a small LGBT library in London. Book 28 states openly that it 'is not a politically neutral organisation', which ought to immediately ring alarm bells. (As a private organisation, Book 28 has no obligation to deliver politically impartial services to the public, but local-authority libraries absolutely do.)
Book 28's own guide, 'Welcoming LGBTIQ+ users: advice for public-library workers', is extremely clear about which books it considers 'lawful but awful' – namely, 'titles published that claim to be "gender critical"'. It also warns librarians to 'not promote these books'. Apparently, even placing them on public display might run the risk of an 'LGBTIQ+ person coming across the book'.
Local authorities are clearly taking this soft-censorship advice to heart. The FSU's FoI requests show that 43 per cent of the councils in our sample make use of the CILIP-promoted Book 28 guide.
Although Book 28 claims to speak for the LGBT community, its criteria for acquiring new texts seems to view LGBT people as being too fragile to cope with diverse ideas. Book 28's collections-development policy prioritises collecting texts that 'have a happy ending or otherwise positive themes', while penalising anything 'likely to be offensive or upsetting to a marginalised group'. Only one of the 20 criteria makes any reference to literary merit as a reason to stock a book.
This kind of politicised criteria, focussed almost exclusively on identity, makes a mockery of the purpose of literature. Books are often offensive or upsetting for good reason. Ordinary people, LGBT or otherwise, are capable of choosing which texts they engage with, no matter how controversial the themes or ideas within them might be.
Thankfully, library professionals in Calderdale ultimately came to realise this. Calderdale Council's review noted that library staff 'made a collective complaint' against the removal of gender-critical books and asked that they be reinstated.
Good on those staff for defending intellectual freedom and the right of library-goers to think for themselves. Now if only CILIP could use its position to do the same. The last thing the public needs are more patronising attempts to police what we read.
Carrie Clark is a research officer for the Free Speech Union. Join the Free Speech Union here.
To enquire about republishing spiked's content, a right to reply or to request a correction, please contact the managing editor, Viv Regan.