What do Poland's anti-populists stand for?
Donald Tusk's coalition is united only by a desire to sweep PiS from power.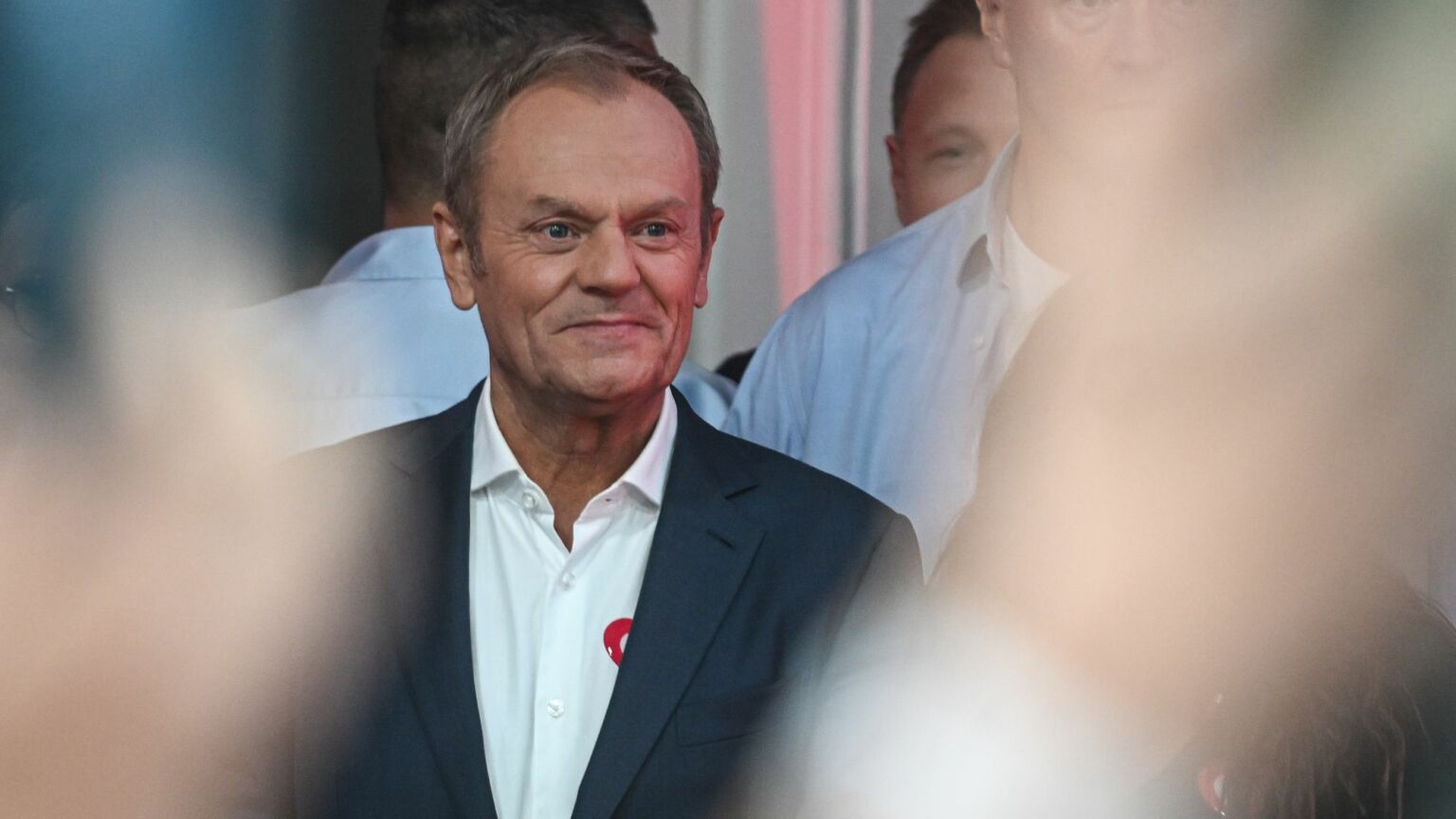 Poland is about to get a new government. But what it actually stands for remains largely a mystery.
At last month's elections, the incumbent populist party, Prawo i Sprawiedliwość (PiS), lost its parliamentary majority. Although widely described as right-wing, the PiS's politics are more complicated than that label implies. And it still remains, by some distance, the biggest party in the Polish parliament, having secured 36 per cent of the vote. But it does not have enough seats to govern alone.
PiS's only potential ally – the genuinely right-wing Konfederacja (Confederation) party – performed far below expectations. This would make forming a coalition government very difficult for the PiS. Although, in truth, PiS's leaders never had much of an appetite for Confederation's libertarian plans to shrink the state and cut taxes to the bone. Indeed, PiS party leader Jarosław Kaczyński once branded Condederation's ideas 'childish' and 'mad'.
As it stands, the most likely outcome is that Poland will end up with a governing coalition comprising a three-party alliance, united only by their strong desire to sweep PiS out of power.
Donald Tusk, the former Polish prime minister and European Council president, is the best-known politician in this alliance. He will most likely be the next prime minister of Poland. Yet despite his many years in the public eye, his political colours are not easy to discern – mainly because he barely has any. He and his party, Koalicja Obywatelska (Civic Coalition), would define themselves as a part of the liberal European mainstream. All that really seems to mean is that they are keen to do the bidding of Brussels and Berlin. While the PiS government often found itself butting heads with the EU, a Tusk comeback would mean Poland could revert to its previous status as an Eastern European poster-child and reliable yes-man. Net Zero? Yes, Frau von der Leyen! Business as usual with Russia and Ukraine? Of course, Herr Scholz!
But Tusk cannot rule alone. His party, which won 31 per cent of the vote, is 74 seats short of a majority. So he has turned to Władysław Kosiniak-Kamysz and Szymon Hołownia, the leaders of an ad-hoc coalition called Trzecia Droga (Third Way) formed just before the elections, and Włodzimierz Czarzasty and Robert Biedroń, the leaders of the Nowa Lewica (New Left).
The Third Way's politics are predictably nebulous. Kosiniak-Kamysz has some government experience, having worked alongside Tusk when he was prime minister a decade ago. He is the head of Polskie Stronnictwo Ludowe, which is nominally an agrarian party although it has very little to do with farmers anymore.
The other Third Way leader, Szymon Hołownia, is a former TV presenter turned politician. He is backed by some of Poland's richest plutocrats, angered by PiS's more leftish economic policies. Like Tusk, Hołownia belongs to the liberal European mainstream. So lacking in substance is he that he once proudly launched an AI chatbot to create policies for him. The only firm political commitment the Third Way has made is to cut the social-welfare programmes rolled out by PiS over the past eight years. The Third Way calls this 'the end of easy welfare'.
Then there's the third part of Tusk's prospective coalition, the self-styled New Left. Rhetorically, this party is left-wing, but it lacks any working-class support, with the PiS representing the majority of working people. This has pushed the New Left away from economic leftism and class concerns, and towards wokeism. It will be a grim irony if the New Left participates in a coalition government that rolls back the more social-democratic policies of the PiS.
What is happening in Polish politics right now, as an exotic anti-populist coalition tries to take power, is hardly exceptional. Indeed, this political-class mobilisation against egalitarian populists is increasingly becoming the norm in Europe.
I would describe those arrayed against the populists as 'virtue-hoarders'. This was the title of a 2021 book by American cultural theorist Catherine Liu, who was drawing on John and Barbara Ehrenreich's 1979 critique of the 'professional managerial class'. Liu went further than the Ehrenreichs though. To her, the virtue-hoarders are the real rulers of our time. They are affluent, well connected and influential. And, above all, they love power.
But power is not enough for this supercharged overclass. Its members want to use power to cement and express their moral superiority. They want to use power to stamp their minority opinions, from climate apocalypticism to gender ideology, with the authority of virtue. This is why they can be said to 'hoard' virtue for themselves.
The virtue-hoarding elites may speak of 'democracy', 'participation' or 'empowerment'. But they have no real interest in allowing the people to rule. Hence their opposition to populism. No, they only want the 'right' people to rule – namely, themselves and their certified political organisations. These parties may have different names and leaders, and they may be rooted in any number of political traditions, be they liberal, Christian-democratic, socialist or republican. But none of that matters anymore, because they only have one goal now – to preserve the political system from any kind of populist challenge.
In the battle against populism, the professional managerial class's virtue-hoarding proves useful. It allows them to morally condemn their opponents as anything from 'fascist' to 'racist' to 'transphobic'. And they can stir up any moral panic they so wish, by claiming that their populist opponents threaten democracy or menace the rule of law. It's cynical stuff.
This is what is happening in Poland right now. The virtue-hoarders are striking back.
Rafał Woś is a Polish journalist and commentator.
To enquire about republishing spiked's content, a right to reply or to request a correction, please contact the managing editor, Viv Regan.